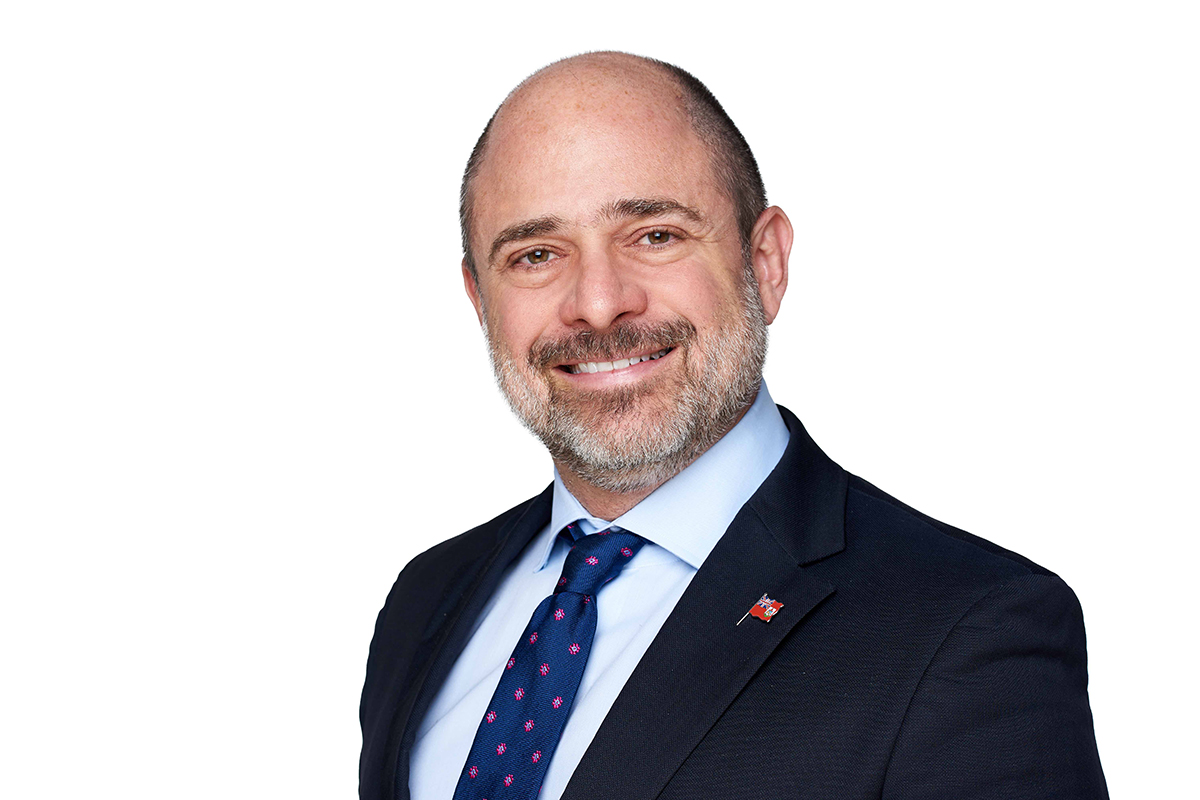 22 Dec

A country always punching above its weight
Steve Weinstein, Chairman, Business Development Agency, believes that Bermuda stands united as an island community
As Chairman of BDA since 2020, what are your immediate priorities coming into the role? How has your previous vast experience lent itself to the challenges to come in a post-pandemic environment?
On a personal level I am really grateful that I have this chance to give back to Bermuda. Over the 20 years I have lived here, Bermuda has given so much to me and it has been instrumental to my career and the company that I have been a part of. At the BDA, our most immediate priority has to be contributing to the economic recovery of Bermuda in the wake of the pandemic. On the one hand, Bermuda has outperformed other jurisdictions in the course of this global pandemic. I would attribute that in large part to the leadership and transparency from our Government, alongside their commitment to science for the protection of Bermudians. The response from Bermuda's business leaders has also to be commended, as they were on board with the response plan and nimble and effective in their own operations. Last but not least, we should also applaud the community response. Bermuda has been together during COVID-19, embracing the necessary public policies and practices to help keep each other safe above all. This ability, of acting as a team during difficult times, is also part of Bermuda's success in business. We have been big enough to be relevant on the world stage in targeted sectors while small enough to be nimble and agile. After we address the economic recovery, we are going to turn to promoting, building and accelerating sustainable, equitable prosperity for Bermudians and Bermuda. Bermuda has been a hub for innovation for at least half a century. I am confident that we can deal with the emerging crisis and lay the foundation for a period of attractive economic growth.
Reacting quickly to the challenges brought about by the pandemic has been an absolute must for organizations such as BDA, who play a critical role in connecting people and mediating business. Could you tell us how this experience has changed the organization, the type of valuable lessons that you have learned and what new ideas and opportunities have emerged to optimize business connections in this post-vaccine world?
The post-vaccine world continues to emerge. I would advise caution to anyone to not draw any overall conclusions just yet, while the pandemic is ongoing. However, there are a couple of things that we can point to as important takeaways from this period that we have experienced. One is the power of remote work and the digital economy. We have all learned that we can work from anywhere. If you can do that, why not work in paradise? Bermuda's investment over time in a highly competitive technology and communications platform is clearly part of our foundation for economic success. We are well positioned to attract talent, innovation, entrepreneurs and investors to come do what they do best from the most beautiful location in the world. At the same time, these trends also pose certain threats to Bermuda. Some of our traditional economic pillars may face pressure due to these technology options. In any case, I think that Bermuda can counteract these potential adverse impacts, by continuing to support our existing world class sectors and by attracting new entrepreneurs and investors to do what they do from here.
When it comes to insurance and reinsurance in particular Bermuda has an unrivalled capacity, a wide choice of products, diverse range of securities, expertise, specialty service providers and an astute regulator, that understands the needs of the market better than any other. Could you provide your views on the vibrancy, relevance and the dynamism of Bermuda's insurance market to date?
The Bermuda reinsurance market is the most vibrant and dynamic in the world. The ability of the Bermuda market to innovate and provide new solutions, and to keep its promises more rapidly than any other competing market, has stood the market in good stead over time, including this past year. Bermuda does not shrink from challenge and both provided innovative new solutions and honored its promises in respect of the pandemic. In addition, the market data is clear that Bermuda maintained its position as the absolute best place in the world to raise new capital for the global risk market. Bermuda balances some critical regulatory attributes: we meet and exceed the world standards for cooperation and transparency; are recognized globally for our robust and sophisticated regulatory standards; and yet operate as a well-structured laboratory for innovation. In sum, our country has all the necessary ingredients for success and the production of the next generation of insurance solutions.
On another note, we are very excited about Bermuda expanding in the most adjacent space to natural catastrophe insurance: the growing market for climate risk finance. There is no better place in the world to domicile and operate a global business to business financial services company. Bermuda offers regulatory sophistication, flexibility and speed to the market for appropriately conceived products and services. Based on these characteristics, our human capital in respect of climate driven financial risk, and our other competitive strengths, I am quite convinced that the next wave of innovation for climate risk finance should be done in Bermuda, and optimistic that much of it will be.
BDA is also responsible for the formation of viable new business in key markets and across multiple industries. What can you tell us about the focus in 2021 to expand Bermuda's international footprint? 
The world's biggest problem, once we put the pandemic behind us, is the global risk of climate change. Climate change, apart from the obvious risks to health and biodiversity, accordingly entails significant financial risks to businesses and governments. At the same time, climate change is giving rise to the world's biggest investment and business opportunities. Bermuda, with its decades of strength in natural catastrophe risk management, has built a critical mass of highly relevant human capital and talent as well as the ideal regulatory environment to oversee and support this sector. We also build upon a basis of more than 400 years of environmental protection. We have maintained pristine beaches, waters and terrestrial environments for four centuries. Bermuda is ideally positioned to emerge as the capital of climate risk finance and to be a partner to the world, helping address these existential questions. I am confident in Bermuda's ability to play a disproportionate role in climate solutions and adaptation.
What is the opportunity for insurers and reinsurers in understanding the risks associated with the global climate emergency?
In the same way that Bermuda has exciting opportunities in emerging new sectors and products, our traditional core markets, like insurance and reinsurance, have great opportunities in this period. As a market, Bermuda has invested in a superior understanding of climate-driven perils like wildfire, tropical windstorms or flooding. That equips them with tremendous opportunities, in my opinion, to build upon that strength and expand their relevance to their customers worldwide. No one understands the risks of warming waters, or exposed structures and communities, better than the experts in the Bermuda reinsurance market. No one has a better track record of honoring their claims promises than the companies here. The historical default rate in Bermuda is literally zero. That incredible track record is part of the foundation for a period of enormous opportunities going forward. I know that companies here have the appetite and the expertise to embrace this new world and to do essentially what they have always done, which is being good partners on the global stage.
Last week Bitcoin hit new records after Tesla ploughed in USD 1.5 billion into cryptocurrency. This comes off the back of frenetic few weeks, following the GameStop frenzy, which topped all major financial media headlines and sent shockwaves across the whole financial ecosystem. What are your views regarding Bermuda's prospects into the world of blockchain and cryptocurrencies? What opportunities are present in this area for the future of BDA?
Bermuda is an ideal location to responsibly invest in financial services, particularly technology driven financial services, where digital distribution is a competitive advantage. Bermuda is the best place in the world to raise money for innovation and a terrible place to hide it. If your business strategy is inappropriate for Bermuda, you are not going to get a license here. If you are willing to play as we play, and embrace our high standards of cooperation and transparency, we are going to be a welcoming jurisdiction for your strategy. If I were looking to develop a technology-driven global B2B space that would benefit from robust, fit-for-purpose regulation, I know I would pick Bermuda. I think that we are going to see more players make that same analysis and come to see that Bermuda's framework will suit them well.
You also sit on the board of R Street Institute, a non-profit public policy research think tank, known for tackling present issues that are typically neglected by global headlines. What key insights can you share with us about the future of business and free markets in the work that you are involved with in the Institute?
I am very proud to have joined the board of R Street after having supported it for many years. As a non-partisan, non-ideological, principles-driven research institute, their intellectual contributions have been spectacular. Now we have an almost unique opportunity, where data-driven, analytically-sound, pragmatic policy proposals can take hold and have a chance for implementation. By holding fast to its integrity over the recent period and investing in the extraordinary human talent of its researchers, R Street is very well positioned to play a leadership role. Moreover, and like Bermuda, R Street has a culture based around partnerships. In that partnership culture, we recognize that the world's biggest problems require an 'all hands-on deck' approach. This is buried in the DNA of Bermuda and can be witnessed across the market. It's also true of R Street and part of their success. I am excited by many of R Street's initiatives and optimistic that their ideas can be adopted for implementation as we move forward.
Focusing on Bermuda's unique value proposition compared to other small island economies, how would you describe the vibrancy of the business community there?
On the global stage, I think that Bermuda is competing with jurisdictions like Singapore and Switzerland. For the businesses that we have, those jurisdictions understand they need to make their own investments in their regulatory and compliance apparatus to play in Bermuda's blue-chip market. However, the Bermuda market has never been more vibrant than we are right now. In terms of its human capital skillset, Bermuda's core competencies have never been more relevant to the world's problems than it is right now. When I combine that with our regulatory apparatus, which is robust, sophisticated and respected around the world, the raw materials that Bermuda has to offer have never been more valuable to a financial services or tech investor, sponsor or entrepreneurial manager team. There is no allocator of capital within the insurance sector that does not already understand the value proposition of Bermuda. I think that it is up to us, as the BDA, to help communicate our story across verticals where our competitive strengths are not yet as well understood. That is a challenge that the BDA can both address and start to solve in this coming year.
You are a firm believer that Bermuda is well-positioned to play a meaningful global role across a range of industry verticals, especially the increasingly pressing needs of climate risk finance. BIOS, the Bermuda Institute of Ocean Sciences, of which you are a trustee, have developed the use of data analytics and advanced oceanographic abilities to characterize climate phenomena. Can you share your analysis on Bermuda's unique geographical location and research environment and the tools that set the jurisdiction apart from others to manage natural catastrophe risk?
Not only is Bermuda the best place in the world to domicile climate risk-focused businesses, it is one of the best places in the world to study the effects of climate change, in part thanks to our unique geological position. Bermuda sits on a unique seamount, out in the deep ocean, near the Sargasso Sea and the Gulf Stream. Partly as a result of that unique location, Bermuda for more than a century has been home to one of the world's most important research institutes, the Bermuda Institute for Ocean Studies. BIOS is perfectly located for and is the only custodian and proprietor of an extremely important series of measurements. For decades, scientists have set sail from Bermuda to go out in the ocean to maintain a continuous time series of key ocean measurements, which is shared worldwide. In addition to its research contributions BIOS is committed to education. BIOS educates scientists and university students around the world, as well as young Bermudians. Our students and interns learn skills from statistics to numeracy and project management. These skills not only contribute to the to the world of research science but also translate marvelously into the world of business and finance. BIOS is not alone, with a number of other environmental projects, organizations and initiatives, thriving in Bermuda. Overall the culture of climate is so strong in Bermuda, and part of what makes it a great place to operate and pursue climate innovation.
What would be your final message for our readers of Newsweek?
The Bermuda employee population is fantastic: enterprising, technology-fluent, well-trained and diverse. If you value that proposition, and I hope all employers do, the human capital possibilities here are extremely high. Across my career I have always been rewarded for investing in Bermuda and Bermudians. If your strategy is a good fit for our world class business culture and framework, I am confident you will have the same experience. Come see for yourselves!