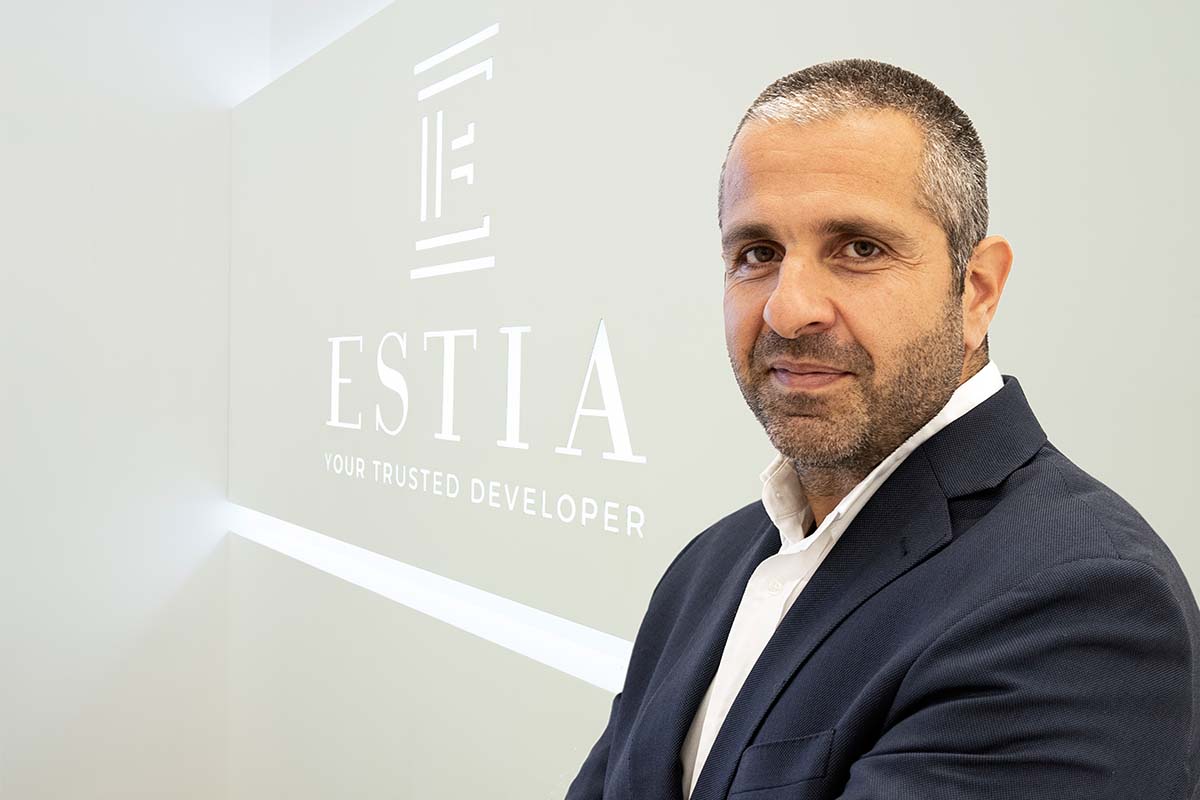 01 Jun

A safe haven at the heart of the Mediterranean
Antoine Assi, Group CEO, Estia Developments, notes that Greece is capable of satisfying the needs of any type of tourist
You have played a leading role in positioning Greece as an attractive investment destination for international real estate investors. What are some of the major trends you have noticed in how the global real estate market has evolved over the last decade and how consumer taste has evolved with it?
In 2008 the world witnessed a major crash, that affected an overleveraged country like Greece that also suffered from timeless mismanagement of public funds. One of the major pillars of the Greek economic environment was the Real Estate Market, where prices fell in major areas up to 60 percent. Some tertiary areas in Athens reached prices as low as 200 EUR per square meter. When I asked about what was available to buy, the answer was that everything was available at that time.
As a group, we kicked off our operations with our first rental project in Koukaki, an emerging area near Acropolis. We acquired a building, which required refurbishment and managed to achieve annual yield of 20 percent within the first year of operation. Additionally, other granular residential units that we acquired, spreading across the immediate area of the city center, achieved 40 percent yield. Our primary strategy in 2015 was the short-term rentals, which were trending strongly back then. We launched our first concept hotel, which was hybrid. On the one hand, the client enjoys even more amenities than the typical hotels offer, however the asset manager isn't required to have heavy operational cost on the ground (i.e., servicing employees), since everything was managed through applications remotely from a centralized team which is the backbone of our hybrid strategy. At present day, all our hotels are award winners on all major platforms like booking.com and hotels.com and achieve 85 percent annual occupancy on average.
As a result of the recession across the country, all major real estate developers had either gone bankrupt or had seized their operation. Concurrently, the brain drain that lead professionals to seek employment abroad and mostly in the KSA region had created a gap of inexperience within the development sector. Any real estate investment that is backed by solid fundamentals like Greece has, which span from favorable weather conditions year long, to scenic locations merged with culture and stabilized government reforms. It was inevitable for us to build a strong team and dive into real estate development That was how our journey begun in Greece, from rentals to development, observing tourism growing from 12 million to 38 million people (35 percent of the Greek GDP). Back then, land prices were severely depreciated, lowering a lot the risk of the developer and provided high returns to potential investors. This was an opportunity we had to grasp and excel.
The 2010s saw Greece steering itself through one of the roughest economic crises in recent history, and now, finds itself weathering the storm of the COVID-19 economic fallout. If the adage of 'every crisis is an opportunity' is true, how do you envision the role of the Greek real estate market in assisting Greece in its economic recovery – both in terms of stimulating investment and job creation?
The amount that went into Greece in terms of EU-level help, really held the GDP together. The country was essentially on life support until 2015. In 2016, we started seeing some 'bargain hunters', coming from all over the world. In 2017, we had the Chinese boom, with thousands of apartments sold to Chinese investors. In 2018, this movement was shut down, whereas in 2019 we had the next round with institutional stakeholders. We saw a lot of funds interested in acquiring and managing non-performing loan portfolio (NPLs). However, Greece was still a 'bargain hunters' market, not a clean and organic one. In 2020, we saw the rebirth of an organic market, as the banks started opening up, Greece could take loans again, with the same situation following over in 2021. There was no COVID-19 crisis in Greece in terms of real estate. We saw price appreciations of 30 to 40 percent during COVID-19, which was unbelievable. Greece is now a sellers' market, not a buyer's market anymore. It is very hard to acquire property in Greece, as the air cost in areas like Glyfada is around 3,000 EUR per square meter. In the center of Athens, you will not find anything below 1,000 EUR per square meter in air cost. As a result, a developer's base cost nowadays would be circa 2,500 EUR per square meter anywhere in Greece. We were one of the very first people who considered the Omonoia area to be 'gold', and people thought I was crazy to invest around one of the most degraded areas of Athens at the time. Envisioning the future, taking into account the 180 EUR per square meter that was the price for that area, this was a bargain. We went all in as a group. We have structured the Estia Group into several servicing companies, including Olympia Properties, which is a broker firm, Insite EPM, which is an engineering firm, My Greek Vacations, which is a hotel management branch, and Seven Seas Maritime, which is a yachting company. We went to everything related to hospitality and real estate and then we grew to the point of having 300 employees as a group. This is currently happening at scale across Greece, attracting investors from all around the globe with tickets ranging from EUR 250,000 up to multibillion investments for privatization of major companies, that create thousands of new employment vacancies. The safety and stabilization of the macro-economic environment despite the pandemic has led to professionals that once fled the country to seek 'shelter' in their home country and boost country's growth that reached 16.2 percent last quarter.
Considering the government's golden visa and digital nomad visa programs, how has the perception of Greece as an investment destination by the international business community evolved in recent years? Has COVID-19 and the rise of remote working influenced its attraction?
Since we are operating in Lisbon as well, we have seen how people love to take their pensions in expensive countries and move into countries where that value can be nearly doubled. In Greece, you can live like a king for 3,000 EUR or 30.000 EUR per month. Greece does not have a strict identity when it comes to the classification of tourists that it wants.
The golden visa market has evolved in abstract ways in Greece. First, you had a wave of Chinese that wanted a certain product, followed by a wave of Lebanese, which were interested in moving away from Lebanon. Then, you had the wave of wealthy people in general that were interested in getting another line of product. As a group, we are invested in over 30 projects as of now, from Vouliagmeni, Voula, Alimos, Glyfada, Palaio Faliro, Hellinikon to the center. There is a specific golden visa product that you can only offer in the center of Athens, which is the 250.000 EUR – posing to become more and more expensive as the years go by. Then, we have the higher golden visa program, in which the clients require a high-end residence that will go for 600.000 or 700.000 EUR. We can say that in this evolution, the Chinese wave has ended. We can say that the Lebanese wave is limited. The next wave to come will be Greek. There is a very strong national market, with many people interested in buying property. We believe that the biggest portion of a healthy future market will be taken over by Greeks. That is why, as a group, we intend to offer all kinds of products for the Greek market. As a group, we also have over 2.000 apartments under management, which we rent for short, mid, and long-term periods. In a time where Airbnb products were vilified, as they were presented to be throwing people out of Athens, we took the decision of releasing more than 500 apartments for long-term rents. I believe that the long-term rents will go up, until they reach a level of 60 to 80 percent, which is also unheard of in Europe. In COVID-19 times, there was a migration from short to long-term rents as people were interested in preserving income. That was very good for the long-term business and the Airbnb business. We had 1.200 units before the crisis and at least 30 percent of those units went towards long-term rentals.
Estia has a foothold in the Greek tourism industry, with MyVacations.com and My Greek Vacations, as sister companies. Greece has a well-established tourism industry, but, like all other countries, has suffered during the pandemic. What do you see as the next step in the evolution of Greece's tourism industry? Could you share more about your Airbnb hotels approach?
Regarding the future of Airbnb, I believe that you can get really creative with it. I have stopped thinking in typical hotel terms, as it is dangerous for an investor, that needs to bear fixed operational cost. When you invest in a business that is so cash intensive on payroll and operational expenses, you cannot last long in the wake of such disasters. I believe in clean operations, minimum employees, and maximum service. We can outsource the cleaning and the laundry, with the client receiving the same service. At the end of the day, the client will get an impact of this cost reduction on the final rent per square meter. If we do this, we are competitive, offering bigger units.
When it comes to the islands, I do not think that our rental model on islands is feasible or profitable, since it requires an extended operation period greater than 2 to 3 months that the islands offer.
Estia has done well to build an international footprint and promote Greece to a larger, broader international investment community. Do you see your international footprint expand in the post-COVID-19 world and what types of consumer profiles will you be targeting?
First, we are attracting funds here. Part of our business model is to be an asset management platform and to bring more investors and funds into Greece. As an asset management platform, we have company called Estia Capital that does the management of these funds for third-party investors. We try as much as possible to bring these investors to Greece, because we believe in the country and there is a strong decade ahead that will spread to other Greek cities and islands. Second, we try to target new markets for the end-product, which is either the golden visa program, the rental clients, or the yachting clients. We try to offer all the products when it comes to hospitality and real estate development. We cater for all our clients' needs, offering different scales and pricing, diversifying our product range all over Athens and across all property types. As a group, we try to cover 100 percent of the market, without compromising on quality.
Your company has a reputation for spreading its risk across its portfolio, serving a broad range of clientele, with properties ranging from 180,000 EUR for apartments to 5 million EUR for some villas. It grew from 2 employees to 300, even amidst the Greek economic crisis. How would you describe your risk appetite? What types of investment and partnership opportunities does Estia prioritize?
I always convince my investors to look for investments that are backed by rentals. Anything that is backed by rental is safe. You can defer the repayment of your financing with a healthy manner and de-risk your strategy. When the prices become high, you need to have a plan B. Your plan B should be tourism and rentals. Another security for investors is to think of the replacement value of the property they are selling. If you are selling in Glyfada, you need to calculate your replacement cost at any given time. A big mistake people do is to calculate the purchase price of the property, or the land based on the profitability model when they bought it, aiming to sell it as soon as possible to please themselves or the investors. These people will be thrown out of the market eventually, as the acquisition prices become even more expensive, and they will not be able to refuel their inventory. To secure yourselves, you always need to calculate your replacement cost. A safe investment is a mix between location, rentability and solvency. This is how we mitigate our risk and we spread over Athens, so that, if one area gets hit, you have other areas to rely upon.
Estia plays a part in the Greek government's larger golden visa program. Other countries have similar initiatives. What would you say are the country-specific benefits to choosing Greece as an investment destination? What are your projections for growth in the market post-COVID-19?
When I go to a country, I always look at it from a touristic perspective. As an investor, if I am not interested or passionate about a country, I cannot sell it. When you talk about Greece, you have thousands of years of heritage. You talk about a country that developed some of the very foundations of civil society. A country that has 6,000 islands, is the source of so much material. The beauty of Greece is that you do not need to be rich to enjoy the country. Anyone can enjoy their time in Greece regardless of budget. The way you want to live, Greece gives you the opportunity to live. In Greece there is high level of hospitality and a friendly lifestyle.
Concluding remarks and final message to the readers of Newsweek?
I believe that anyone who wants to retire or plan for their retirement should consider Greece. For everyone looking for a safe environment, either from the Middle East or other countries, Greece is a safe haven. They respect any religion, any person that is coming here, as long as you do not create drama and trouble. This country welcomes everyone with open arms. I feel like I am Greek, and I am so lucky to be here. This is what we are trying to sell: the trust and the love of the system and the people of Greece.
Antoine Assi, Group CEO, Estia Developments, notes that Greece is capable of satisfying the needs of any type of tourist