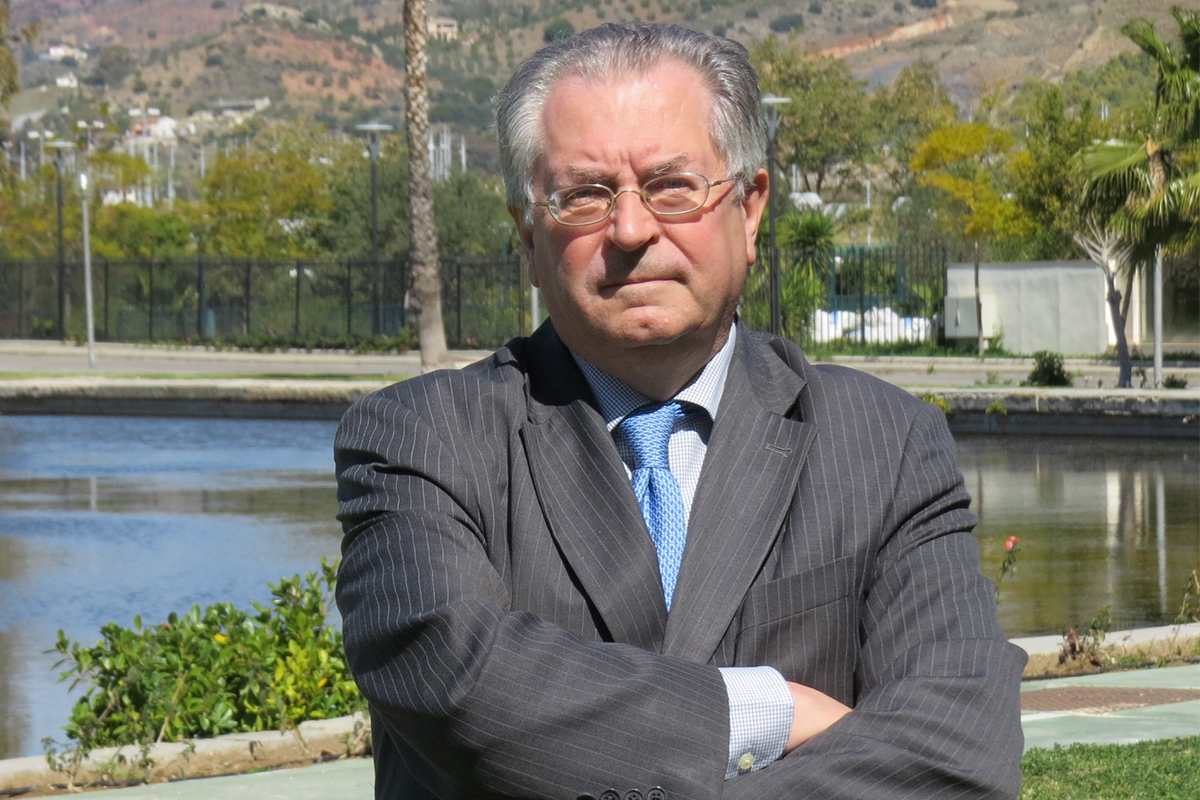 22 Feb

An advanced innovation ecosystem attracts international businesses and talent to Malaga
Felipe Romera, Director General, Málaga TechPark, introduces a benchmark technology park that has made Andalusia a global hub for digital technologies
The Parque Tecnológico de Andalucía has been rebranded under the name of Málaga TechPark, reinforcing the park's link with Malaga and its purpose of serving as a vehicle for the international projection of the Andalusian innovation ecosystem. Its work in attracting and retaining companies and talent is key to the future development of Andalusia. What contribution do you think it can make to the post-COVID recovery of the Andalusian economy?
The park is going to play an important role and it's already playing one. In Andalusia, many companies have closed down, but in the park—except for the more service-oriented businesses such as restaurants or sports centers—the companies that are based here have continued to work normally, many of them teleworking. At the moment, practically 70 percent of the 20,000 people employed by businesses in the park are teleworking. But their companies are active and their activity is growing.
The park is demonstrating that the world of digital companies is developing much better than those that have not digitalized; and that development is bringing its knowledge and its contribution to the recovery of Andalusia in these difficult times. Digital companies are going to help create a faster recovery and we are experiencing this in the park, where we are at 100-percent activity, bearing in mind, of course, that a large number of people are teleworking.
The figures for the park are impressive: 644 companies are installed here, with almost 20,000 employees and a combined turnover of more than €2 billion. What growth projections do you have for the coming years, once the Andalusian, Spanish and world economies return to the path of sustained growth?
We are very ambitious and hope to double the number of workers operating from here within eight to twelve years. We believe that the park has a great opportunity over the next decade.
What are we doing to achieve these goals? There are other things that I can comment on later, but the most fundamental element for attracting companies to come here and grow is to have infrastructures. We are developing a partial plan on the land of the park that is well advanced, so that we have the capacity to develop some 150,000 square meters of office space. And in the section we already have operating now, we are developing nine buildings of approximately 50,000 square meters. This is a necessary condition for the park to grow. The confidence we have is that we believe that digital technologies and digitalization are going to be a very important vector in the growth of the park. This is the strategic plan we have and we are fulfilling it quite quickly.
Now that nomadic teleworking is here to stay, what incentives does the park offer for the establishment of companies and the attraction of international talent?
It's quite simple to explain. Why are 20,000 of us already here in Malaga at the moment? Because Malaga represents an innovation ecosystem that international digital companies want to come. In the last four or five years, international companies have made the greatest contribution to the growth of the park. They come basically for three reasons: firstly, they come looking for what is called talent—people they can hire to do the work. Secondly, they are looking for infrastructures for business. And thirdly, they are looking for infrastructures for people to live in.
Malaga offers an exceptional level of quality of life—and our climate, environment and quality of life come at very reasonable prices. When you compare the quality of life that a person has here in Malaga—in terms of the housing they can live in with the salary they may earn—with how you can live anywhere in Europe, including Madrid or Barcelona, there is no comparison. In fact, attracting talent from abroad for established companies is very easy because people want to come to Malaga, especially Europeans. They know Malaga because of tourism, because of the Costa del Sol and they know what to expect. We have companies, like Oracle for example, where 80-90 percent of their staff are foreigners; we already welcome professionals of 28 nationalities, highly qualified personnel who come to work at Málaga TechPark, many of them with their families. Talent retention is also facilitated in an environment that allows for an international career in technology or innovation and a high quality of life.
This is true for the business world. But it's also true that, with COVID and all the surrounding circumstances of the crisis, it has been shown that people can live and work away from their workplaces—the so-called digital nomads, people who can have their company in the U.S. but can work from here. The incentives that we offer are basically having people, having infrastructure and having an innovation ecosystem environment. These are the most relevant incentives, with the overriding incentive being the environment itself. What we are detecting is that we have more and more digital nomads arriving in Malaga.
In the TechPark, we also want to offer a welcoming element to these digital nomads. Let's imagine, for example, that there are 50 digital nomads working for one particular large global company from here. When you have a significant number of different teleworkers working for the same company, that firm will start to develop a more stable installation in Malaga. COVID has also shown that companies with large facilities have not fared well because any incidence of the virus can affect practically the whole company. Large firms are, therefore, tending to decentralize their facilities to smaller locations in other places, with the idea of teleworking in mind. These are some of the opportunities in Malaga.
The relationship between Málaga TechPark and the University of Málaga has been symbiotic since the beginning of the park's operations. What advantages does this commercial and academic symbiosis offer?
Part of the success of the park is that the university is, in a very direct way, part of the park. The park has facilities on the campus of the university for those companies that need to be closer to the university. We also have a building that we call "Rayo Verde"—the Green Ray—where companies coexist with the university itself. This has led to added elements of value, both for university students and for companies.
Companies normally see the university as a place where they can recruit talent, which is a key element. They also see it as a place where they can do research projects and as a place of value for their own relationships. When a foreign company comes to the park, the first thing they ask us is about the university. We take them to the Green Ray, where a vice rector welcomes them. That level of welcoming is very important.
But the value is even more important for the university students because, in the Green Ray, the companies organize projects for them, they organize hackathons, other challenges and they create relationship elements that can end up with jobs. The students are really very happy to have that easy access to companies and the companies are happy to be able to find talent nearby. The park makes it easier to attract talent for both established companies and new companies coming in. We advise new companies setting up in the park so that they can attract the best talent they require for their establishment and growth in Málaga TechPark.
We also act as a talent "observatory". Together with our companies and the university, we analyze the most in-demand skill profiles and try to anticipate the training required for digital transformation, proposing training programs to the university on specific technologies required by companies, sometimes outside of the academic curriculum. We thus contribute to consolidating our position as a talent hub for the digital transformation.
The Andalusian government has announced the upcoming launch of a program to strengthen the attraction and retention of companies and talent. What do you expect from this new program?
That is exactly what we are trying to do. At Málaga TechPark we have various initiatives that facilitate the "landing" of foreign companies and professionals, facilitating their immersion in the local ecosystem, from relocation services to Spanish-language courses. The fact that we have very relevant political support, as the government has expressed, is increasing our value. We hope that it will be an amplifier of the activities of the park itself, so that it will amplify the possibility of attracting companies and the possibility of having more people who want to come to Malaga to work. It is an amplifier of our own actions. And so it's phenomenal.
Andalusian Councilor for Economic Transformation and President of the Málaga TechPark, Rogelio Velasco Pérez, has also stressed that ecosystems in which the administration, business and innovation go hand in hand have a dual role as the backbone of the territory and as the spearhead of some of the most important clusters for the Andalusian economy. Which are the most significant clusters that Málaga TechPark welcomes?
Fundamentally, at the moment, Málaga TechPark is very oriented toward digital technologies, headed by artificial intelligence, big data, cybersecurity, the connected car, aeronautical systems and blockchain. We have a set of companies that are interested in these technologies and we always group them together with the university in technology clusters. Digital transformation affects all sectors and industries. When we detect that there is a business opportunity for our companies or research and development (R&D) projects for our researchers in any area, we facilitate collaborative work environments that reinforce our innovation ecosystem, thus helping the park to lead—companies and the university together—the digital transformation of very diverse sectors, including the most traditional ones, such as consultancy, banking and healthcare.
The idea of these clusters is to look for opportunities to grow: to establish relationships between companies—and between companies and the university—that allow companies to really grow, which is a very important element for attracting companies related to this type of activity. Companies go where there are similar companies, in the sense of being able to establish good relationships and also to have the opportunity to hire highly qualified people. For us, the park scheme is closely linked to the development of these clusters, which is also closely linked to the development of digital technologies. We have "clustered" the activity of the park around digital technologies and Industry 4.0.
It's only been two years since Andalusia elected a government whose main objective is to strengthen the activity of the private sector, while prioritizing innovation and high-added-value activities. How has the panorama of Málaga TechPark changed with this new Andalusian administration?
It has meant a significant boost. Fundamentally because the councilor comes from the technology and innovation sector. He knows these innovation ecosystems very well and, therefore, what we've seen is this great support that the technology park has. It is perhaps one of the elements of greatest change we have experienced. There is a greater harmony, a greater relationship and a greater enthusiasm on the part of the Andalusian Regional Government for the development of the park. It is a project that forms part of the government's own development strategy for Andalusia. For this reason, we're very satisfied and, above all, we see in it an important opportunity for growth.
That is why we are very bold in our strategy. To say that we are going to grow from 20,000 to 40,000 workers in Málaga TechPark within about ten years takes into account the following: at the moment, Málaga TechPark represents almost 20 percent of employment and almost 20 percent of the city of Malaga's gross domestic product. If we double our growth, it means that we will continue to increase the economic value of Malaga through the technology park. And what seems most relevant to me is that this change in economic development is linked to digital technologies, which are the most productive, the ones that will create the most companies and the ones that will determine the future.
In this sense, this harmony between the strategy of the technology park and the strategy of the person responsible for innovation in Andalusia—our rowing in the same direction—is fantastic.
Looking to the future, where would you like to see Málaga TechPark in five years' time?
I would like it to have more prominence in the international context. Since I started developing the park many years ago, I have come to realize that cities and technology parks cannot live only from a local environment. We need to be part of an international reference node; in other words, we need to be connected. That connection is fundamentally made with companies. Such was my enthusiasm for developing this idea that, for the past 20 years, the global headquarters of the International Association of Science Parks and Areas of Innovation has been located in the park. This association has 400 members in 76 different countries, which allows us to have an important international vision.
In the next five years, we want to multiply this international vision because we know that one of the most important elements for the park's growth is widespread recognition that it is unbeatable in terms of cost-benefit for a company to be installed in an environment like Malaga where you are offered a great quality of life, great quality of infrastructure and great quality of talent at very reasonable prices.
Finally, what message would you like to send to the international readers of Newsweek?

There is a consolidated project here. With more than 60 international companies based in the park, we are the main concentration of foreign technology companies in our region. Foreign direct investment already represents more than 35 percent of total employment in Málaga TechPark. We host technology companies from all over the world, many of them from North America, such as Accenture, Oracle, IBM, Keysight Technologies, DXC Technology, PWC and CGI, as well as world leaders of European and Asian origin, like EY, Ericsson and TDK, to name just a few examples. Companies from all over the world have chosen Málaga TechPark as the location for their R&D and development centers, and they endorse that Málaga TechPark is an extraordinary place. Andalusia is well known for tourism. We want it to be justly known as a place not only for tourism but also as a place to live in and to invest. This is the message that teleworking has also taught us during the pandemic: that it is possible to have work groups in specific places that are geographically distant but close in terms of telecommunications, which allows companies to develop much better.