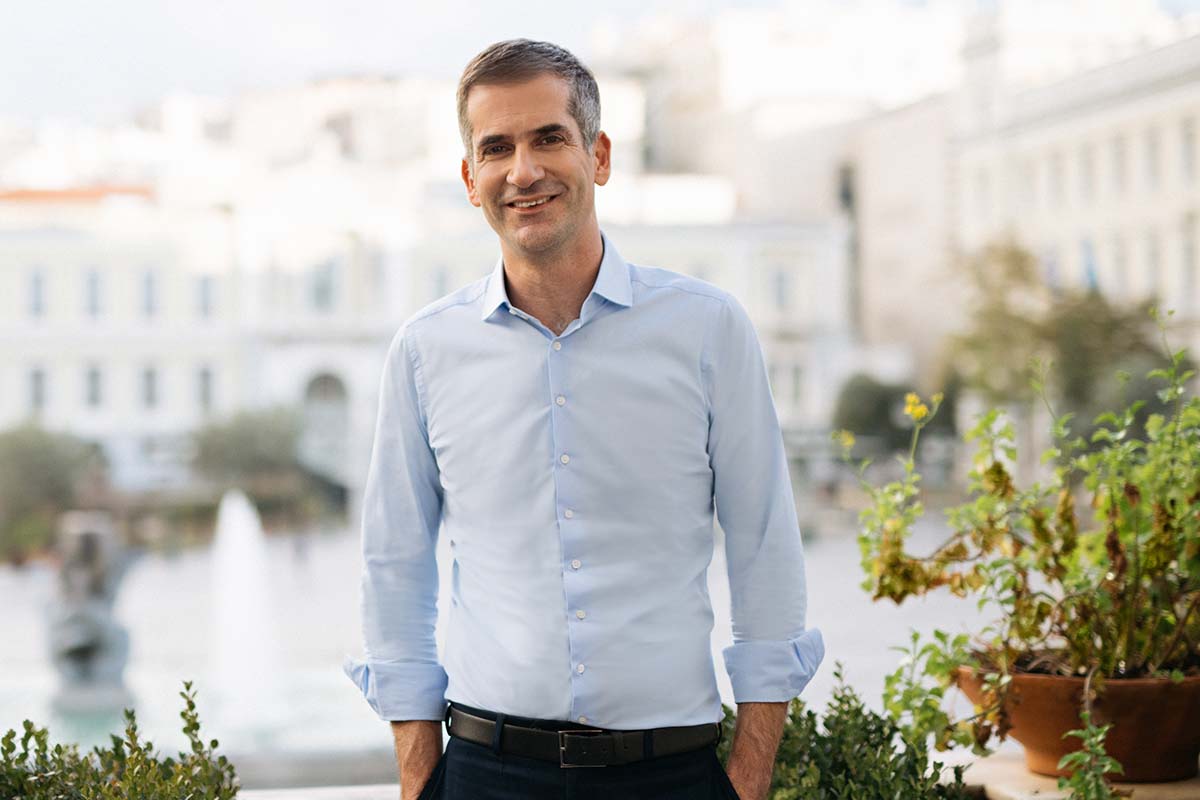 01 Sep

An Athens on the move
Kostas Bakoyannis, mayor of Athens, overseas a city in transition, where the financial crisis of the previous decade is an increasingly distant memory and the future is bright indeed.
Few cities exemplify the strengths of Western tradition, culture and political thought as Athens. A city that has withstood countless challenges over the centuries is now also facing the COVID-19 pandemic, the ensuing economic fallout, and climate change. Entering office not long before the pandemic, what would you say have been some of the key takeaways as a leader from the COVID-19 crisis?
The key takeaway for any leader is actually a sum of the key takeaways of all Athenians. When I refer to Athenians, I am not only referring to our permanent residents, but also visitors and investors. This is the moment of Athens, much like it was the moment of Lisbon a decade ago, Berlin two decades ago and Barcelona three decades ago. Admittedly, the pandemic came at a particularly cruel time, as we were just emerging from a long and difficult financial crisis, with a newfound sense of self-confidence, optimism and dynamism. I would say that, overall, Greece's response to the pandemic was an opportunity for us to reintroduce our country and city to the world. I am proud of the fact that the World Health Organization singled out a number of Athenian best practices. I am proud of the fact that we focused on the most vulnerable, those who at times may feel invisible. Furthermore, I am proud of the fact that, as we speak, despite the several obstacles along the way, Athens is a city leader when it comes to putting forward bottom-up local solutions to the global challenge of the climate crisis.
In speaking with other mayors and metropolitan leaders around the world, what are new realities that mayors are having to deal with? And what are some strategies that are being applied to effectively mitigate these threats?
It is all about building resilience. It is very clear that the pandemic, much like the climate crisis, was a wake-up call. Cities and urban centers need to transition. As you mentioned, Athens has a really long experience in transitioning. For thousands of years, we have been able to stay strong and together. When we are talking about transitioning, I think that there are three major transitions. The first one is the green transition, which involves projects as large as investing in our urban lands or as small as pocket parks. Second, we are talking about a digital transition, as Athens is a Europe-wide protagonist in that area. As we speak, we are dealing very effectively with bureaucracy and red tape, making sure that people feel valued when getting in contact with the state. The third transition is a social transition, making sure that our cities are equitable, safe and fair. To put it differently, there is not so much difference between the so-called richer and poorer neighborhoods within our city.
Athens has one of the most enviable tourism offerings, with assets including its rich history, beautiful scenery and delectable cuisine. Greece's short-term tourism rebounded well in 2021—it beat out Spain as the top destination this summer in Europe—but one cannot negate the shocks of COVID-19 on the industry. How do you see the tourism industry reinventing itself in the post-pandemic economy, particularly to facilitate more broad-based job creation on a sustainable level? How do you see longer-term visitors—residents by investment, health and wellbeing tourists and digital nomads—assisting with this recovery?
Athens is being reborn, is reinventing itself. We have had a great decade, as we have seen incredible growth in tourism, which reached more than 6.5 million visitors in 2019. We are hosting more conferences and meetings than ever before, ranking 17th in 2019 according to the ICCA. In 2020, despite the crisis, we were able to promote Athens as a destination for screen productions. We have been working with crews from Netflix, Apple TV, Amazon and many others. The daily life of our city is interconnected with tourism. This is a blessing as well as a challenge. The reality is that Athens, as we speak, is a city that is investing in itself and, therefore, investing in tourism. Right now, we are focusing more broadly on mobility, reclaiming quality public space and our green areas. It is a bottom-up approach. We want each Athenian, as well as visitors, to become ambassadors of the city around the world.
You recently became one of the first mayors to appoint a Chief Heat Officer and you have indicated your clear intentions of making Athens a 'green city'. The elephant in the room is how climate change is already impacting two of the Greek economy's main drivers—tourism and agriculture. We saw fires ravage parts of Athens right in the middle of tourism season. What are some of the objectives for the office of the CHO? Could you offer us some insight into your 'green city' plans and, particularly, how this could impact tourists? How do you ensure that tourists still choose Athens and Greece for their summer holidays?
First of all, the Athenians, as permanent residents, have to feel proud of their city. We are trying to take the city into the 21st century. We suffer from the unfortunate legacy of bad urban planning, while we lost precious time over the last decade due to the financial crisis. Now, we are running a marathon at the speed of a sprint. The idea behind appointing Europe's first Chief Heat Officer is very simple: heat is an invisible killer. 200 people die every year, it has serious economic and social consequences, and we know that we have to act now. We are moving forward with our long-term resilience strategy, which is a new climate action plan that is going to be put forward at the UN Conference in Glasgow in November. These are not theoretical exercises and abstract proclamations. On the contrary, every day the city is changing little by little. We have been investing in our urban lungs by taking care of all of our green areas and urban forests. We invest in electric vehicles and new types of mobility, making sure that the rights of drivers are equally protected with the rights of passengers of public transportation, cyclists and pedestrians. This is a process that is going to take time, but there is a wide alliance in Athens—with lots of young people—that supports the city going forward.
Globally, we have seen a particular interest from large investors over the last few quarters for acquiring luxury residential and hotel assets, perhaps at more favorable rates. Many, too, are looking for second homes or places to retire in. For contemporary, high-end, cosmopolitan buyers, what are some of the big advances in the city's lifestyle, transport and medical infrastructure that would appeal to them? Perhaps you could also share more about your digitization of services efforts and how Athens is becoming a 'smart city' with a consumer-friendly bureaucracy?
Athens lies at the crossroads of three continents. We have close connections to some of the fastest growing emerging markets as well as the world's biggest financial centers (and not only in Europe). For instance, this year we welcomed more direct flights than ever before from the U.S. At the same time, Greece and Athens are back. If you have noticed the recent financial and economic indicators, it would not be an exaggeration talking about a 'Greek miracle'. The economy is growing in leaps and bounds. For us, it is not about bouncing back anymore but about bouncing forward. A combination of an urban landscape that is constantly transforming, becoming safer and more welcoming for visitors, with the digitalization that is taking place in the city, allows Athens to claim justifiably the title of a hub for creative and technical innovation. This allows us to blend our admittedly glorious ancient past with a very dynamic and modern reality. All these strategic advantages, including a fresh entrepreneurial spirit that is growing within the city, make us optimistic about the years to come.
Athens is part of the C40 Cities initiative. In staying with the 'smart city' and 'green city' efforts, we are curious as to the 'buy-in' from the Athenian business community on this? How much is being done to pursue public-private partnerships for such projects? Do you see the resources, financial will, and technical know-how to accomplish these goals? With which bodies or players from the private sector do you work closely on the 'smart' and 'green' efforts, and what is the feedback you hear from them?
This is another signal of how the mentality within the country and the city has shifted. We are very proud of our program of public and private partnerships. We have an organization, Athens Partnership, which helps through philanthropy and corporate sponsorships to advance the mission of the city of Athens. We see with great pride and satisfaction that visitors and residents are making commitments. In this way, they all become Athenians, as active shareholders in the city's future. The fact that we were able to leave behind parties, politics and ideological differences and unite under our love for the city, is one of the reasons that I am very proud to serve as mayor.
With an eye on Glasgow and COP26, the global financial industry and major investors, particularly in the US and Europe, have shown their clear intention to move away from financing planet-harming projects and commit to more sustainable, greener projects, with energy, automotive, utilities and tech-solutions showing much opportunity. By the end of 2020, nearly USD 100 billion was held in ESG-centered ETFs. How could Athens stand to gain from this 'green revolution'? What are some of the promising industries that can unlock economic growth in this wave of new investments? Do you see potential for Athens to further develop as a tech-hub with solutions for the future?
Athens can gain a lot by being a frontrunner and an example. I am very happy that a number of our partners around the world recognize the efforts taking place in the city. We all know where the future is going to take us. It is a question of preparing now and not losing any more time. It is a question of making the tough calls and hard decisions so we can actually build sustainably for the next generation. This is something that most politicians avoid because it may come at the expense of a political term. Our strategy focuses on 2030 and 2040, not 2020 or 2010. This new approach and philosophy, I think is going to bring many positive returns for the city.
To expand on the potential of Athens as a tech-hub, we saw major VC and PE capital pumped into Greek startups in 2020. In terms of digital infrastructure, 5G has been launched in Athens, a crucial component in being competitive for 4th Industry companies. Why should tech startups look to Athens as a place to set up shop? What are the advantages of the city for international players looking for a regional hub?
They should come for the same reasons they already have. We have seen many significant investments and there are a lot, even more spectacular in cases, still in the pipeline. Much of this has to do with the talent in Greece. All cities run a global race for tourists, investment and talent. It is not just the talent that we have in the city, but also the talent that we attract, as part of the phenomenon of digital nomads, individuals that may live anywhere in the world but choose to build their lives in Athens. As we speak, these leaps in terms of infrastructure and services have enabled Athens to be a welcoming destination for the tech community around the world.
Our readership counts among the global investor elite, top executives, entrepreneurs, and other readers who are interested in understanding the latest in issues facing modern cities and how dynamic leaders are stepping up to these. As someone who has a strong international background, and one of service to Greek communities, what are your key objectives for the remainder of your term?
This should be an easy answer for anyone, but in the case of the mayor it is not. Our work is as wide as the lives of the Athenians. It begins with making sure that our city is green, clean, well-lit and safe. At the end of the day, there is a very hard question that is going to be posed by Athenians, on whether we actually improved their daily lives. This is the hardest question for us, but we already see the improvement, and we feel confident about the next two years and the next five years after that.