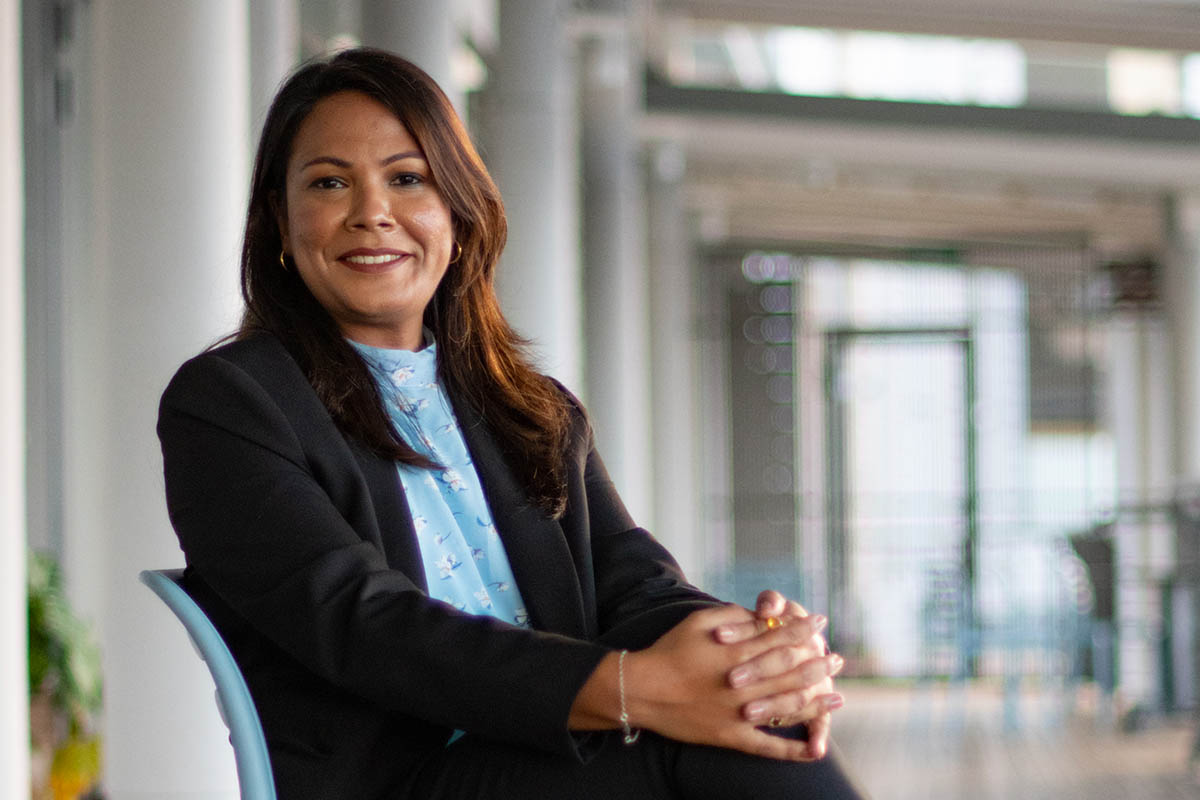 05 Apr

An island's energy economy
Mreedula Mungra, CEO, Mauritius Renewable Energy Agency (MARENA), speaks about the sustainable and innovative methods being deployed to shore up Mauritius' energy reliability.
What is the current energy mix, and what are the current overreaching strategies in place to decarbonize?
As it stands, I call what we have here 'energetic ecology.' In comparison to other African countries, we are in quite a good position. We have already reached 23.9 percent renewables in the electricity mix. I say electricity mix because, different from other countries, we do not require thermal power or other sources. We have fairly decent summers and winters. Therefore, we are mostly reliant only on electricity consumption. Within the 23.9 percent of renewables, there is a dominant percentage of solar, then hydro, followed by wind and biomass. As far as biomass, we use bagasse which is a byproduct of our sugar cane industry. Mauritius was extremely reliant on the sugar cane industry traditionally. Little by little, we are channeling the focus more from the use of its byproducts into biomass uses. Bagasse and cane trash are used during crop season to produce electricity. For off crop season, unfortunately we still depend on coal.
Last year during our national budget speech held in June 2021, the minister of finance announced that there would be a new target for renewable energy, increasing from 40 to 60 percent use by 2030. This was an ambitious pledge the government took well before COP26, which was held in November 2021. This target is to be accompanied by the phasing out of coal by 2030. Coal is currently being used by the IPPs in Mauritius during off crop season while bagasse is used during the crop season. The Central Electricity Board is responsible for the generation, distribution and transmission of power and also maintains the national grid. Up until now, they have been using heavy fuel oil, which is what we are looking to transition to renewable energy. The ministry of the environment has taken a pledge through the Nationally Determined Conditions (NDCs) to reduce greenhouse gases emission by 40 percent by 2030.
MARENA was assigned by the government through the ministry of energy and public utilities (MEPU) to review the roadmap for renewable energy in the electricity sector, which was published in 2019. At the moment, this review has been submitted to the MEPU for finalization. During the last budget speech, it was publicly announced that renewable energy will be a new economic pillar. It has the potential of bringing in a great deal of investment. We have so many abundant renewable energy sources in Mauritius with a privileged position in solar as well as on- and offshore wind. We have 8.8 million square miles of exclusive economic zone (EEZ), which is the 20th biggest EEZ in the world. We may be small, but we own a big part of the Indian Ocean and there is huge potential for offshore wind, a mature technology being used by the Norwegians, as well as wave/tidal energy and offshore floating PV which countries like Singapore—similar to us in size—are already exploring. Offshore helps in the issue of economy of land, which is a huge benefit.
To achieve these targets, what opportunities are open to investment?
The Central Electricity Board (CEB) is the only entity in Mauritius that can buy and sell electricity, which makes them the one tendering power purchases. They grant the power purchase agreements (PPAs) or energy supply and purchase agreements (ESPAs). They recently launched two tenders amounting to around 140 megawatts. It will be a mixture of solar, wind and other renewable technologies backed up by batteries. Mauritius has an incredibly reliable supply of electricity as compared to many other African countries. Blackouts are almost non-existent, even during cyclone season. It is so important, while moving toward achieving the target of integrating 60% of RE in the electricity mix targets, to ensure a very reliable grid. As an island, we have no neighboring grids to rely on like European countries. That is why grid reliability is crucial. When MARENA revised the RE roadmap along with the CEB and the MEPU, special focus was put on more resilient power plants such as wind, solar plus battery and other types of firm power. There is a general idea of firming up the power due to the variability of renewables. Obviously, there are only so many hours of sun per day, and wind is extremely variable, not to mention that we need to turn down the wind turbines during cyclones. The tenders are for what we call renewable energy hybrid facilities (REHF): solar + battery, or solar + wind + battery. In the long run, we are also looking to add more biomass, which is in our sustainability plan.
Achieving this 60 percent will be in the best possible sustainable way, while at the same time will create a new market. That may mean importing in new biomass or growing different biomass sources locally. There is a national biomass framework in Mauritius which is led by the Mauritius Cane Industry Association (MCIA). We already have power plants that are using biomass. We now need to see how to increase the share of biomass in electricity production, whether that can be through options to import biomass or by growing other types of biomass-producing crops in Mauritius and replacing coal with them. The two challenges are phasing out coal with the most sustainable and green technology, including more renewables, and finding the best way to leverage the electricity production so that we maintain a reliable supply of electricity.
Among these plans, is there room for international investors to take part?
Absolutely. This new economic pillar calls for substantial investment and most of it will need to come from the private sector, whether that be local or international. There are about 11 solar farms and one wind farm in Mauritius. There are local solar installation companies, but we do not have any large local renewable energy firms in Mauritius. All the projects have been joint ventures between local and international partners, and the technological side has been covered by international partners. The local partner takes care of the facilitation in terms of permit applications, administrative processes, and the local technical support team which has been trained by the international partner. We see future projects going the same way.
There have been a few international companies, in fact, who are now based here. They have a local office either in Mauritius or in one of the sub-Saharan African countries. A investment barrier consultancy was carried out by the British High Commission in Mauritius and they concluded that the procurement system is well based in Mauritius, however, there is a lack of information on the potential of different sectors, especially in the energy sector. I had another such exchange with the German Chamber of Commerce, which has a division based in South Africa. They were extremely interested in investing in the energy sector in Mauritius, however, most of the companies did not have the right information regarding permits, licensing, legislative or regulatory framework concerning renewable energy. MARENA identified this lack as a potential barrier and offered to make a one-stop-shop RE portal where potential investors could find all the necessary information. That would include technical information, such as solar and wind maps among other relevant information.
Has this RE portal already been developed?
We are in the process of looking for funding because it is a big project. One of the major issues in Mauritius is that we lack the right green funding. We have applied to be an accredited member of the green climate fund (GCF) because we need to bring in more resources in this sector. As a developing country, we are beneficiaries of such funding, whether that is from the G7 or G20, who have the mandate to invest in developing countries like ours.
We plan to improve awareness of all the potentials that we have for living and working here. More and more of these energy companies, mostly French, are settling down here because of the fiscal incentives, and they are doing a variety of activities in other African countries. It is a shame that there is no awareness of the possibilities here. There is an ease of doing business that is quite unique in Mauritius.
What is your relationship with Business Mauritius?
MARENA has a very diverse and large board consisting of 14 members, including the chairperson and the CEO of the Business Mauritius. Renewable energy brings together the financial sector, environment, among other stakeholders. Business Mauritius plays an important role for us because they bridge the gap between the public and private sectors. Pre-COVID we were conducting awareness sessions locally and we had the intention to start internationally, as well, to participate in conferences and seminars. Now and then we do it online, such as we did with the German Chamber of C ommerce.
The Mauritius Tourism Authority is now launching a green brochure about the greening of the tourism sector, offering eco-tourism and decarbonization of the tourism sector through the use of renewable energy. People want to visit and even live in Mauritius for our natural environment and for our green commitments. MARENA will be featured in that green brochure.
What is your take on Mauritius's experience in adopting new smart technologies such as AI, Big Data and others in increasing affordability, operational efficiency and safety? Also, what is your outlook over the medium term?
This is dear to my heart as I come from a scientific background and have worked in the solar sector abroad. In every technological area, there is a need for innovation and emerging technology. MARENA, as the keynote institution for renewable energy, was set up by the government six years ago, was created because the government knew we needed an affiliation with the international agency to keep all this in perspective. Around three years ago, we started with a small initiative called the National Scheme for Emerging and Innovative Renewable Energy Technologies (NSEIRET). At first, it was a small initiative to bring in projects of 200 kilowatts to implement renewable innovative and emerging technologies. Frankly, anything besides solar was innovative in Mauritius at that time. We wanted to create this awareness in the local ecology, but also the calls for proposals for the scheme would bring joint ventures which would stimulate the technological as well as knowledge transfer which was so desperately needed here. None of the companies were picking up here. They were on their own, and, being an island, they were isolated from everything. This scheme gave them the push needed to go into joint ventures at a small scale.
In fact, there are four projects which have been awarded through NSEIRET, in collaboration with MRIC and CEB, to factor in this innovation quotient. With CEB, we negotiated to have a connection agreement at an extremely preferential tariff of 4 rupees per kilowatt-hour for these projects for a one-year testing period.
I am also proud to announce that one of the four projects which has already completed the implementation phase and will soon be connected to the grid. It is a German-Mauritian JV that has installed the project on the off-grid in Germany. It will be the first one of its kind in the world in which this project will be connected to the grid and tested. I can say that it is an innovative wind technology. This should be launched officially very soon.
We have three other similar projects in the pipeline, and with the success of this scheme, we are looking forward to upscaling our scheme. This will ease business even more in terms of bringing in these projects., as there will be a niche market of innovative and emerging RE technologies/concepts., they can export from the grid for a year at a preferential rate, This scheme gives the opportunity to promoters to install their innovative and emerging RE technologies based concept, test it on the grid and showcase the performance of their RE systems to attract private sector investment for further development. The best publicity stunt for them.
To reach 60 percent renewables we need to look at things in a more holistic manner, creating more awareness. Usually with renewable projects, investors want to know if it is technical feasibility and also bankable. MARENA has the mandate to de-risk RE technologies by ensuring that feasibility studies and techno-economic analysis are carried out. We did such a study for floating PV which showed about 600 megawatts of potential, without even covering all our water bodies. There was some concern about installation of the floating solar panels. People need to see things to believe them. I cited examples from Singapore, which has offshore floating PV through similar climatic conditions, and 50 countries in the world have already invested in floating PV. Finally, we collaborated with CEB to come up with these small-scale pilots to create a see-and-believe proof of concept. Bit by bit there is progress. The CEB have recruited a consultancy engineer to look at the whole project.
Another important aspect surrounding this economic pillar is that there needs to be a workforce to drive it. I am a trained PV engineer, and I realized that there is a lack of renewable energy professionals in Mauritius. There is a great interest to be educated and trained in this vocation and we have a high literacy rate. However, there were no graduate level specialized RE courses at local universities. Only people with limited funding to go abroad and study could access such training. Last year we started the MARENA scholarship, in which we aimed to train the local people. In my alma mater, the University of Mauritius, there was interesting research being done. We collaborated with them to create a short intensive PV course for engineering graduates. They have a good base for PV or wind engineering, and we give them an edge by upgrading them with design skills and even on the financial side of things. We paired this course up with the Mauritius Institute for Training and Development, training the engineers in installations to collaborate with our local companies. At the time, we used source funding from our partner the British High Commission, as well as from the UNDP. We are now going into phase two, as we have already trained 25 graduates who will soon be in circulation and in hands-on training programs.
Do you have a final message for the readers of Newsweek?
I see renewable energy not only as an economic pillar but as the next industrial revolution. Not only will it change the way we do business, it will also change all our industries. Right now, the port is looking at how to become a green port. We have a 10-year EV roadmap that is completely revolutionizing the transport sector. Renewables will not affect just the energy sector but all aspects of industries, business and people's lives.