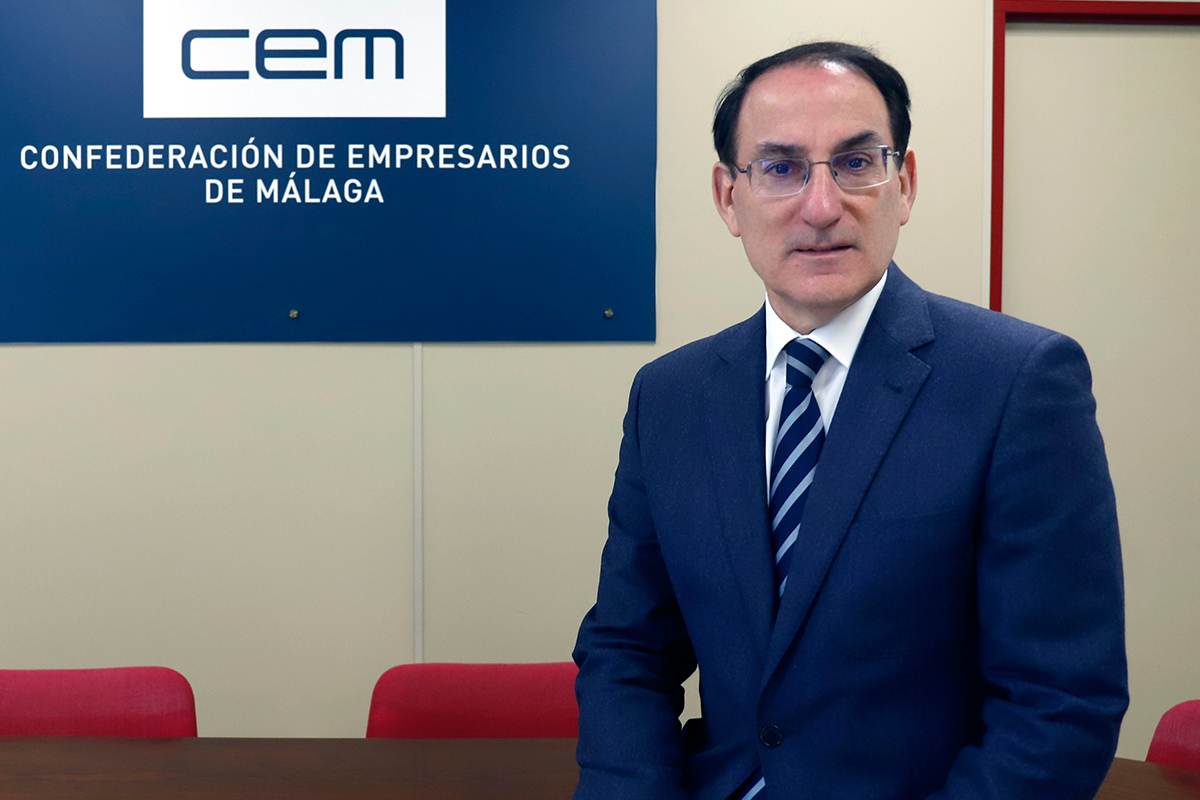 07 Apr

Andalusia: A wonderful place to work and invest time in
Javier González de Lara y Sarria, President of the Confederation of Entrepreneurs of Malaga and of Andalusia, offers a business perspective on the highly connected and innovative Spanish region
The global COVID-19 vaccination campaign has raised hopes for a rapid recovery of economies, but this is likely to be uneven across countries and regions. How do you foresee recovery in Andalusia? Will there be a resetting of priorities?  
I believe so. There is no doubt that the situation caused by the pandemic, which came without an instruction manual, will force us to transform ourselves to see how we can rebuild a productive system that has been seriously damaged.
On the other hand, this is a crisis that arose, unfortunately, from a tremendously lethal virus on a global scale—but it is not a systemic crisis or it shouldn't be. Another aspect is that it could become a structural crisis if there has been mismanagement while searching for solutions. As I understand it, however, Andalusia has had many opportunities to get things right and, above all, it has many positive factors that have emerged strengthened, despite the fact that, of course, there is still a lot of concern for health reasons and for the significant wear and tear of our productive fabric.
In your opinion, what would be Andalusia's comparative advantages with regard to welcoming the new migration of the world's digital nomads?
Andalusia has many advantages. On the one hand, its geographical location, its access to the sea with so many kilometers of coastline, the weather, the infrastructure and all the communication and access hubs in terms of airports, ports and high-speed trains. In fact, Spain's third most important mainland airport is in Malaga, with up to 14 million passengers a year before COVID.
The labor market would be another issue to highlight. The different provinces of Andalusia—Seville and Malaga especially—have a highly qualified university-level workforce, with a cultural level that favors adaptation to digital nomads, who also need an ecosystem and an environment that can serve them as professionals who are at the heart of digitalization.
Additionally, the degree of openness in the Andalusian economy is a very important factor. It helps immensely that our economy is open, very plural and contains a wide range of sectors—it's not only the tourism sector that stands out in Andalusia, that is a huge misconception: there is a powerful naval sector, a leading aerospace sector and the main companies in Spain in transport logistics are based in Andalusia. We also have cultural companies, agro-business, exports and so on. There is a solid diversification in our productive fabric.
Another issue is the size of our companies, which are, above all, small- and medium-sized enterprises (SMEs) and micro-SMEs. I would like to highlight the commitment to company incubation, a support network for entrepreneurs in which business organizations collaborate with different administrations, such as the regional government, which is doing a very good job, the town halls and the provincial councils. To a large extent, this network is geared to helping startups to consolidate and it serves as an incentive for digital nomads to settle—making it easier for them to do so—as well as a technological environment of appropriate and conducive knowledge.
Generally speaking, these would be some of the alluring factors for this professional group and attracting them is of great interest to Andalusia, because they act as transformers of their environment and are definitely spearheading the link between the competitiveness of business and digitalization.
In Spain, the government, business organizations and trade unions have agreed on formulas to maintain employment during the crisis—"furlough schemes" in English, ERTE in Spanish—in order to withstand economic disaster. Could you explain these schemes to our readers from a business point of view?
The temporary ERTEs, as we know them here, have been an important balm for companies and employment at a time of difficulty, with the very harsh effects that the pandemic has caused. Right now, across the whole of Spain, we are talking about 850,000 workers who are on furlough and in Andalusia they exceed 110,000. If such a formula did not exist, these people would be doomed to unemployment.
It is a tool that—thanks to social dialogue between employers, social agents, trade unions and the various ministries that have taken part, mainly the Ministry of Labor—serves to generate social cohesion and, above all, to create confidence in companies, in workers and especially in families. If it did not exist, we would have a major social problem. All these workers, all these SMEs, would find themselves without protection and would surely be on the brink of disappearing. In the rest of Europe and other Organisation for Economic Co-operation and Development countries, there are quite similar models.
Digital nomads not only seek quality of life, good weather all year round, great schools for their children and excellent connectivity. They also seek an entrepreneurial and creative environment that will boost their activities. Does Andalusia have this creative business environment?
I believe so! Andalusia is very diverse, as I said, very creative, very varied, very heterogeneous. Andalusia is almost the size of Portugal—our neighboring country has 10.5 million inhabitants while our region has 8.5 million; Portugal has 82,000 square kilometers and Andalusia has 78,000 square kilometers. We are just as large as 17 countries in the European Union, a fact that isn't normally considered.
I am making this point because I believe that Andalusia, in its heterogeneity, is also tremendously active and prone to change. There is a very strong vision of the transformation of the economy, more evident perhaps in coastal areas like the Costa del Sol, around the Bay of Cadiz, Almeria or in the capital, Seville, which is very dynamic. Then we also have territories closely linked to sectors such as agri-food, which is constantly reinventing itself.
There is no doubt that this plurality carries important potential, because the size of Andalusia is a factor for the future, as is its population density: in Spain we have enormous problems to do with the abandonment of certain territorial areas, the "emptied Spain." Andalusia does not have this problem, except in very specific enclaves. This is positive: you will always find municipalities, inland or coastal, that have life, that have areas of creativity, that have a historical-artistic heritage, municipalities in which there will always be business opportunities, even in emerging areas, such as the digitization of commerce, for example.
And wherever there is a problem, there is an opportunity. In the end, what digital nomads are looking for is their space, their geographical context, their own ecosystem where they can develop an initiative. And in the agri-food sector, in culture, in the technology sector, there is a whole world to explore here. Andalusia offers all these opportunities.
Recently, we had the opportunity to interview Felipe Romera, general manager of Malaga TechPark, who told us about Malaga being more than a tourist center nowadays. Would you agree that Malaga has an entrepreneurial heart that is committed to new technologies and innovation?
Yes, it already exists! Malaga is a tremendously dynamic province. For 25 consecutive years, prior to the emergence of COVID, it was the province that generated the highest number of new companies in all of Andalusia: one out of every three companies created in the region has been created in Malaga. This means that here is a creative and entrepreneurial vocation there that may not exist in other regions. If we add to that the network of the technology parks in Andalusia that, to some extent, is led by Malaga TechPark (PTA), which is a great asset for the entire autonomous community. But we also have the Cartuja Science and Technology Park in Seville, the Granada Health Sciences Technology Park and so on.
There are about 650 companies installed in the PTA: SMEs, micro-SMEs, large companies, researchers, incubators of companies and more. Up to 20,000 professionals are part of this technology park, which is mainly focused on knowledge. Any digital nomad would like to be there, to collaborate and even support the many initiatives that are being launched in these incubation spaces. There is no doubt that there is a great future ahead. And the next thing to highlight is the global presence of the technology park. Many of its companies have a very powerful international calling.
Malaga has been one of the Spanish provinces that have grown the most in the last 20 years, not only in terms of population but also in terms of economic progress. The city of Malaga, for example, is being promoted as a new cultural hub in southern Europe, with an overwhelming offer throughout the year, in performing arts, plastic arts, music and cinema. The city that gave birth to Picasso is now an artistic avant-garde center in the 21st century. How are entrepreneurs in the province taking advantage of this cultural momentum?
Certainly Malaga is a phenomenon of the genetic transformation a city can achieve when it stops looking at others. Malaga's entrepreneurs collaborated very closely together with other social entities and public institutions to answer the question: what do we want our city model to be? The answers to that question culminated in the city's first strategic plan, which led to a second one that is already under review and focuses on three key issues.
On the one hand, Cultural Malaga: the museums, starting with the Picasso museum, then the Pompidou, the Russian museum and so it continues. This is a cultural offer that very few cities in Spain can offer for transforming themselves.
We also talked about the Malaga of Knowledge. The Malaga of digitalization, which had to open up—through the technology park and innovative technology-based companies—to a much more globalized society. And that was a success. It's now a model open to the world, because we have the best communication hub, which is the third mainland airport.
The third is tourism: to recover the tourist essence of Malaga. Somehow, the city had lost it as a result of the airport itself being the hub for so many millions of visitors who normally went to the coast, but overlooked the city for lack of offers. There was neither a cultural nor a tourist offer of interest and no special eagerness on the part of investors to say: I'm going to settle in Malaga because it can offer me, in addition to good weather and quality of life, many other things.
This is a synthesis of part of the "Miracle of Malaga" planning; a transformation that has been the result of social consensus, which I would like to highlight.
Do you have a concluding message for Newsweek readers about why one should live and work in Andalusia?
Andalusia has many strengths, and I speak as a Spaniard, as an Andalusian and as a native son of Malaga. I think it has many factors that make it a great place to visit, live, work and invest. We must also mention, once again, those ecosystems that have been established and our increasingly solid entrepreneurial environment. We are the second-largest autonomous community in Spain in terms of the total number of companies, with more than 500,000.
It is true that we need a higher density of companies but, that said, there is an important calling for reinvention here and our companies are constantly changing. There is no reactive idea that the economy, when it changes, forces you to reluctantly just accept the situation. It's impressive how resilient the Andalusian entrepreneurial fabric is, as it adapts and changes its own business models. There is material here for another interview to talk about the number of companies that have reinvented themselves in this complicated COVID situation.
I think it's a wonderful place to work and invest in, and a place where returns are guaranteed. If we also add in that quality of life that we have, that weather that makes us a favorite tourist destination. On the Costa del Sol alone, more than 80 nationalities have homes here, which speaks for itself. All the factors that I have mentioned throughout this interview make us very competitive as a destination. The truth is that there are few places in Spain that offers these unique conditions.