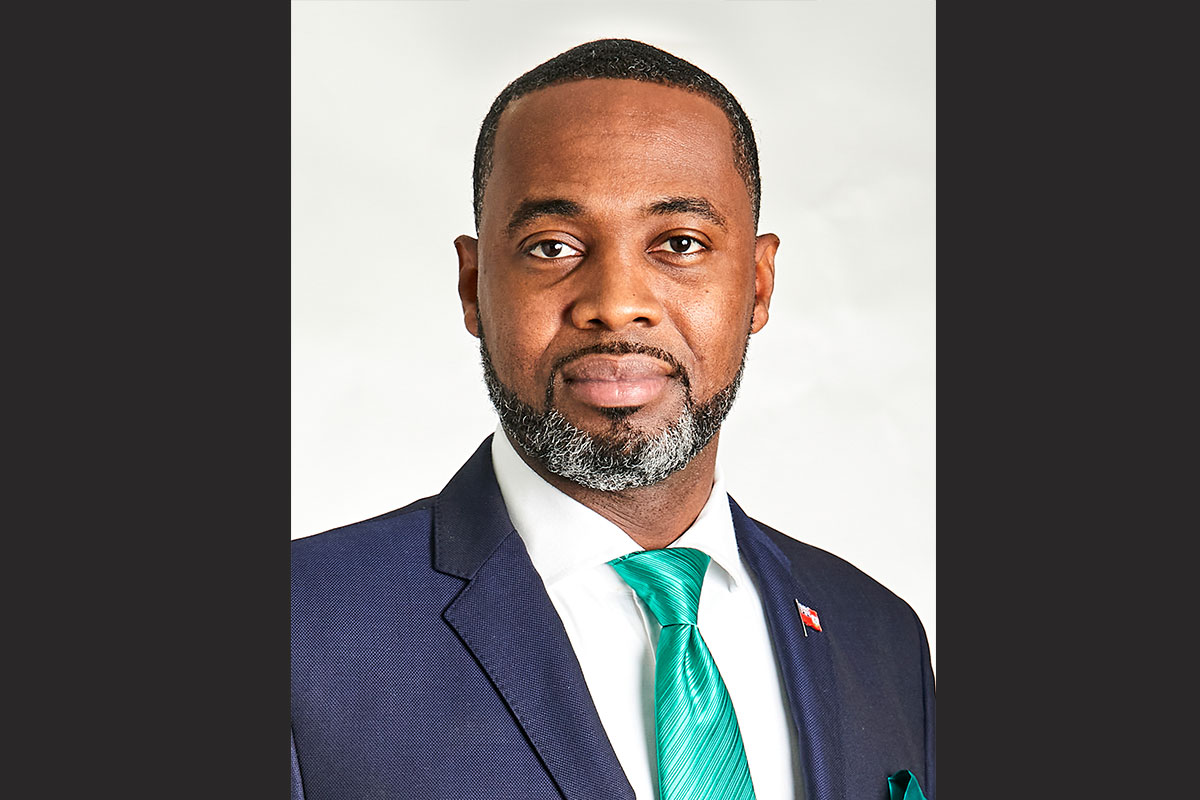 23 Jan

Building economic growth on multiple advantages
David Burt, Premier of Bermuda, showcases all the elements proving that 'Bermuda is different' compared to its competitors
On October 1st, Bermudians decidedly voiced their confidence in your leadership at this crucial time. How would you describe the experience of an election amidst the pandemic? What are your top priorities in these first months of your new mandate?
The upcoming time is going to be critical for all countries, as we are dealing with the impacts of this pandemic. We have to also consider the impacts of the subsequent economic pandemic, which is certainly the biggest economic challenge that will face the world since the Great Depression. It was really important for our country to make a decision in the way it wanted to go forward. We had a clear way for whatever government there was to deal with the issues at hand, with the flexibility to make tough decisions which may be necessary for the long-term benefit of the country. We are certainly gratified for the results. As this pandemic poses as common enemy that has allowed us to unify. Our task with our cabinet is to change the structure of the country, so that, during this period of crisis, we can emerge much stronger.
New hope and an injection of confidence has come with recent announcements on vaccines. What are some of the latest programs and initiatives that your government is launching to help mitigate the impact caused by the pandemic and the Great Lockdown?
There is the hope of vaccines as Bermuda has managed to secure vaccines from two sources. Bermuda has decided not to go with an 'all-out' suppression strategy, as we felt that it is important to keep our borders open. We implemented an aggressive testing strategy, which worked well for a period. We are now seeing a small period of challenge, due to the increasing numbers, so we are working to tighten things up a bit. We have widespread testing in Bermuda and are confident we can stay on top of any outbreak. In addition to the technology that we are rolling out, Bermuda will be the first country to do a nation-wide rollout of the Android and Apple Anonymous Notification program that were launched recently. We are also launching WeHealth, a completely anonymous exposure notification app so that people can be informed and understand their status.
There is going to be an economic reset for the entire world, including in Bermuda. The cabinet approved a stimulus plan for additional measures that we are going to be promoting inside the country for short-term construction projects. On a broader level, we are changing the way our country is positioned in the world. Bermuda's economy has been one where companies can come and set up, however, we want to be more of a place of substance. Our substance already exists in the insurance industry, for instance, where we have many businesses and people who form part of the industry. We want all economic sectors to also have this substance and be impressive on an international level.
We have to have a long-term plan for transformation. We are going to encourage development with new residency opportunities. The Ministry of Labour is launching the Economic Investment certificate where individuals can obtain a certificate to remain on the island for longer periods or even permanently. We are going to be launching family office legislation, which is specifically placed to attract family offices in Bermuda. We want to transform our country into a place of year-round residency. We are looking into construction projects that will spur developments in our city. We have changed our laws inside the city, including the property ownership law. We want Bermuda to be a place where one can come to live and not just a transit country. We would like to see more long-term tourists versus short-term visitors. As a result, we need to make sure that we build massive capacity here on the island.
This pandemic has taught us that you do not have to live where you work. Nowadays, many people are able to choose where to live and work. It is going to have a long-term impact on the way businesses operate. We want to be a place where one would like to reside. From that perspective, we have to look at that long-term basis in terms of the direction we are trying to follow.
Under your leadership, what strides has Bermuda made in diversifying its economy? What else is necessary for further diversification in key sectors?
Bermuda is certainly challenged from an economic diversification perspective. Our economic policy is based around four main pillars. First, it is based on the idea of building upon what is available. We build on tourism, trying to reinvent ourselves in that context, through the addition of new components to the mix such as finalizing our gaming product and making sure that we have new hotels, luxury accommodations and marinas to attract super yachts. In financial services it is all about continuing to build on what we have.
The second level is the diversification of our economy. The government has recently for the first time formed an economic development department, where concentrated efforts will be made toward economic development and diversification. Light manufacturing is an area that is well poised for diversification as we are not apt for heavy industries. We are talking about healthcare and medical tourism, working to attract investments in these areas. Those are the places where Bermuda can see itself playing a niche role.
We are looking to make sure that we follow our promise to develop and exploit our natural resources in an attempt to build these sectors as well. The government has committed investments to shoreside facilities for fishermen. We are going to continue to build that out, because it may not be a mainstay in Bermuda's economy, but it has the ability to play a critical role in exports.
Bermuda is renowned for its global financial service industry, especially in the areas of insurance and digitalization. You have had your finger on the pulse, spearheading the right steps to position Bermuda as a forerunner in Fintech and Blockchain. What is your vision for the development of these industries? 
Our government embraces and inspires innovation. It is something that I want to focus much of my time and energy on in this second term as I think that it is crucial for our country's future. We want to be a renowned innovation hub. We want to allow innovators to work with sandboxes, setting up an initiative that is beneath the sandbox level, requiring a licensing fee of only USD 1000. This way local players can easily gain access and get in on action as we want our citizens to be owners and creators. We have had massive fintech education, offering free fintech education over the last two years and now providing them with licenses. We want them to be involved in the sub-sandboxes, test their digital currency ideas and, if they can graduate to a higher level, for them to be able to secure investments and move into bigger projects.
What are some of the country's biggest incentives to investors and other comparative and competitive advantages vis-à-vis other island economies? Where would you say are the most interesting opportunities today for foreign investors?
Bermuda has seen a lot of benefit from international investments and regulatory changes, with many new companies looking to establish themselves here. From an investment perspective, our tourism sector is witnessing growth. The point is to make sure that we position ourselves correctly in the market to leverage new opportunities, as there are certainly opportunities for investments. We are positioning ourselves to attract new investors through the economic investment certificate program and others, as we are looking out for ways to build up our infrastructure. We want to turn the city of Hamilton into an iconic place. It is beautiful and historic. We intend to revamp and update the city and its services to the 21st century. We are going to need the infrastructure, the sewage and water lines, everything necessary to support a greater and higher population that will be living inside that city.
The government is open to inward investments, seeking persons who wish to partner in diverse investment activities, whether in infrastructure development or services, like waste management and water supply. There is work that needs to be done and our government welcomes persons interested in our economic investment certificate program, which will be coming online shortly.
What would be your final message of trust and safety about Bermuda today towards our readers of Newsweek?
People need to experience Bermuda. Businesses that are looking at how they are going to position themselves for a future economy need to consider where they want to base their operations. Bermuda has unquestionable political stability, accompanied by regulatory and legal certainty. If you are looking for a place where you can have a government and regulator that will be attentive to your needs and ensure that you can promote and protect your investment, Bermuda is the perfect choice and we invite you to come and see this for yourself.