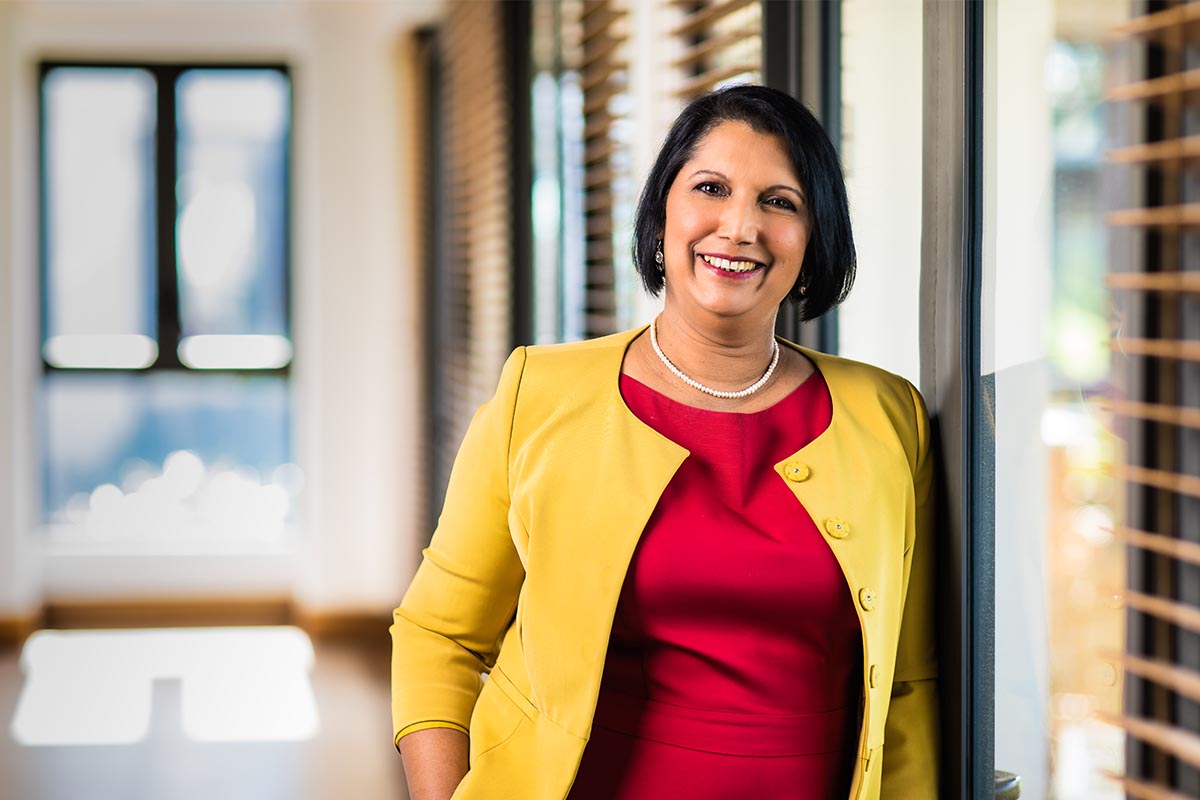 06 Apr

Building for a new world
Jyoti Jeetun, CEO, Compagnie de Mont Choisy Limitée, shows how development in Mauritius is adapting for a new, post-pandemic world.
As one of Mauritius' most ambitious real estate development projects, Mont Choisy has transformed the north of the island, creating a vibrant community that merges sustainability, smart living and luxury. As CEO, you have been instrumental in establishing and implementing the project's vision and creating this beautiful community. How would you describe the essence of Mont Choisy and what makes it such a unique development?
The Mont Choisy Golf and Beach Estate comprises over 500 acres of land within the smart city master plan vision as approved by the Economic Development Board around the theme of lifestyle. In fact, our tagline is Once in a Lifestyle. We are extremely fortunate to be nestled between Grand Baie, which is often considered as the equivalent of the French Riviera in Mauritius, and Mont Choisy Beach which is the longest stretch of public beach on the island, one mile long. We are the only championship golf course in the north of Mauritius. We are also committed to preserving our heritage. It was imperative for us that we did not destroy what was here just to build modern villas. This is a 200-year-old estate with magnificent trees and ruins that date back many decades. The company is investing in the renovation of what we call the heritage zone, which comprises a historical manor house, "Coeur de Mont Choisy," the old sugar cane factory, buildings and century-old banyan and flamboyant trees. The paddock and horse-riding facilities have been restored.
Our vision, which we began to implement five years ago, is built on preserving the past, bringing value to our location, and making sure that we are building something sustainable in terms of urban planning, ecology and economy. Six years ago, this was just a vast sugar cane field. The only reason we were able to build a golf course on 250 acres in the north, the driest part of the island, is because of the agreement that we have with the wastewater authority. All the water, including the water in the pond, is recycled and treated wastewater. The strategy is to have sound urban planning for the next 20 to 25 years.
The other difference you will see in the Mont Choisy Smart City Golf and Beach Estate is that we do not have concrete walls around the estate. We want to be an inclusive development. There is security everywhere for residents to feel safe, but we do not want the people in the neighborhood to feel excluded. We are sitting right in the midst of the surrounding villages. There may be soft fencing, and landscaping but no stone walls.
Tell us a bit about what's in store in Phase 4 and what kind of opportunities are being offered today at Mont Choisy for international visitors and investors?
Phases 1 and 2 were built a few years ago, in the form of 210 luxury villas, penthouses and apartments, which are all sold out. Then, post-COVID, we did a number of projects in Phase 3 which are extremely upmarket villas, penthouses, and apartments with views of the Coin de Mire (or Gunner's Quoin), the island to the north and on the gulf destined for high-net-worth individuals. When we began construction, we had around 56 percent sold. In the last two months, we have sold out everything which is why we launched the commercialization of Phase 4, essentially because we had no more units to sell. If all goes as we expected, we will start the construction of Phase 4 in August 2022. We have already exceeded 50 percent of sales for Phase 4.
We have also started a number of projects and it is noteworthy that we actually started some of them during COVID. The last two years were probably our best years in terms of performance, despite COVID. Many of our customers were foreigners who were here already in the country. Borders were closed, so sales to foreigners were limited. Some were buying by Zoom and through webinars, but the majority were sales to Mauritians and expats. The government allowed expats to buy serviced land for residential purposes which was not authorized in the past. Between mid 2020 and October 2021, we launched three projects which were all sold out. These were so successful that we had to cancel our advertising campaigns because our product was sold out even before it went to market. One was done in July 2020, one in October 2020, and one in September 2021.
What are some of the key elements behind the Smart City and which make it modern and different from other real estate developments in Mauritius?
Every smart city has its own USP, and ours is very much centered around lifestyle because we are in a touristic area. We have a boulevard which we built in collaboration with the government. The government had a plan for a road, and we agreed to make the land available for free. We made it sustainable in that, instead of a motorway, we wanted to build a road that would cater for soft mobility, like pedestrians and cyclists. There are three miles of parkway along our main road artery, which includes the road and, in parallel, green parks and pedestrian and bike paths. We believe that in the future, people will be traveling more in electric buggies, so we are also providing for that. As a smart city, we need to plan for the 20-25 years in advance. It still needs to be relevant many years in the future.
Mauritius with its stable democracy and excellent social infrastructure is among the most developed countries in the world, and the new Premium Visa gives visitors a reason to consider it an ideal destination to Live & Work. In your opinion, for what reasons should Mauritius, and specifically Mont Choisy, be on the radar of international investors, entrepreneurs and remote workers today?
If COVID taught us anything, it is that we can work from anywhere. We all learned to adapt to this new environment where suddenly we could not go to work or travel. It was difficult to be cut off from family for two years and not be able to travel. Our generation has become very global, we are used to traveling constantly anywhere. However, the advantage of sitting anywhere in the world and working is groundbreaking. When the government came up with the Premium Visa, we saw the effects at Mont Choisy almost immediately. People from abroad began to come for a whole year and we saw them working and doing Zoom calls from our clubhouse. You could see how amazing it was to sit in a beautiful environment or a restaurant and work perfectly well. That created a new demand that did not exist before. It also made us realize that living on an estate is the perfect opportunity for this demographic for remote working. Here you have over 500 acres of land to roam, and you are part of a community. You are not cooped up in a house. Of course, everyone extols the praises of the climate and the proximity to the beach and the lifestyle. You can take a boat and go for a jaunt, swim with the dolphins, sail, and still be able to work. Different types of buyers or homeowners have different needs. Some are looking for a rental or return on investment. This is done extremely well, whether that be rental or resales.
The quality of life where you can live here and work within half an hour and have an excellent school right here for your children, the fine dining, and all the perks, add up to an unbeatable offer. Mauritius being such a small island allows you to commute from virtually everywhere. We are so easily connected to the rest of the world and most importantly Europe, Africa, the East, Singapore, and India. The time zone fits right in the middle perfectly between the most important markets.
The country is seen as Africa's top country to conduct business and ranks 30th on the 2022 Index of Economic Freedom. For the investor community, what would you say are the country's competitive advantages as a safe and reliable jurisdiction and lucrative business hub?
There are a number of things, in fact. We are a peace-loving country. There is no violent criminal activity, and we enjoy a stability that is not present everywhere. This has a lot to do with our configuration as a multicultural society. We have learned to live in harmony with each other for a long time.
Then there is an outstanding working relationship between the public and private sectors. Mauritius is extremely fortunate to have such a vibrant private sector, which has been behind a lot of the development in the country, from sugar to textile, to tourism, to financial services, to real estate development today. Investments are private sector driven while the government has been there as a facilitator. Overall, when you look at the trends, that relationship between the government as a facilitator and the private sector as an investor has worked extraordinarily well and has brought us to where we are today. It has allowed for productive investments to happen in the country.
We also have an incredibly educated population, which has to do with the composition of our people. More than 70 percent of our people are from an Asian background who, in general, put a tremendous emphasis on education. We follow the European system, and many of our graduates study abroad in the U.K., France, South Africa, and Australia and then come home to flourish here. Many have relocated after COVID. They have seen the value of living here. The government has created the Diaspora Scheme which gives them special fiscal advantages. Many of the diaspora have returned home over the last few years and they are contributing to the economy here with the know-how and expertise they are bringing back with them.
In 2021, the FSC of Mauritius submitted guidelines to issue green bonds, as a reflection of the government's commitment to accelerate investment in green projects. Mont Choisy Group has made significant contributions to local ESG practices, most notably with your 5-year broad community support program. How do you integrate sustainability and eco-awareness into your developments?
One of the major challenges we have in Mauritius is potable water, though we are surrounded by water. We are working on how to use seawater by way of desalination in a sustainable way in order to preserve our coral reefs. The technology and scientific side will, of course, need to be explored.
Another project has to do with the sustainability of community development, making sure that whatever we are doing is in harmony with the community. The parkway we are building is not exclusively for our residents, but for everyone in the neighbourhood. It is for the people from the community as well as our clients. It is totally open to the public. There are a number of things like that that we are doing which are long-term sustainability initiatives.
What are the focus areas during for your five-year reform project?
At the moment we have no less than seven projects under construction. There is a massive construction site. One of which was delivered in December of last year. Three residential projects are under construction. Phase 3 and the Heritage Zone are also under construction. We are also building a private hospital which began construction last month. It will be managed by C-Care, one of the biggest healthcare providers in the country. The parkway is breaking ground next month as well. A business park was put on hold because of COVID and the decline in the need for office space. However, we have reinitiated it and adjusted the project to the new realities. COVID has taught us to always be agile and adapt to any changes. Being able to rethink everything, think outside of the box, reshuffle and reinvent ourselves has allowed us to prosper.
As a prominent player in the Mauritian real estate industry, your Smart City, for example, aims to create roughly 7,000 jobs and offers a myriad of commercial opportunities as well as office space for businesses to set up. What is the connected role that the company's objectives play in job creation as well as the empowerment of local SMEs?
Mont Choisy is a family-owned company, but we have adopted all the best practices in terms of good corporate governance, equality and fairness. For all of our tender procedures, we do not have any preferred suppliers, contractors or business arrangements. The tender is completely democratic. Anyone who is competitive and makes it into the process through compliance can win the contract. There is no favoritism. That is one way that everyone in the community has a fair share of the business. Our procurement policies are very clear on being utterly transparent and promoting equality and fairness. We walk the talk. The same goes for recruitment. We make sure to recruit the best talents wherever they are. We are one of the rare companies, or perhaps the only one, where despite being a family company, the CEO is not from the family. The policy is to hire the best and most competent people. We are quite unique in that aspect.
What is your final message for the readers of Newsweek?
On a personal level, to be able to shape the vision and lead such a major transformation is a rare and once in a lifetime opportunity. We are conscious of our responsibility to the future generations. I might add that we have over 50 hectare-forest-lined nature reserve. It is a secret, virtually undiscovered area with deer and ducks. It is not included for the moment in any of the development projects so that it might remain protected.