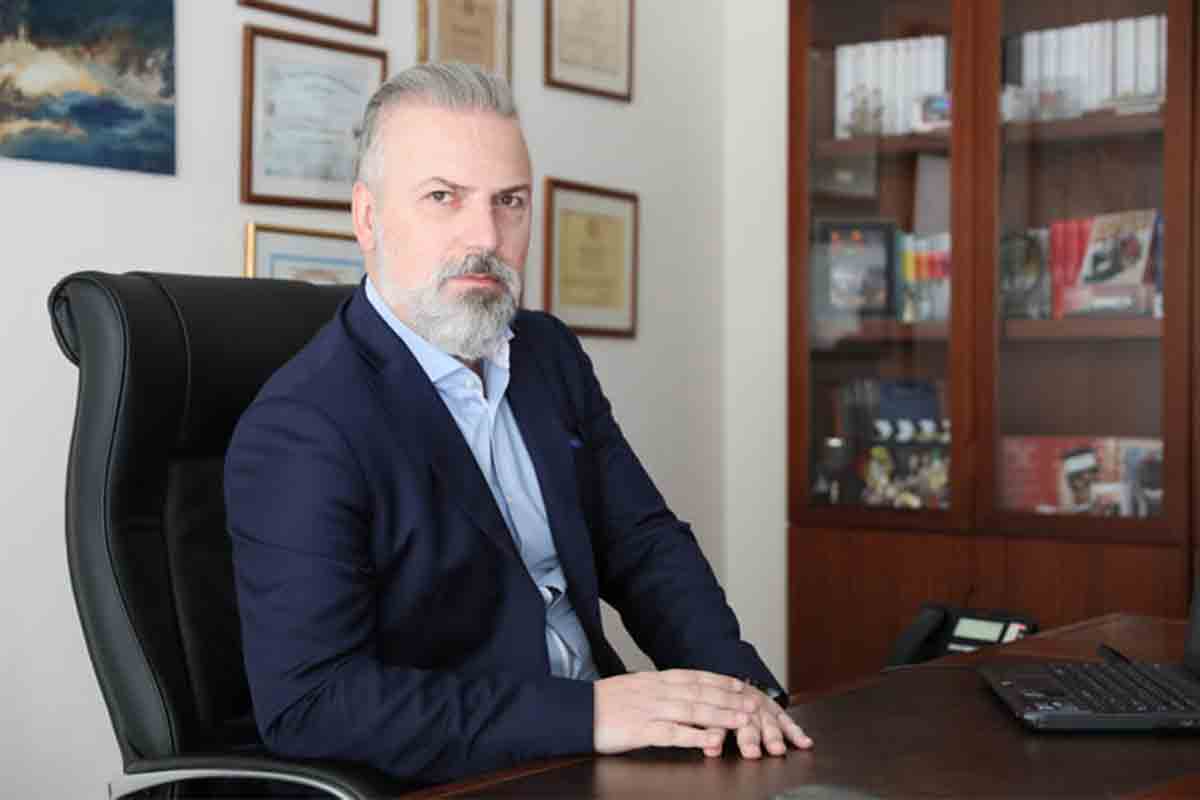 01 Jun

Combining different styles of approach to reach higher levels of success
Dr. Anastasios Vekris, CEO of CDM Medical Group and Medical Director of Advanced Hair Clinics, underlines the importance of a 'quality over quantity' mindset
As a highly experienced plastic surgeon and notable figure in the Greek hair transplant industry, how would you describe the advances that have been made in hair transplants over the last few years? What have been some of the key scientific moments in your field in the last decade?
I would say that the more interesting advancements were introduced in the technical part of the procedures, as our equipment has improved a lot over the last years, allowing us to carry out more precise and detailed operations with better outcomes in terms of results and the overall conditions of our patients. Furthermore, I would say that the major difference in the last few years is that that hair transplantation procedures have become more popular and accessible, not just to medium or higher income individuals, as it was in the past. It has been popularized significantly, to a degree that more and more people, not just from advanced economies, but virtually all over the world, are interested and going through hair transplant procedures. This is a major thing for us, as we attract over the years patients from many countries around the world. Excluding the period of the pandemic that was rather challenging for the economy in general and for us, we did have a huge influx of patients from many countries around the world, coming to Greece and to our clinic to have their treatments with us. Percentages vary depending on the period. During the pandemic, the percentage was minimized, but on average I would say that 35 to 45 percent of our clients are internationals.
The world is still battling the COVID-19 pandemic and Greece has not been left unscathed. Amidst the pandemic, we have seen a number of innovative medical and healthcare solutions come forward and great strides being taken throughout the industry. What would you say the pandemic has taught us about investing in healthcare innovation, the medical sciences and upscaling medical infrastructure?
It was inevitable that the health system, both public and private, in all countries was to be in the middle of the pandemic from two different aspects. First, there was some undoubtable pressure on the system to treat all those patients with COVID-19 and to be able to compensate with the increased – and unprecedented – numbers of people that wanted treatment in hospital incubators. This was a challenge unparalleled to any other similar condition in the past, only resembling a war period. On the other hand, we did have an opportunity to develop better protocols of healthcare within our premises, as we were obliged by the pandemic. This was one of the positive effects of this pandemic, meaning that we needed to adjust ourselves and our practices in a more efficient, healthier, and careful way. Whatever protocols we needed to implement during the pandemic, maybe not all of them but some of them, are here to stay. This will be, in the long term, a profit for our individual patients and our business in general.
Greece has done well to position itself as a regional force in the plastic surgery and hair transplant industry. Do you see the Greek medical tourism industry as being regionally and internationally competitive? How internationally competitive is Greece's medical infrastructure and the quality of its specialist clinicians?
We do have certain advantages that highlight a rather high level of facilities and trained staff, physicians, and assistants, which is equal to the best health systems in the world. Many of us have other studied, or trained abroad, in advanced Western countries. Returning to Greece, we brought along all this education and expertise. We have rather multilingual and advanced medical staff. Our facilities are good, as well as our equipment. We do have some issues. One major issue is common with all the other EU countries, which is the relative cost of providing the services because of the tax systems of the EU countries. There are many developing countries that are more competitive in that sector because the local governments give them some priorities and tax benefits in order to attract medical tourists. In European countries in general, not just in Greece, we face the problem of higher costs in maintenance of our services, higher payments in educating our trained staff and higher tax rates. Also, another issue, especially for Greece, that has improved over the last couple of years, is that we did have, during the financial crisis, the issue of difficulty in accessing Greece from abroad. This has improved a lot over the last years. Before the pandemic, we had a huge increase in direct flights from many destinations. This has stopped inevitably during the pandemic and now it starts again to grow slowly. We are optimistic that in the following years, Greece will attract more medical tourists and can be a real hub of providing medical services. The location of the country and the high level of expertise in our medical staff throughout various sectors of medicine will allow this. We have the facilities, we have the staff, we have the location and all we need is some support from the government and better terms and conditions of competition.
You have specialized in the FUE hair transplant, which has led to international acclaim at medical events and conferences. Added hereto, you are an industrious academic, publishing at least 80 scientific papers. Could you offer us some insight into what makes the FUE hair transplant technique different and of such a high standard?
First of all, it is more patient-friendly, which becomes increasingly important in our times. All the patients want whatever medical services they receive to be as safe, simple, and efficient as possible. FUE, belonging in this large category of modern treatments in medicine that we can minimally invasive treatments, offer all these benefits. It has the big advantage of being a technique that works and provides impressive results, but these results come with less pain, cost, and time. In this concept, this technique has come to stay, becoming more and more popular by the year worldwide. It is estimated that the approximate number of people receiving hair transplantation through FUE worldwide increases by 15 to 20 percent annually worldwide.
CDM Medical Group and Advanced Hair Clinics have, respectively, established themselves as award-winning and top tier medical service institutions. What do you think has been your recipe for success and how do you ensure the sustainable growth of these enterprises? Do you see further room for growth, particularly through medical tourists?
To be honest, I would not say that there is a single recipe of success and I believe that this is the true story with all successful businesses. I would say that there is a combination of various elements and factors. First of all, our persistence in working with strict medical practice guidelines has been key. We have implemented protocols and teach our colleagues, collaborators, and staff all these protocols, so that we have repeatable and sustainable good results. We have a very good idea of the financial part of the business, given that this is a common failure factor in medical businesses, with doctors being unable to understand finance and failing to maintain a sustainable business. We have our experts, accountants, and legal advisors. Another factor would be a more modern type of marketing, addressing the needs of different kinds of individuals, both in Greece and abroad, utilizing the social media as well as the more traditional channels. Of course, the core thing would be the vision that if you see an opportunity, you try your best to seize it. It is important that a successful business is accompanied by growth and evolution. For us, it was a necessity after a certain point to start expanding our business in Greece and abroad.
What foreign jurisdictions are you currently entering?
We have some local partners that work solely with us in western European countries, like France, Italy, Denmark, Switzerland, and Croatia. They, in turn, act as 'referral points' for patients. With our help they also make the necessary arrangements from people from abroad to visit our premises in Greece and Cyprus. Furthermore, we are planning to forge collaborations with established clinics worldwide that want to share our protocols and modus operandi, transferring our knowledge to them. Another thing that I like a lot is that over the years Advanced Hair Clinics have become a hub of training surgeons, doctors, and clinicians from abroad. I take pride in the fact that over the last years, more than 20 medical teams from various countries around the world have visited our clinic in Athens and they were training in hair transplantation by myself and my teams. This is something that we need to continue.
Many of our readers are, themselves, executives, and founders at large corporations around the world. You are not only a successful medical scientist but a successful businessman. How do you merge your business ideas with your scientific ideals? What advice can you offer to others who are both medical practitioners and businesspeople?
It cannot be a single thing, but you have to have a spherical approach in business. There is a medical part, involving protocols, but there is also a financial part, involving sustainability and expansion. I would say that businesspeople should trust the experts alongside their instinct. As with the pandemic, pretty much everyone now knows what the dangers are and how should we protect ourselves. On the other hand, at the end of the day, we need to trust the specialists on how to do this. I have my ideas and instinct, but when I am implementing anything, I always trust and consult the team of experts that surround me, following a holistic approach on how to proceed.
What would be your final message for our readers of Newsweek?
To conclude, I would like to say something that emerges from some recent opinion polls on how people see the situation during and after the pandemic. Business-wise there is a 60 percent of people that would spend in the following years less money overall, with their first criterion would be the price. On the other hand, there is a 30 percent that would choose the service or the product with the criteria of medical safety and quality. Thus, they would pay a premium to receive a safe and quality service. Discussing that with my staff and colleagues, ideally, we should aim for that 30 percent, the people that in these difficult times are striving for medical safety and quality of services rather than the price. Prices will fluctuate anyway depending on the situation, but they should not be our central axis. We are addressing people throughout the world, in countries that are usually more developed and expensive compared to Greece. If our competitive advantage lies with a high level of expertise, innovative protocols, safety of procedures and quality of services, pricing will never be an issue. To me, it is a business mistake competing on the basis of pricing for the aforementioned reasons.