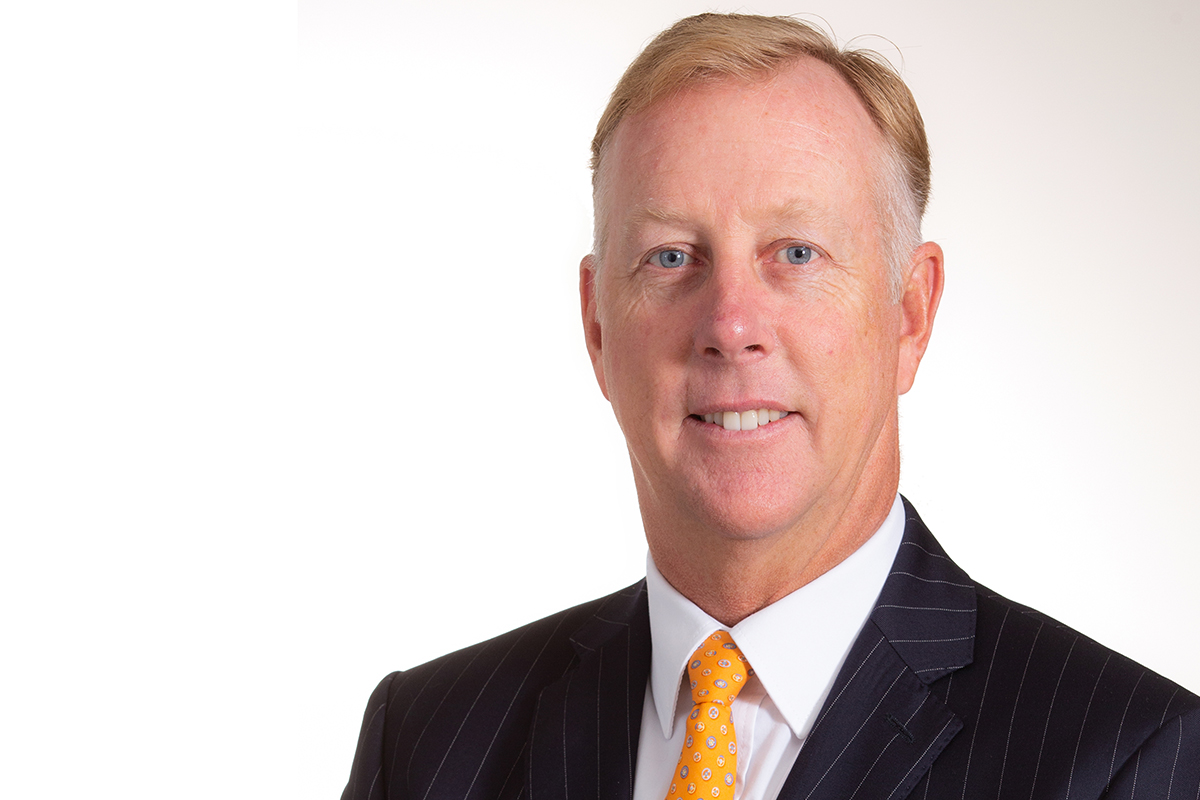 22 Dec

Confidence for swift recovery and progress
Ian Truran, CEO, Clarien Bank, firmly believes that the dynamism of Bermuda's financial services will continue to prevail
As we start the year, across the world leaders are taking stock of the true impact of COVID-19 and the lockdown to their economic activity. However, recent news about vaccines have given an injection of confidence for 2021. How optimistic are you about the speed of Bermuda's economic recovery?
It is an interesting challenge and opportunity that we are all presented with. I think that there are many varying views with regards to economic recovery around the globe, whether it is going to be W-shaped, V-shaped of otherwise. As we look at the U.S., our closest counterpart, their recovery is going to be fairly quick towards the end of 2021, with significant GDP growth in comparison to 2020 which was negative. I think that Bermuda will be slower than that. Bermuda's recovery is more so dependent on the resiliency of our financial services and tourism sectors versus a reliance on natural resources as experienced in other parts of the world. That innovation and collaboration between the private and the public sector I think that will support us well. The government is extremely focused on economic recovery, acknowledging where we stand on the cycle. The Banker's Associations is working very closely with an Economic Advisory Committee to make sure that the strategies that we implement will be focused with the maximum impact. In terms of our financial services industry, I think that we will recover fairly quickly in 2021. I think that the tourism sector will be challenged throughout 2021 and hopefully will see a better recovery in 2022, with the extensive use of the vaccines by then.
The most feasible example of success is diversification can be seen in Bermuda's financial services industry. Traditionally it is the biggest contributor and has allowed the country to build a strong global reputation. From becoming the risk capital of the world, Bermuda now is also known as the 'Silicon Valley of the Atlantic'. Can you tell us a little about this journey, the vision behind it and how a strong and attractive banking sector has paved the road for a vibrant ecosystem?
I would not say that we are the Silicon Valley of the Atlantic yet, but it is certainly an aspiration. Going back to the public and private sector, first and foremost, Bermuda's reputation as a preeminent regulated international financial services centre has allowed us to execute and attract businesses to our shores. That has not been compromised in any way, shape or form. I think that we continue to develop extremely complex but user-friendly regulations, in order to invite people to Bermuda. The recent Digital Assets Business Act, or DABA as we call it, is assisting in incubating the Fintech sector. From a financial services perspective, I would say that we are finding our role in that place. The banking space in Bermuda is embracing the ongoing technological advancements experienced in almost every industry sector, while navigating through some of the financial services industries constraints. We try to make sure that we come up with solutions that support the growth of the industry, but does not compromise the preeminent status that exists for the island.
Clarien Bank is one of the four main banks in the country. As CEO, what are your main priorities for the Bank for 2021?
Before the pandemic, we had set some very bold aspirations. First of all, we are a purpose-led organization. I would say that through the pandemic this has put us in a good place. Our purpose is that we make it easier for our clients to navigate their financial future. We place that lens on everything that we do and if it does not satisfy that criteria, we have to question why we are doing it. Having set bold aspirations, we have been working very closely with our major shareholder, NCB Financial Group, leveraging their size and scale as well as their digital capabilities and thought leadership on certain subjects to accelerate our strategic aspirations. We have also been working closely with McKinsey & Company on developing not just a framework but also instilling a mindset across the organization that embraces innovation, change and transformation.
Out of the commercial banking, private banking and asset management services you offer, what are the areas that are experiencing the most growth for you right now?
On the commercial banking side, we aim to be the best commercial bank in Bermuda. Putting the customer at the centre of that universe, focusing on what their journey looks like and making sure that we are developing our people, platforms and products to be able to support that is vital. I always look at it from a people-product-platform-perspective, to gauge whether we are solving the needs of our customers in a way that they need or they have not even thought about yet. In some areas the sector is actually growing, while in others we are refining our methodologies and delivery approach to capitalize on opportunities. Like many firms, we had to rapidly pivot during the crisis, as the delivery of commercial banking service changed during the lockdown. We were able to shift our solutions from traditional brick and mortar transactions to building e-commerce ecosystems for our clients to ensure they remained viable providers of goods and services for their customers. We did so quickly, winning many customers through this process. We always focus on the value that we can add to the customer. It is not just a product or solution; it is the whole relationship. Looking at it from an ecosystem perspective, we are always trying to maintain a key role in that regard.
On the wealth management side, we have doubled down our strategy in that aspect. The Chairman of NCB Financial Group is the Hon. Michael Lee-Chin. Michael's philosophy on wealth creation is very well respected by the industry and is embraced by Clarien as we continue to evolve our wealth management solutions. Clarien's aspiration is to be the preeminent wealth manager in the region and therefore we have looked at the way we have historically delivered our wealth management solutions with a view to meeting evolving client needs. We have hired some very good talent, changing the way that we are delivering our investment and advisory management services and growing new lines of business to solve for new opportunities. We are now actively providing family office solutions, while also coupling that with our corporate service provider solutions as well. Additionally, some of the things that the government and the Bermuda Development Agency are doing, by enhancing and further developing family office legislation, have allowed us to participate in this growing arena. We have also rolled out a digital solution for asset management, where we have taken institutional capabilities and packaged that into a discretionary management platform, which is the first of its kind here in our jurisdiction. We are looking to roll that out throughout the Caribbean, through our partnership with National Commercial Bank of Jamaica and NCB Group more broadly. That is an exciting step as it democratizes wealth, which is one of our goals, but also offers the capabilities for individuals who are seeking to have their wealth managed in a more simplistic and transparent manner.
In a 2019 interview, you mentioned that you 'would like the bank's services to emulate those of Netflix, using client data and providing services in a more focused way, creating unique solutions based on spending habits or how they take advantage of financial services'. Can you tell us about the improvements in technology infrastructure, the bank and the client-centred series currently on offer?
I still believe that if one takes the 'Netflix model' and does not apply that kind of intuitive thinking where the customers sit at the centre of the journey, we will become 'dinosaurs' in our industry. As we have developed these capabilities, it is about how we roll those out to our customers. Netflix has done a great job in that regard. I think that Clarien, equally, is following a strategy focusing on capabilities in conjunction with the client demand. Looking at the digital onboarding, which we are very close to rolling out, we will be able to select the types of services that you wish to take advantage of. We will be able to deliver those at any place and time, 24/7. The digital capabilities, however, can never forget the uniqueness of the customer. That is a risk that financial services face, as we commoditize the digital solutions forgetting about the uniqueness of our customers. Through data analytics and the delivery of personalized service, we are developing all of our product solutions with that in mind.
This week the International Technology Summit of 2021 takes place, in which you are also involved it. What are some key takeaways from this event?
A headline would be that 'lots of positive things are happening'. Fintech is an emerging space and industry. We are recognizing a degree of expertise that exists here in Bermuda which is attractive to Fintechs. What we have created in the form of a regulatory framework that enables them to do business here aligns with their model. Being part of the adolescing growth of an industry is exciting, though I am sure that there are going to be some mistakes along the way. I think it is fundamentally important that those mistakes are small, so that we can move on quickly past them. I guess the motto could be 'make no mistake that you cannot recover from'. As we look at the things that we are focused on here in Bermuda, whether it is building off of blockchain or digital assets, it is creating a solution for each one of those. Clarien Bank has emerged as a banking partner of choice for this particular sector. We have made our preference in doing business in this area clear, as well as our disinterest in venturing into other areas at this point and time. Our government to take a leadership role in this effort with the coming together of the public sector and the private sector in creating a unique sales proposition. When it comes to the cryptocurrency space in particular, I think that it is still evolving, so it is still an area of high risk. We are working very hard here in Bermuda, alongside the Fintech Office of the government, to see how we can create solutions in that regard. This again positions us in a place where we are learning from each other, but also creating solutions at the same time.
In your opinion, what is like to invest in Bermuda? Can you comment on doing business in Bermuda alongside your experience in living and working in the country?
The natural beauty of this country speaks for itself. It is also a highly sophisticated jurisdiction, with standards that compete on a global scale with regards to the infrastructure that we have created. There are countless opportunities and one has simply to take advantage of those. One of the challenges that we are facing in this country is reforming our education system, to make sure that Bermudians can take advantage of future opportunities. It is certainly a place to raise a family. It is small enough that you know everybody, close enough to be able to travel and experience the world. As far as being able to continue to develop solutions and ensure that Bermuda stays relevant, we are all aligned in our thinking associated with that. The Bermuda Business Development Agency and its partnership with the private industry looks at all the challenges that we face in Bermuda, from an existential perspective, and tries to make sure that we stay at the forefront of regulation, services and capabilities. The concierge service that we offer to clients and residents aims to take advantage of either working or living in Bermuda. Shifting priorities is a key point as well. We have a wealth of assets, a magnificent environment and a great jurisdiction. As things change around the world, this is a great combination to opt for. I think that the framework that we are putting together will allow us to tap into this country's potential even more.
What do you envision will be the implications for the economy and to the banking and insurance industry of the Work from Bermuda Residential Certificate Program?
This program enables people to work from Bermuda but not in Bermuda. It can create an economic stimulus, which then can support economic recovery and later on economic growth. I am a huge supporter of this initiative and I think that we can go even further in this regard. Anything associated with immigration is a politically and socially sensitive subject, so we need to be aware of all the dimensions. We all fundamentally know that having people work from Bermuda and then in Bermuda will assist our economic recovery. The collaboration that is needed from the government and all the sectors of the economy, to make sure that we can all benefit from that, is vitally important. I think that we should be even bolder in our thinking, as Bermuda has an extremely enticing offering and some other jurisdictions are making it easier for us, thus, the time is now.
What would be your final message for our readers of Newsweek?
As I look back on 2020, it is important for us to make sure that we learn from some of the horrible things we experienced during this past year, not only from a pandemic perspective, but also from a social injustice perspective amongst other things. From our learnings we must make sure we do not repeat the same mistakes, but we certainly have to act. Embracing those challenges creates opportunities, being dynamic in our thinking, being innovative and breaking the status quo will allow us to bring significant changes. I would encourage all of us, Bermuda and other jurisdictions, to work together to create that environment, as we will not benefit as much without each other.