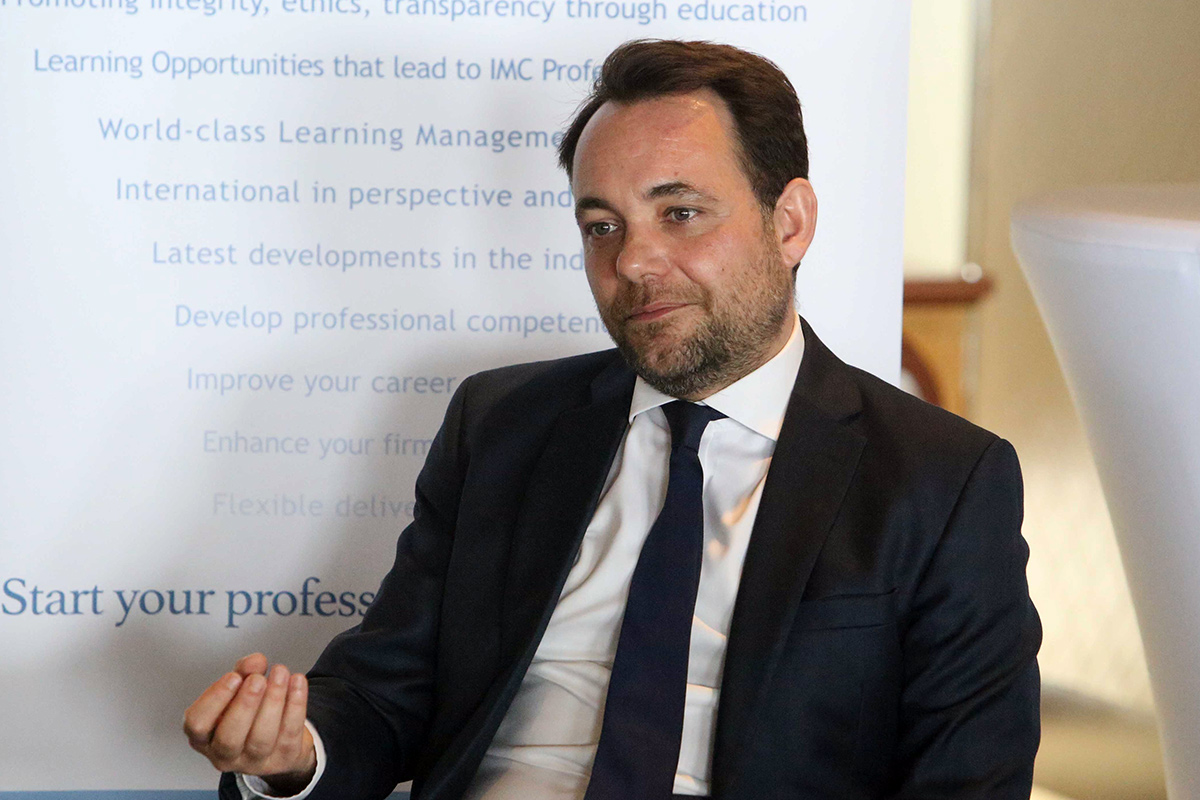 16 Oct

Creating a bridge between the industry and policymakers
Bruno L'ecuyer, CEO, Investment Migration Council, notices how the world of business is changing, with entrepreneurs becoming much more mobile than in the past
The Investment Migration Council was given special consultative status with the UN Economic and Social Council in July 2019. When were the first Citizenship by Investment programs launched and how long after the creation of the IMC did it take place? What is the organization's vision and some of the major milestones that you have achieved so far?
Investment migration is a form of legal migration used by over 80 sovereign states globally. The modern reincarnation of investment migration goes back to the early to mid-80s in the Caribbean. Investment migration today comprises various citizenship and residency by investment programs, which allow individuals and often families to gain citizenship or residency rights in return for extraordinary investments in their host countries. Those programs are often structured around entrepreneurship, which we know is already a well-established practice in immigration policy and used by many OECD countries. As for the Investment Migration Council, we are the worldwide forum for investment migration bringing together the leading stakeholders in the field. We set global standards, provide a qualifications framework and we publish research in the field of investment migration, which is aimed at governments, policymakers, international organisations and the public at large. We are a non-profit Swiss-based membership body and we are also registered with the European Commission's joint transparency Secretariat. Essentially the IMC and its community of members want to see that this legal migration option is fully recognised for the economic contributions that it makes in economies around the world.
The Caribbean and Southern Europe might generally be the better-known jurisdictions in the last decade. Where are individual investors coming from, what are the biggest source markets for investment migration today?
First of all, investment migrants come from across the globe. They may be celebrities, sportspersons, world class doctors or business people, looking to relocate and build a better life for themselves and their families in search of security, better education, improved career opportunities, better healthcare and greater mobility. These are the main reasons why individuals look at these solutions. It is no surprise that the largest markets tend to be in the Middle East, Asia, Russia and the former USSR countries, but increasingly we are hearing about an increasing demand from the UK and the United States.
Secondly, attracting talent, foreign direct investment and essentially debt-free liquidity is increasingly important. Now we undertake studies on a regular basis. A recent IMC study which we conducted with the International Centre for Globalisation and Development has taken a deeper look into how investment migration positively contributes to the United Nations' sustainable development goals. Thirdly, the IMC members promote the wider Investment Migration Community of law firms, due diligence providers and professional consultants who assist governments and individuals, ensuring that appropriate checks are conducted on applicants to ensure that only fit and proper persons are accepted into such investment migration programs or frameworks.
The issue of transparency has once again come under the spotlight following the leak of the FinCEN files last month. Despite there being a risk for citizenship and residency by investment programs to deal with money from dubious sources. The IMC has taken the bull by the horns, through its program to develop and implement improved standards. Can you tell us a little bit more about the IMC's role in creating industry standards? What are the challenges of implementing these across such a diverse range of stakeholders and how much progress have you made so far?
Ever since the creation of the Council back in late 2014 which I was a part of, we have worked very hard on improving standards. We have pushed for transparency at every level and we have advocated for tighter controls in the sector. Now, that has often been quite unpopular with the industry and, from a business perspective, it is understandable. Regulators historically have often made catastrophic mistakes in interfering with the markets. We had a lot of pushback from our own members and our own industry. Back in 2015, we were the first global body to launch a code of ethics and professional conduct that was later followed with an anti-bribery and corruption framework. Investment migration faces justifiable concerns around issues like transparency, due diligence and the potential for illegal activities that can occur where there is abuse.
Generally, like any abuse, it stems from a lack of common standards, regulations and supervision. We absolutely agree that it must be stopped. This is a challenge for policymakers. It is a challenge for governments. It is a challenge for the industry, which has been broadly acknowledged. We have been very clear in our conversations with policymakers in Brussels at the European Commission at the State Department and at the OECD, but also with anti-corruption NGOs, that we are here to collaborate in completing de-risking of this sector.
Each state, whether it is a Member State in the EU, an individual sovereign state around the world or a UN member administers its own program. To mitigate the risks, we have created a highly specialised group comprised of global due diligence firms and we developed a framework of enhanced common due diligence standards. We have presented this, firstly, to the European Commission and the policymakers. We continue to advocate policymakers to take note of this work.
COVID-19 has changed the world as we know it, countries across the globe are controlling their borders and internal mobility to reduce potential for new infections. Are there opportunities that have emerged as a result of the undoubtable challenges posed by this new reality?
There has definitely been a bit of a stop in the number of applicants coming through, simply because it has been very difficult for people to access the relevant due diligence documents. However, that is now picking up so people are seeing that having the liberty and global mobility offers an insurance policy and that allows them also to move around the world. From what we have seen in the last few years, pre-COVID-19 is that there has definitely been a rise of entrepreneurship, through start-up and tech type programs, which have been seen as an alternative to the traditional golden visa programs.
Some people will feel that these are more palatable than the conventional residency by investment programs. However, the jury is still out, whether or not this new generation of programs will essentially be a sort of a 'holy grail'. That seems to be quite uncertain, but you have to know that the success of any program largely depends on whether agents and service providers are promoting that program. Some commentators believe that the extra time and expense required to validate clients' business ideas or develop custom business plans are not making these programs attractive enough for consultants to put their full weight behind. Experience from the past has also shown that most investors would prefer a passive form of investment.
Now the solution could be a hybrid model which matches investor capital with local start-ups. We have seen Portugal and Greece dabble a little bit with this, with various options that they are offering. The investment route can be a direct investment into a company or through a regulated loan fund or a national Angel Investor platform. Take for example the, the US Employment-Based program number 5, which is colloquially known as EB-5, matching foreign investors with local projects. EB5 has been around since the early 1990s and has raised an immense amount, of billions of dollars that is being put to good use in sometimes deprived areas that need investment in the USA.
Individual investors can have a real impact on the jurisdictions they choose. In the case of smaller countries investment migration can account for up to 20 percent of GDP. In Europe, 8 countries in the last 10 years have managed to attract a whopping EUR 9 billion. This creates a competitive environment among countries who aim to get the biggest possible piece of the pie. What are some of the latest initiatives being developed and offered sometimes innovative or high-tech solutions through personalised residency options?
We have seen a Caribbean country a few weeks ago that launched a sort of nomadic visa. 'Come and live in our country for 12 months and you will get lots of benefits' was their moto and that is understandable as tourism has dried up by 90 percent. You look at countries in southern Europe that were registering 5 percent to 7 percent of GDP growth annually. Those economies have contracted. Even the UK is in a period of recession. We will see that happening in other countries in the EU as well. Investment migration is an innovative form of attracting foreign direct investment and debt-free capital into a country but also talent and families that bring knowledge and global solutions to markets which otherwise would struggle to access that.
There is a lot happening in this space, but governments and individuals must be very careful not to rush out solutions. Returning to the one I previously mentioned, the Caribbean nomadic visa for 12 months sounds very good, but you have to consider the tax implications of such programs. If you leave your country of residence for generally more than 180 days in the year and you are living in another country. Being away for a 12-month period then essentially you are not a tax resident in that country any longer, but you are in a new country and that brings along a lot of administrative paperwork that needs to be sorted out to ensure you are tax compliant and not breaking the law. This goes back to standards and regulations for the sector. Overall, the investment migration industry is a force for good. We have begun studying the economic impacts of investment migration, which, in fairness has not really been studied enough. There needs to be further transparency from governments that need to be better equipped to publish the results of their investment migration programs so that there is a better global understanding of what this sector, or this legal migration route actually represents.
You have said that you might lightly touch on the world's collective awareness about environmental issues and sustainability that has grown significant through social media. These factors drive decisions being made all over the world by governments, corporations and individuals alike. In your opinion, how important a factor has this become for investors choosing a jurisdiction or for host countries themselves to promote opportunities in the green economy or boast about their commitment to sustainability and developing the circular economy?
I think it will always be the case that investors looking for residencies or citizenship options will prefer a passive route. The reality is that there is not another industry in the world where as an individual, you have to turn over so much of your personal information about your family and so much information about your source of income. A lot of work is done by good programs on due diligence on who this person is and how have they obtained their wealth. That already is quite an arduous process.
What we are seeing, though, and that has been evidenced by some of the research we have done on mapping the UN's Sustainable Development Goals, hand-in-hand with investment migration is that investors want to know how their investment is being deployed. We have pushed countries in the Caribbean and in southern Europe to be more transparent on how they are deploying these funds. In some cases, as you mentioned earlier on, can be upwards of 20 percent of GDP. Now we know in the Caribbean countries like Dominica, Antigua and Barbuda have been ravaged and can continue to be ravaged every few years by adverse weather conditions, cyclones and hurricanes. In the case of Dominica, the country was literally shredded, having no electricity, no potable water, no proper roads and housing destroyed to bits. The government has used the funds from Citizenship by Investment to rebuild public services, including those I mentioned with the addition of hospitals and schools. We need to be better at communicating that to policymakers, but this is what also investors are increasingly asking for.
What would be your final message to the readers of Newsweek in print it is over 500,000 readers and online is 90 million a month?
I want to take this opportunity to invite everyone to our next Global Forum in Brussels which takes place between the 14th and the 17th of June. There is lots of information about investment migration, which is free to access on our website.