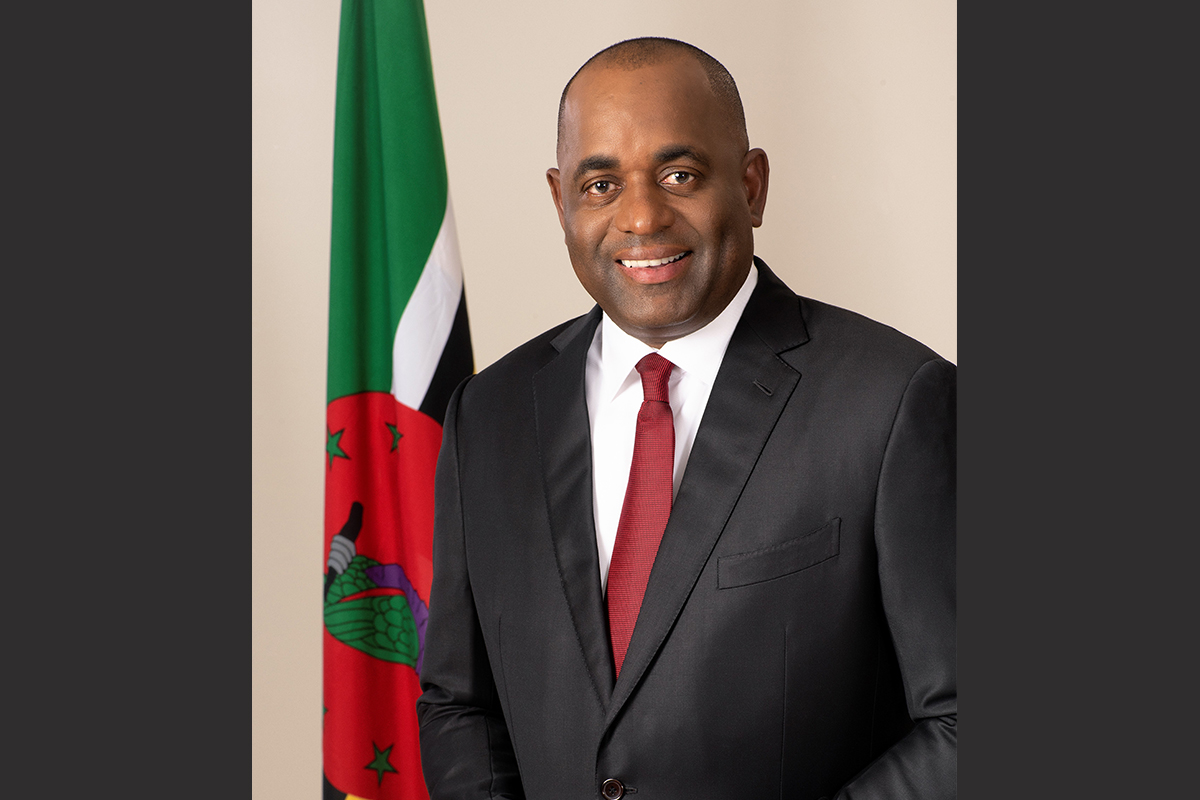 25 Feb

Dominica re-emerges stronger than before
Roosevelt Skerrit, Prime Minister of Dominica, shares his optimism regarding Dominica's prospect for economic recovery
As we approach the end of the year, Governments across the world are taking stock of the true impact of COVID-19 on their economies. How optimistic are you about the speed of Dominica's recovery and next year's economic performance?
This is not the first time Dominica has been adversely impacted by a life-altering event. Our focus on health will continue in 2021, as we instil even greater confidence in our health offering. Our government has been focused on building a better health care system for several years. As COVID-19 began to spread across continents, we quickly resolved to place lives first, diverting significant resources to bolster the healthcare sector and invest in our people. It is thanks to these efforts that Dominica experienced only a handful of cases in 2020 and zero deaths to date. Our early intervention has already resulted in success, which we believe we will be able to carry forward in 2021. It allowed us to reopen our borders in August with the relevant safety protocols in place to restart our tourism economy. Furthermore, it enabled us to develop health systems for our hotels and resorts, many of which are now designated as COVID-19-safe.
What can you tell us about your experience fighting the pandemic, and how lessons learned in the recovery from hurricanes have been valuable in the battle against COVID-19?
The pandemic required Dominicans to draw on their sense of community and of dedication to others like never before. All of us made sacrifices both in our personal and professional lives to protect ourselves and the people around us. As the world begins to breathe a sigh of relief with news of the vaccine, Dominicans have turned to their spirit of resilience to inject new energy in our businesses.
On a practical level, Dominica had, in many of its sectors, learned to switch to remote processing in the aftermath of Hurricane Maria. This meant that the same protocols could be applied when COVID-19 forced the entire nation to work from home to reduce transmission of the disease. One example is our Citizenship by Investment Unit, which began processing applications for citizenship almost immediately, by enabling systems that would allow staff to review applications in the same meticulous way as before without losing pace.
Your citizenship by investment programme has been ranked first in The Financial Times' CBI Index for four consecutive years. From the government's perspective, to what key elements can we attribute the success of the Dominica Citizenship by Investment Programme?
The first key element of the Citizenship by Investment Programme's success is its longevity, as Dominica's programme is one of the oldest ones in existence. Applicants who choose to invest in citizenship of Dominica know they are applying through a stable and tested programme, resulting in the grant of a respected citizenship. The second key element is the programme's efficiency. Our years of experience in the industry have allowed us to fine-tune our processes to ensure one of the fastest application turnaround times in the industry. Applicants who successfully pass due diligence can expect to receive notification of approval in principle in as little as three months from submission.
Thirdly, the Dominica Citizenship by Investment Programme is designed to be straightforward, as applicants need only choose between two investment routes, either a direct contribution or an investment in pre-approved real estate. Unlike some other jurisdictions, Dominica does not require applicants to fulfil time-consuming requirements.
You mentioned wide family eligibility as one of the key elements of Dominica's success in the 2020 CBI Index. In July 2020, Dominica significantly expanded the number of family members eligible to be included in an application. What was the reason behind the expansion?
In July, we gazetted new regulations that expanded the meaning of 'dependant.' This made us the CBI jurisdiction with the broadest rules with respect to including family members in an application. For example, in addition to a spouse, minor children, and disabled children of any age, an applicant can include children aged up to, and including, 30 years, parents or grandparents, the spouse of any qualifying parent or grandparent, and siblings up to 25 years of age. Notably, eligible family members can either be related to the main applicant or to the spouse of the main applicant. Adult dependants must show they are substantially supported by either the main applicant or the main applicant's spouse – where previously support had to be provided by the main applicant only. Furthermore, substantial support is a more flexible requirement than previous requirements, such as adult children having to be in full time attendance at an institution of higher learning and parents and grandparents having to live with the main applicant.
One major driver behind the decision to allow more family members to join the main applicant as citizens of Dominica was the COVID-19 pandemic, which reinforced the importance of families being able to come together in a safe environment. Family values form the backbone of Dominican society and we wanted to ensure this was reflected in our Citizenship by Investment Programme.
What are some of the country's biggest incentives to woo investors and other comparative advantages vis-à-vis other island economies?
Dominica is a business-friendly country, with a well-educated, English-speaking workforce. Dominicans benefit from a plethora of incentives designed to stimulate entrepreneurship and protect legitimate business, including no capital gains tax and free movement of profits and dividends. Thanks to the real estate arm of the Citizenship by Investment Programme, Dominica is becoming increasingly known for its luxury tourism offering. Under the Citizenship by Investment Programme, investors looking to expand their real estate portfolio have the opportunity to invest in established, luxury hotel brands and villas. 
In what ways has Dominica tweaked its tourism industry following this year? What is being done to prep for the comeback in 2021?
As Dominicans, we pride ourselves in responsible and sustainable tourism. We believe tourism can exist in harmony with the environment and that it can provide the resources needed to further protect our areas of natural beauty. In light of this, we recently launched our Safe in Nature Programme. This programme is geared towards helping revive our tourism industry while offering a safe experience for our visitors. Safe in Nature offers managed experiences while in Dominica, ensuring participants adhere to strict health measures to safeguard both locals and visitors.
We want Dominica to not only be a vacation destination, but to be an antidote for the COVID-19 stress that many individuals and families are currently feeling.
How would you describe Dominica's real estate sector and its position as an up-market and luxury destination?
As a tropical island blessed with beaches, abundant rainforests, mountains, and hot springs, Dominica is an eco-lover's paradise. The trend in Dominica is one of skyrocketing interest from tourists, including those looking for a luxury experience, as well as real estate growth and refinement. However, despite this surging demand, we remain committed to the protection and preservation of Dominica's natural beauty. Our real estate is intertwined with nature and eco-friendliness.
Real estate developers wishing to get involved with the Citizenship by Investment Programme should be cognisant of the need to meet these sustainability requirements. They must also be prepared to demonstrate high direct and indirect job creation, committing some of their own funds to the project's completion.
Are there any exciting new opportunities for those who want to be in the natural paradise that is Dominica for longer than a vacation?
The world has changed and digital nomads are a new normal in the aftermath of COVID-19. For this reason, we are developing a short-term work visa that will enable people to work remotely from Dominica. This will mean being able to enjoy Dominica's natural beauty, the healthy lifestyle we embrace in our day-to-day lives, whilst continuing to hold jobs that require interaction with an international audience, or with offices abroad. It is the perfect solution for those who want to keep working at their busy, productive 9 to 5 job, but also take a break and live the adventures that Dominica has to offer.
 What would be your final message for our readers of Newsweek?
Through our long-term efforts to improve our health sector, success in containing the pandemic, and stringent safety protocols, we have built up the trust of our citizens, developers, and visitors. We are encouraging investment, supporting entrepreneurs who choose our island, and incentivising those who want to become citizens by providing them with robust investment options. Whether you live, work, study, invest in, or visit Dominica, I can assure you that we will keep you and your interests safe, and welcome you with open arms.