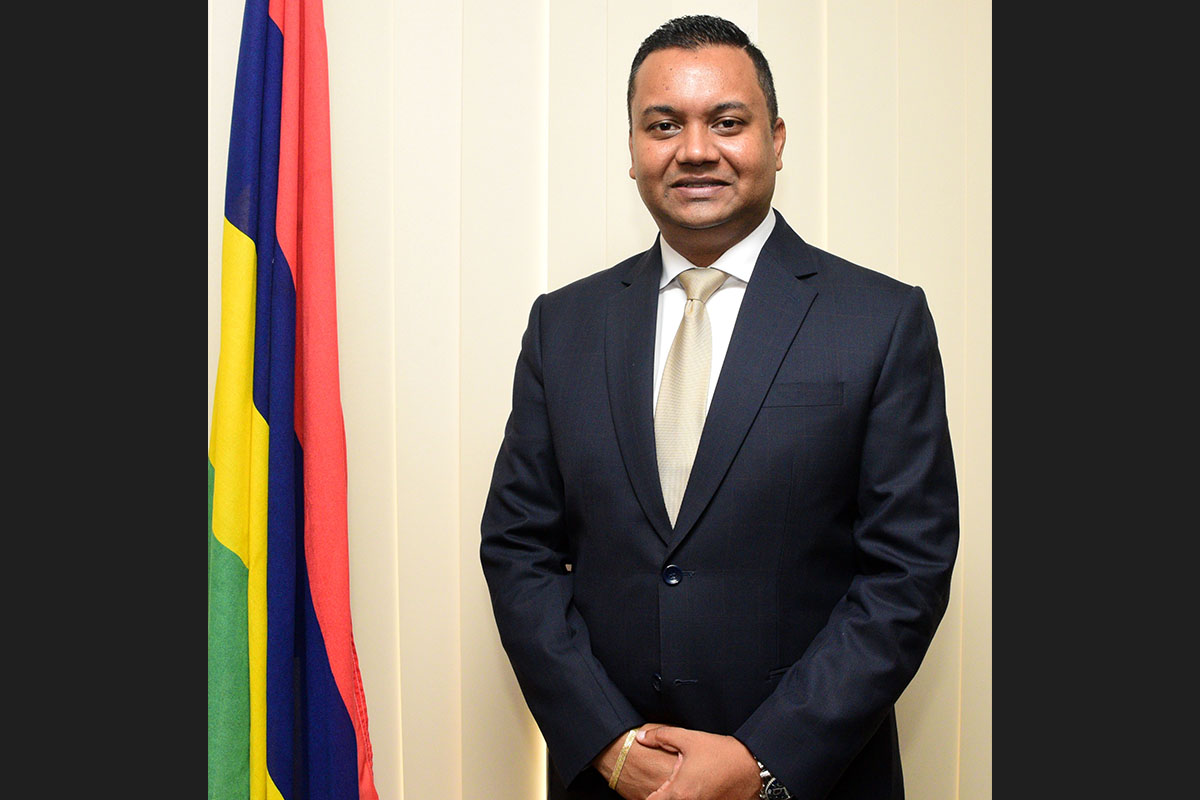 27 Mar

Education today, innovation tomorrow
Deepak Balgobin, Minister of Information Technology, Communication and Innovation, Mauritius speaks of the great investments Mauritius is making in its youth to become a leader in technology.
Can you discuss some of your priority areas as outlined in the Digital Mauritius 2030 Strategic Plan, particularly in terms of information, technology and innovation (ICT) infrastructure, cybersecurity, cybercrime, and innovation?
Mauritius is a resort island in the Indian Ocean with a population of only 1.2 million people. Our objective is to make Mauritius a digital hub in the region and a platform to attract investors, partners and stakeholders in the sector, as well as to act as a springboard to Africa. There are myriad reasons why we are ready for this. First, we are one of the rare countries in Africa where our data connection is a hundred percent fiberoptics-based. We have an internet penetration of 99 percent in the country, and a phone penetration of 150 percent, meaning that there are more mobile phones than people. Just a couple of months ago, we launched our full range of 5G services. The International Telecommunications Union under the United Nations recently ranked us first in Africa and 17th in the world for cybersecurity, which is one of the most important elements today, what with all of the transactions we do online.
Global Innovation Index of the World Bank rated Mauritius first in Africa and 52nd in the world in terms of innovation. Innovation, digitalization, and ICT all work together. Our vision is really to make Mauritius a digital hub for the country, for the region and to be a gateway to the African market. We are a member of the African Union, the Southern African Development Community, the Common Market for Eastern and Southern Africa, as well as other associations in the region. These networks and alliances make us extremely powerful.
On the other hand, since its independence in 1968, Mauritius has enjoyed a very stable political system. We hold elections every five years, and we have a very independent judiciary. In Mauritius, we do not have an unfortunate situation of riots or similar incidents which may be found in other countries. Our people are bilingual in English and French. All these elements together put us in a very strong position to make Mauritius an important regional digital hub.
Is the incentive there for investors to use Mauritius as a digital hub and then a springboard into other regions in Africa?
It is. I will give you one example. Yesterday I visited a new BPO call center recently inaugurated in Mauritius. They are principally directed toward the French market, but because the agents are multilingual, they can tap into the English market as well. What is also very important is the connectivity we have. Today Mauritius employs three submarine cables for its connection. Next year, we will integrate the fourth which will connect Mauritius to South Africa, and from there to the world. Connectivity, internet bandwidth, fiber optics across the country, and now our 5G services give us a huge advantage. In fact, we have launched 1 GB to our home installations. All of these elements make us a very strong country, one that can become a digital hub of Africa.
Mauritius is also looking at other nations to help develop artificial intelligence and blockchain. What is your evaluation of Mauritius's positioning in this regard? What do you think are the biggest benefits of the implementation of these technologies in your country?
For us to become a strong economy in the Indian Ocean, especially in the field of ICT, the adoption of new and emerging technologies—AI, blockchain, IoT, big data, AR, and VR, to name just a few—will be critical. Recently to that end, we have introduced a new law creating the Mauritius Emerging Technologies Council (METC), whose main objective is to scrutinize the business environment and make recommendations with regards to pushing newly emerging technologies in the industry. For us, it is expected that new businesses and new services will also emerge as we embrace these technologies. We have to rethink our traditional way of thinking. Today AI can do lots of things.
A couple of years ago, we hosted a world AI show. Now because of COVID-19, we cannot do large gatherings, but in the meantime, the METC will be focused more on having solutions that use this innovative emerging tech for the country. It is also very interesting to note that our public universities are offering courses in emerging technologies. We have a master's degree in AI as well as degrees in big data. At Polytechnics Mauritius, the University of Mauritius and the Open University there is a wide offering for the youth today so that they may embrace emerging tech early on in their careers. Hence, we are thoroughly preparing our new generations. The government is facilitating the effort with legislation and our institutions are really diving into emerging tech and preparing for the future.
In the case of Mauritius, how would you describe the impact of the pandemic on the nation's digitalization process?
Fortunately, COVID-19 has changed our life. Today we talk about the new normal and we have the freedom to work from home. Recently Mauritius was ranked third in the world for remote work. The government under the leadership of Prime Minister Pravind Kumar Jugnauth created a high-level committee on COVID-19, where we made all the major decisions on a daily basis.  I can tell you as a member of the cabinet, all the decisions that were made put public health interests ahead of economic concerns. We believe that we can always work out our economic issues, but public health is more important. I would say we were able to handle COVID-19 quite well. Today we have one million persons vaccinated with the first dose in a population of 1.2 million; 950,000 have received the second dose, and nearly 75 to 80 percent of the population have already gotten the booster shot. We are now vaccinating children ages 12 to 17 as well as senior citizens. In terms of the vaccine deployment, we are assured that 95 percent of the population are already vaccinated with one or two doses. That gives us an edge because we have a protected population. We have opened our borders and people are coming in from abroad, cultures are mixing again. Our priority is to have our population protected.
COVID-19 has also accelerated the digitalization of the country. Now, according to regulations, we cannot have more than 50 people in a gathering. We limit the number of people in offices and places of worship. The Ministry of ICT has come up with a lot of solutions such as the MoKloud Platform, which is an online portal where you can download your birth or marriage certificate. Before the process was very lengthy. One had to go to the Civil Status Division, get a copy of his or her birth certificate, and then go to the Mauritius Post, get a stamp, bring it back, and go through a whole series of steps. Today you just sit at home and, in a few clicks, you have downloaded your birth certificate with a QR code to be used in various institutions such as banks or offices. All they need to do is to scan it to confirm its authenticity. The same goes for marriage certificates. Very soon we will be launching driving certification online. This use of digitalization has been a huge help.
Another example is the MoRendezVous platform and app. If you wanted to get your passport before, you traditionally had to go to the passport office with potentially long queues. You had to go, wait your turn and, after a long wait, when you finally reach the officer, you may be missing a key piece of paperwork. Of course, that means you need to come back and repeat the process. On the new platform, you book your appointment online at a date and time that is convenient for you. The day before you get a reminder about your appointment, listing the required documentation. The next day you go with everything prepared and there is no need to wait in line. The digitalization of many of our services has also been done, for instance, in the national transport system, the hospitals, pharmacies, and the labor ministry. We will continue to deploy the system in more and more sites.
In a couple of weeks, we will be launching a mobile chat (ChatBot) where one can use their computer or phone and get all the information and details that they need on a particular service. There is no need to leave home. The best feature is that it is in English, French and Creole, the local language. I can ask the chatbot to make me an appointment with the tourism authority, for example.  Artificial intelligence does all the work and gives you a solution immediately. There are more than 100 e-services already online, as well as payment gateways and digital banking. All of this had COVID-19 as its catalyst or accelerator.
What is your vision for space and satellite technologies in the country and what new developments should we be on the lookout for?
We are talking about a very historic moment for Mauritius. We are the first of the SIDS, the Small Island Development States, to launch a nanosatellite into space. This happened in June or July of last year, and we feel extremely privileged and proud that we could send our flag to space. Space technology falls under my purview through the Mauritius Research and Innovation Council (MRIC). We have built a ground station here in Mauritius where we can communicate with our satellite and get data. What is interesting to note is that the satellite launch was more of an experimental situation because we do not yet know a great deal about satellites or space technology. This was an enriching experience for all of Mauritius's young engineers. They were given training in India, Glasgow and Japan regarding how to go about it. Eventually, when we had our satellite, it was launched from the Kennedy Space Center in Florida to the International Space Station, and then from there, it was launched into space. We have received a couple of pictures from the satellite of Mauritius, and we are very proud of it. Additionally, we have trained secondary students to make a small antenna and capture data from our satellite, which is also very interesting. As you see, we want to invest in our youth. We want them to really get into technology.
Now, moving forward in terms of space, we are in active negotiations with friendly countries with whom we can get more expertise, facilities and information sharing so that we may have a bigger satellite, especially to support our maritime surveillance. We have a massive sea surrounding us. Therefore, we are looking into new technology in terms of space and satellites to improve our maritime surveillance. Space technology is very research-intensive, and we are in negotiations with lots of friendly countries to assist and guide us on how to build a bigger one in order to have more pictures and data for various things, such as tracking cyclones. Hopefully, we will soon be launching our next big satellite.
What do you believe are Mauritius's competitive advantages, and why should investors come to Mauritius?
Mauritius has built its own robust ICT landscape, with very good connectivity both at an international and local level. The advent of 5G technology in the last year also gives us a push in terms of connectivity. Why should companies and investors come to Mauritius in terms of the ICT sector? Just to give you an example, in 2019 we had 750 ICT BPOs and KPO companies settle in Mauritius. In 2021 that increased to 850. That already gives you an indication that there is growth and employment in the sector. Employment rose in 2019 from 20,000 people working in the ICT sector to 30,000 last year. In terms of gross domestic product (GDP) contribution, the ICT sector contributes 7.4 percent of the GDP compared to five or 6 percent in 2019. All of this gives you an indication of how well the sector is progressing. Investors also benefit from the ease of doing business here in Mauritius. The World Bank ranks us 13th in the world in the category of ease of doing business. Imagine such as small country, seemingly lost the middle of the Indian Ocean, with such a ranking from the World Bank. As I said, we have a very stable political system, an independent judiciary, and we are very strong in our financial offshore banking sector. Our workforce is very skilled, and we have a solid ICT ecosystem. Our connectivity runs over three, soon to be four, submarine cables. Then you have our legal ecosystem, with the various rules that we brought last year.  There is a new cybercrime law for the country because, as I said, more and more online transactions are happening and you have to secure the environment. All these elements allow us to say that Mauritius is well set to become the true digital hub for Africa, for the region and a gateway to investing in Africa.