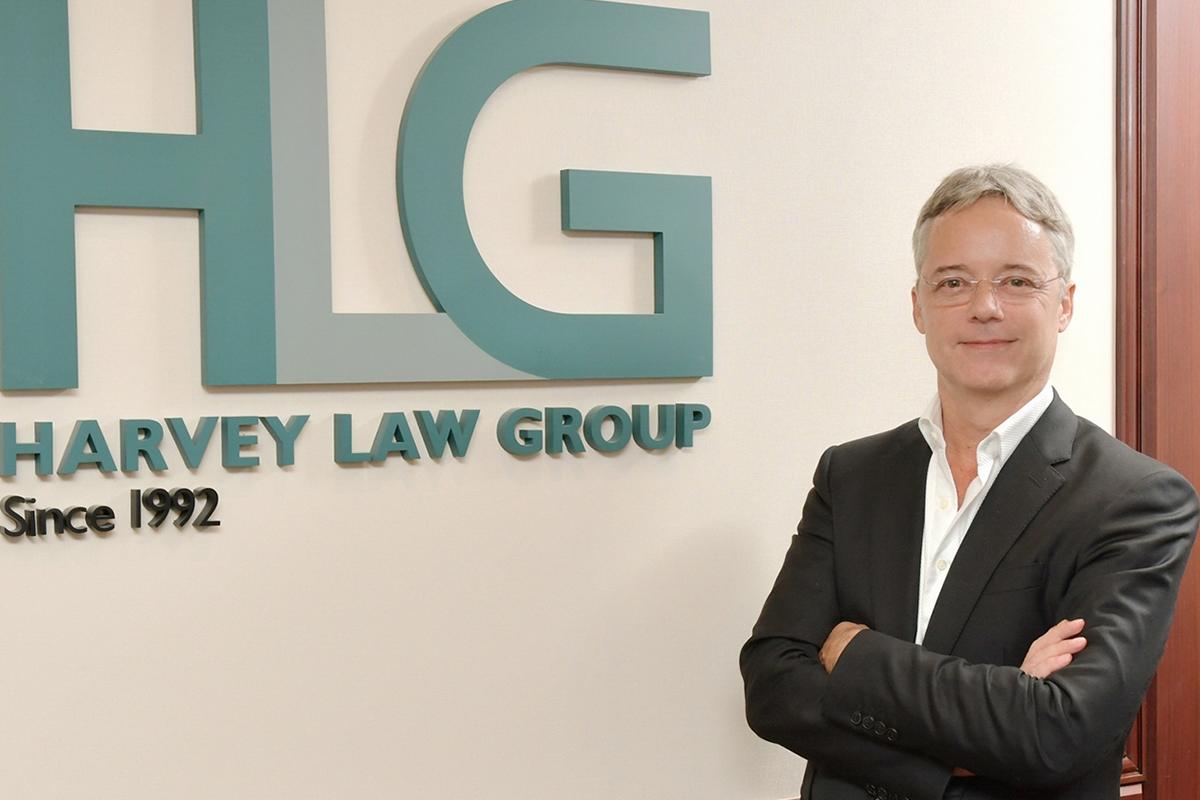 18 May

From strength to strength
Jean-François Harvey, Managing Partner & Founder, Harvey Law Group, on thirty years in the CBI space
Could you give us a brief summary of the organization's history and how it evolved to become a globally renowned law firm, dedicated to global investment migration?
Harvey Law Group (HLG) was created in 1992, so we are just about to celebrate our 30-year anniversary, which does not make me feel any younger, as you can imagine. For the first 20 years, the firm was strictly a Canadian law firm, offering Canadian immigration. Then, back in 2012, I saw the writing on the wall. Canada's immigration system was under a lot of pressure, with thousands of pending applications. As you know, over 20,000 cases in the Investor category were canceled. Fortunately, we saw it coming, and we started to diversify way before this happened. For example, we were the first to introduce citizenship by investment from St. Kitts & Nevis Citizenship by Investment Program in China. I remember people not even knowing where St. Kitts was. So we were quite the pioneers. I will always remember my first case in China back in 1993. People were asking me why I was going to China, and I told them that something was happening there, and people thought it was a funny idea to go to China to do immigration. The same thing happened about 13 years ago when we opened an office in Vietnam. People were wondering why… but I have proven that I was right. We have now stopped telling people where we are going because we have been followed everywhere by the competition shortly afterwards. HLG went from just a few offices to over 20 around the world, offering close to 30 different programs, and I am truly fortunate to have this great team around me to help.
What are the top priorities for HLG in 2021?
We are still looking at new markets, of course, while securing the existing ones as much as possible. The challenge with new markets is to educate audiences there, which always requires substantial investment in talent and operations to deliver results in the mid- to long term. That is why I often say I welcome competition, because the more competition there is in a given territory the more information is made available, and that is a plus for us because we are a law firm, not a consultancy. Of course, the 29 years of experience we have behind us also helps.
We certainly have to diversify even more than we have already. Part of the strategy is to be more flexible and diversified in our offerings. The most important priority is essentially being able to offer a client who approaches us exactly what he or she needs, and offer them advice on what could potentially be relevant or of interest to them. Keep in mind that the first two-thirds of my career was only focused on New Zealand, Australia, the UK, the US, and Canada. Now there are so many more choices and sometimes clients will have heard about only one or two programs. What I love about what we do now is that when we sit down with a client, we can give them so many options. Perhaps they are not interested in migration and they just want residency somewhere for travel purposes. They do not need to go for full citizenship. As a lawyer it is quite satisfactory because, most of the time, we have a customized solution for clients.
When it comes to due diligence, how are you remaining transparent and accountable, and how are you helping people through this process?
As a law firm and a member of nine different bar associations or law societies, we have a perpetual reminder that we must run 'know your customer' due diligence and apply anti-money laundering regulations in order to live up to our professional code of conduct. It is a daily challenge. Another related topic which is interesting is that you have a lot of big due diligence firms that do not necessarily have local expertise. This is an issue that we see often, for example, in the Vietnamese language which, like French, uses accents. A large company can often perform a search on a client's name without the correct accent, which causes them to misidentify the individual. One of our clients was a genuine and legitimate businesswoman who was a trader in the food and beverage industry. She was flagged as an organ trafficker because they omitted an accent on her name and identified another person instead of our client. For example, the last name Nguyen in Vietnam is borne by 32 percent of a population of 100 million. In Thailand names are extremely long and are often confusing. That is an aspect of due diligence which may seem simple, but it is crucial to get it right. That is why we are pleased to have so many offices in South-east Asia, because we understand the local culture and the nuances and details that matter. We are immensely proud of our due diligence because of that.
Where would you say are your biggest source markets?
Right now, China is still present as a source country, but a lot less than before, because of the pandemic and the economic slowdown. South-east Asia in general is still very strong. It is hoped that the South American market will develop in the next five to ten years. The US, of course, is a hot topic as a developing market, as well. Perhaps even Africa will also become one someday.
As for destinations, the trend is that there is no trend. There is so much more information available on the market today that it is surprising how well-informed the client is when they come to us. They mostly seek confirmation on information that they have found or inquire about the tax implications surrounding their choices. It is more demanding in the sense that you are dealing with clients and prospects who are more educated and well-informed, hence they are likely to ask more detailed questions. Right now, we see a lot of Americans relinquishing their citizenship for tax reasons, primarily with their destination of choice tending to be towards Europe. In Asia, there is a general need for mobility.
What are your views on the latest trends in investment migration and how has the pandemic affected the services you now offer?
There are a lot of new clients coming out of the pandemic, not only because of the mobility problem, but because they have discovered remote working. They realize they can manage their business from anywhere in the world. Previously, many of them thought they would stay in Hong Kong until retirement, and then move to Canada or New Zealand. Now they have seen that it is workable—perhaps not ideal, but viable—to go now.
We are also seeing more and more interest in the digital nomad visa, also known as remote work visas, which is another interesting development stemming from the pandemic. It is quite a simple online process recognized by a few countries in the Caribbean, Europe and Asia. Everything is very straightforward. As a law firm, we must be straightforward with the client, therefore we advise the client that they do not need us to do that for them. If they insist, of course, we are happy to do it, but we advise the client that there really is no need for us. If they have any problems, maybe we can help. What is interesting is that those same nomad clients often return as citizenship by investment clients down the line.
What can you tell us about the dynamics in Hong Kong's economy, and what does it mean for your business?
The HLG's Hong Kong office is our headquarters. Historically, the Hong Kong office's role was to manage all the other offices. The fast-evolving socio-political landscape has prompted increasing demand for immigration advice. We doubled our office size and team in Hong Kong to handle local demand, which remains strong. Amid the changing landscape of Hong Kong, we have seen Canada attracting high-quality people and assets. It certainly is an interesting time to be working in the industry.
What would you say are the core benefits of citizenship by investment migration?
The best example I can give you is what we see from the Vietnamese community that is moving to Canada on the startup visa program. They go to Canada to start their own innovative business to comply with the program's criteria, but after a few months of becoming permanent residents, the first thing they do is to start another business, or they use the same entity to multiply it into different business ventures, creating jobs and other opportunities. Ten years ago, it was extremely hard to find Canadian products in Ho Chi Minh City. Now there are even Canadian coffee shops, which is an obvious demonstration of this influence.
The short-term benefit for those countries of receiving an investment or donation is small compared to the real economic impact that these people have if they live there. The real challenge of any country offering residency or citizenship by investment is to somehow convince the client to stay, to actually live there. That is where the real value is.
Would you like to share a final message with our readers?
I must say that I am enormously proud to be a lawyer, and I would love to say that this business should be handled exclusively by lawyers, but that would not be very fair. We admire the American, French or German models where only lawyers can do immigration, which provides clients more assurance on the professional standards and quality of advice they get. I would like to see that all over the world. I want to emphasize that the Investment Migration Council is working very hard to enhance the professionalism of the industry, and we do hope that they are successful in bringing much-needed self-discipline to our dear colleagues in consultancy.