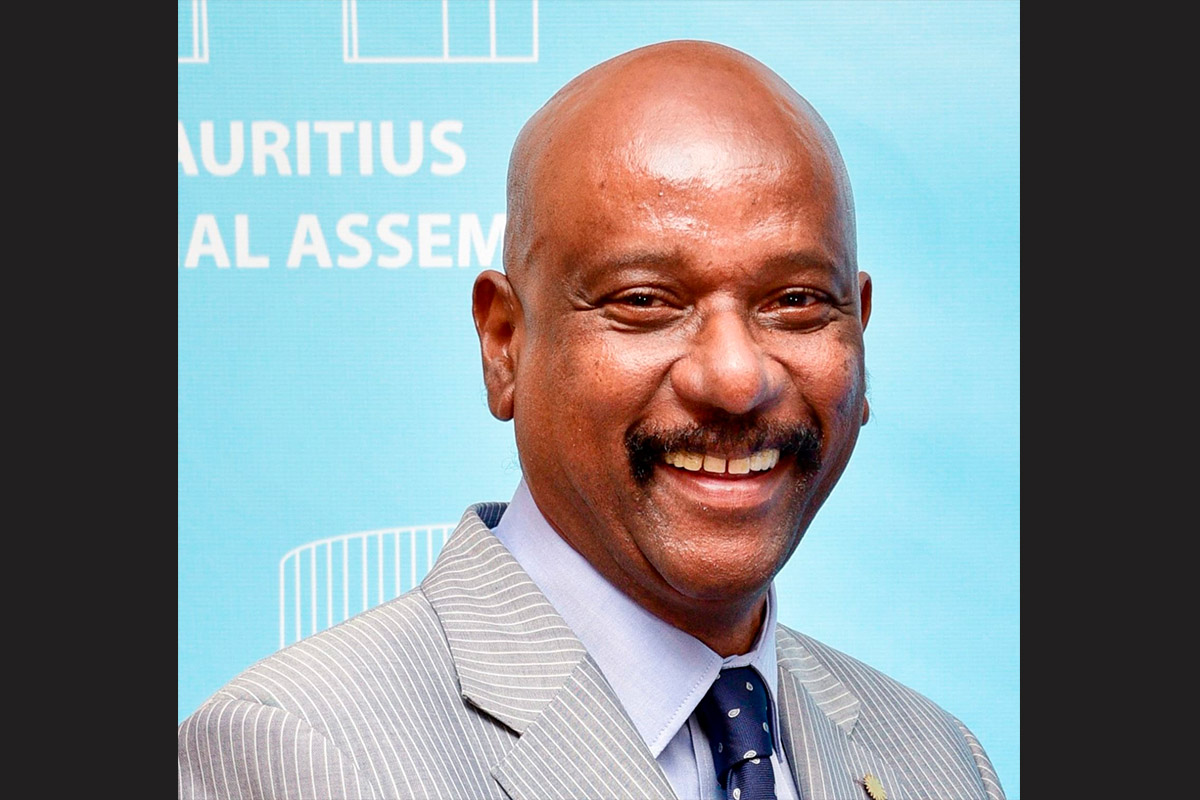 27 Mar

Green energy to be a major pillar of the Mauritian economy
Georges Pierre Lesjongard, Mauritius' Minister of Energy and Public Utilities, reveals how the pandemic unveiled the country's capacity to produce renewable energy
What has the Ministry's experience been with the pandemic over the past few years? How did it affect consumer energy demand as well as commodity prices?
Just when we thought everything was under control following the difficult times the pandemic brought the war in Ukraine broke out, making the situation even worse. As of late, we have witnessed substantial increases with regard to commodities. I would say they are due to the increase in freight. At one point, we thought it was due to the pandemic and that prices would go down afterwards, but unfortunately prices in Mauritius are still high.
About 60 percent of the electricity produced here comes from imported fuel. For example, we import HFO (Heavy Fuel Oil) which has increased in the world market, and the price of coal has also gone up. Just recently one of the independent power producers informed us that it was impossible for them to import coal because their bank was not honoring their letter of credit. The production costs of CEB (Central Electricity Board) have shot up drastically over the past year. At the moment, we are looking into increasing electricity tariffs in the weeks to come. But unfortunately, the situation is forcing our hand on that.
To tackle the situation, last year we decided to increase the share of renewables in our energy mix from 40 to 60 percent by 2030. We also decided to do away with coal in energy production by 2030. At COP26 we pledged to reduce our carbon emissions by 40 percent by 2030 and to achieve carbon neutrality by 2070. The actions needed to achieve that are currently being worked out with the other ministries; we are working with the Ministry of Environment on solid waste management and climate change and have just worked out our new action plan for renewable energy. The institution responsible for this (MARENA, the Mauritius Agency for Renewable Energy) recently ratified a new roadmap for renewable energy which I will be taking to the cabinet for approval.
To reach that 60 percent target, we intend to increase solar and onshore wind energy in Mauritius. We recently launched an RFP for both PV and wind farms. Through this tender, two solar companies were selected to sign a power purchase agreement with the central electricity board, each for 10-megawatt farms. These two solar companies are joint ventures mainly because the local companies still lack the experience needed with regards to large-capacity PV farms.
Unfortunately, in the case of wind no successful bid was made, and so we are working up a new tender. Two weeks ago, we launched new tenders for a 100-megawatt maximum-capacity farm with a battery-energy storage system because we want them to also supply baseload energy. In addition, we launched a tender for a 14-megawatt hybrid facility that will comprise PV and wind farms as well as a battery energy storage system. The closing date for both is the beginning of June.
Can you describe the green transition in the country in terms of its evolution during COVID-19? Has COVID sped up the adoption of new technologies in any way?
It definitely has. One lesson that we learned in Mauritius during the pandemic is that we have the real possibility of producing renewable energy and that we need to press on with it. Last year, when the budget was presented by the Minister of Finance, he clearly stated that we want green energy industry to be a pillar of our economy. And that's why we reviewed the percentage of renewables in our energy mix and developed new strategies to accelerate in that direction.
We are pursuing the decarbonization of the grid through measures to promote electric mobility and enhance renewable-energy distributed generation for public entities and smart cities.
When will MARENA's new roadmap be publicized?
It should be made public in about a month. We are currently seeking the endorsement of individual ministries. Then it'll be up to the council of ministers to give its clearance, at which time it shall be shared. The new roadmap reflects two main concepts: one is the increase in renewables and the other takes into consideration a report we made some time back concerning the promotion of electric vehicles in Mauritius. I am about to meet with the central electricity board to finalize the feed-in tariff for EVs.
Can you share any other strategies to decarbonize?
We want to increase biomass resources to make up for decreasing the energy produced by coal, for example through bagasse, cane trash and any other available biomass substances. New technologies such as ocean technology tidal wave and offshore PV are being explored in the medium term.
We are not only acting on the supply side to reduce that dependency on fossil fuel, but also on the demand side. For example, we have stated that we want to improve our energy efficiency by 10 percent by 2030. To do so, there are a series of measures that we intend to take. First of all, we want to increase mandatory energy labeling. We already demand labeling for seven appliances in Mauritius. This is to be increased by three, namely refrigerators, dishwashers and electric ovens.
Next, we want a levy placed on inefficient appliances. Some time ago we made energy audits mandatory for medium energy consumers. Now we want to make them mandatory for large energy private-sector consumers as well, for example for our large manufacturers, such as textile corporations. We are also setting up energy performance contracting, and we would like to build a framework for the promotion and adoption of new technologies. All these measures will help us to improve our energy efficiency and we are confident that we can achieve that 10 percent by 2030 target.
Are there any projects involving liquid natural gas in the works?
We had a report that was made public some time ago with certain recommendations related to the energy sector. However, we wanted to know whether the transportation sector could also be included. That is why we went for a second consultancy for LNG for Mauritius. I understand the second report is already out and is being discussed at the ministry level. We have also been requested to pursue it because of the prevailing situation and see what other possibilities we would have by using LNG in the energy sector here.
The second issue is with regard to electric vehicles. Now the tariffs are out and three RFPs have been launched. The first is for households. The second one is for corporate, and the third is for public charging. The regulations have also been published with regard to the feed-in tariff, and we are now expecting to get replies from all the interested parties.
What are your growth projections for the electric vehicle sector over the next 10 to 15 years?
It is difficult to say. We had a study done for a 10-year plan to have 25,000 EVs on the road by the tenth year. However, the tendency worldwide is that there has been a sharp increase in the sale of electric vehicles. I am following that very closely; it is certainly happening in Europe. There are quite a number of vehicle manufacturers who want to produce EVs. In fact, I had a meeting with a conventional car salesperson who has just begun to sell electrical vehicles. He told me that last year he expected to sell some 50 EVs, but he sold 500. And so, the consumer trend is a lot larger than we had anticipated.
At the level of my ministry, we are putting in place the appropriate infrastructure and scheme to promote e-mobility, and the government has already provided a number of incentives in terms of tax.
What is your vision for the private sector's role in the nation's decarbonization goals, and what major projects of promise are on the horizon?
We have a liberal market in Mauritius which means we want more private companies to invest in the energy sector. Indeed, we have the institutional framework to allow private companies to be able to invest in the energy sector. According to our plan to increase renewables by 60 percent, this will mostly be done through private companies. Private companies will enter into joint ventures between local and foreign companies. The major projects will be reflected in the Renewable Energy Roadmap and will concern existing as well as relatively new technologies.
What is the role of smart technologies, artificial intelligence, big data and other technologies in increasing affordability, operational efficiency, safety and resilience of the energy sector? What has been Mauritius' experience in adopting these new technologies so far, and what is your outlook over the medium term?
We have been facing two constraints concerning the implementation of renewable energy in our network. The first one concerns getting a baseload supply. Renewable energy being a source of intermittent supply, we are launching tenders requesting the inclusion of battery energy storage systems. The second constraint has to do with the network; we want to upgrade the grid and make it smarter. This is where we are investing quite a lot of money at the level of the Central Electricity Board (CEB); we want to make the network smarter to be able to cater for the additional energy that we will be injecting.
By addressing those two constraints, we will be able to meet our targets in the renewable energy sector. The CEB already has an efficient SCADA system in place and several facilities are heavily automated. An 8-year roadmap to smart the grid was developed a few years ago and is being implemented in phases. The CEB will leverage smart technologies and AI to improve its service.
Do you have a final message for our readers?
I would say that it is of utmost importance, given the situations that are prevailing in the world—COVID-19, the war in Ukraine and climate change, which strikes close to home here in Mauritius—that we accelerate the move towards more renewable energy. Of course, this applies not only to small countries like ours but also to the biggest countries that produce the most carbon dioxide.
We must all make a global, concerted effort to invest in clean projects and produce clean energy. As a part of the Small Island Developing States (SIDS), it would help Mauritius a great deal if the larger companies would lend a hand so that we can move forward together.