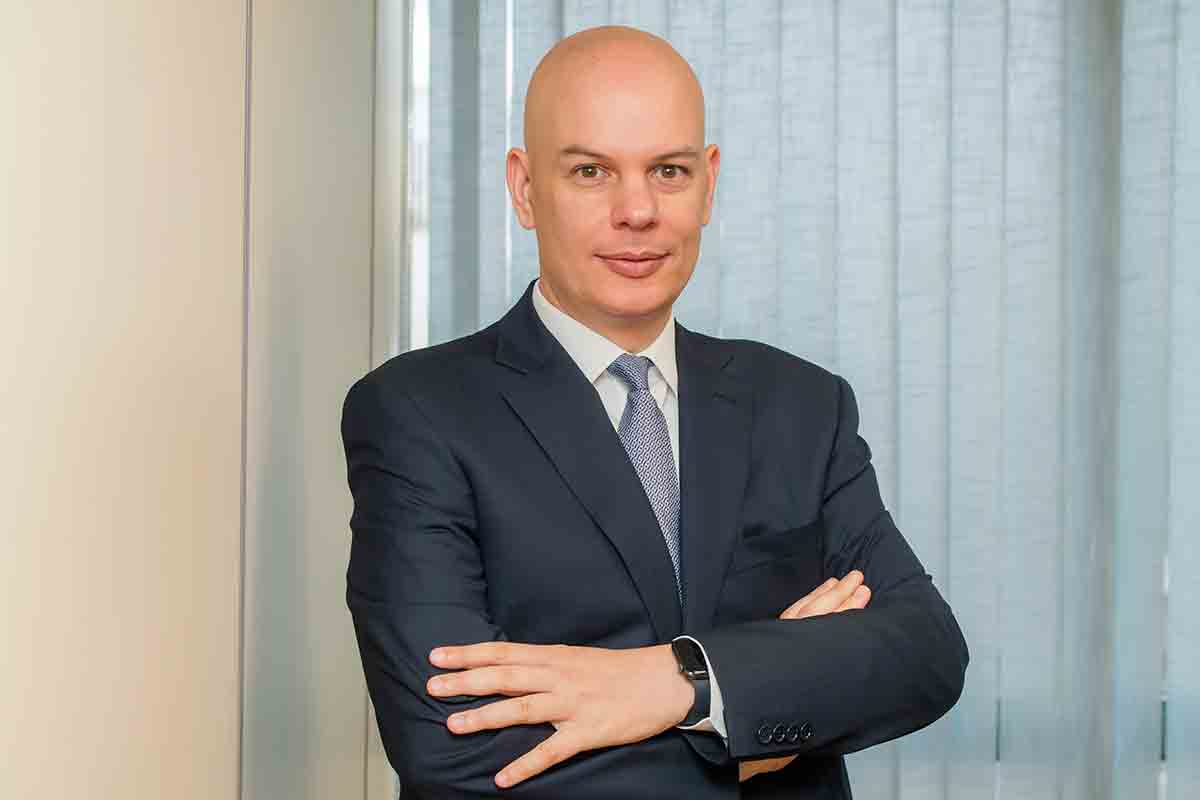 01 Jun

Maintaining Greece's momentum following the pandemic
Nicolas Plakopitas, Vice Chairman, Euroclinic Group, highlights the need to elevate patient experience onto the next level
The world is still battling the COVID-19 pandemic and Greece has not been left unscathed. Amidst the pandemic, we have seen a number of innovative medical and healthcare solutions come forward and great strides being taken throughout the industry. What would you say the pandemic has taught us about prioritizing innovation, R&D, and upscaling medical infrastructure?
Last year we did a management buyout of Euroclinic from Global Finance, right before the lockdown. We brought in a lot of investors together with management. With the pandemic, everyone realized the critical nature of spending on healthcare. A lot of people made a comparison with defense spending and how many countries tend to spend more on equipment that they may never actually put to use, at the expense of public healthcare. In the event of a pandemic or any other type of cross-border health threat, you need to have the proper infrastructure in place, otherwise you will be defenseless. Greece has made strides towards this with significant investments in ICU beds. The state did definitely a lot of work during this period and this is something that has worked quite well. During this period, the private sector played an important and supplementary role alongside the state. Euroclinic, in particular, was one of the few private sector contributors by hospitalizing COVID-19 cases, provided certain isolated wings within our hospital. I think that this was very successful in the sense that there were no cross-contamination incidents. We demonstrated a very high level of care. Regarding the future, I think that part of the software and the disruption that we see in other parts of the economy starts coming into healthcare as well. For instance, in our case, we were recently awarded the certification by the European Stroke Organization, through our specialist stroke unit. Part of that involved the implementation of artificial intelligence, through our cooperation with the company Brainomix, providing us with a platform, the 'e-stroke platform', where CT scans are uploaded and read by the AI software, cross matching the scans in their database with thousands of other cases. This acts as an extra tool for physicians, helping them understand what type of case they have in their hands. In addition to that, we invested in robotic systems for orthopedic operations with ROSA as well as others, such as Da Vinci for urology and gynecology as we try to follow the latest developments in that regard.
Greece has done well to position itself as a regional player in the health and wellness tourism industry. How internationally competitive is Greece's medical infrastructure and the quality of its specialist clinicians?
Greek doctors are of a very high standard. Particularly during the crisis, a lot of Greek clinicians left Greece to pursue a career abroad. We now see the reverse effect of that, which brings an additional benefit for the country, as many of them have now international experience. We also have a very good international Greek diaspora, with a lot of renowned physicians coming to operate in Greece. In our part as Euroclinic, our effort is to make our services and operations to be at a world-class level. This is not just in order to be able to attract patients from abroad, but I think that as hospitals, our primary mission is to be part of the local ecosystem and landscape, contributing to the current effort that Greece is making to host permanent residents from abroad. The development in the Athens riviera that is taking place will attract many high-net worth individuals to live in Greece full-time. Also, a lot of digital nomads will be attracted to Greece, thanks to the latest legislation that has been put into place. Euroclinic has for a long time an international patients' office to serve expats and international patients. We have a lot of multilingual staff and we focus a lot of the patient experience. To this effect we are certified as a Patient Friendly Hospital.
Private equity deal activity in healthcare has grown in recent years, with 14 percent of total activity being in healthcare investments – with companies in this industry receiving USD 35 billion globally in 2020, according to UBS. Why are investors optimistic about the sector and what factors do you foresee in coming years that will accelerate growth among healthcare groups?
I think that up until recently, healthcare as a sector had fallen behind in terms of investment focus and activity. Coming from the private equity world myself, we were one of the very first private equity funds to invest in Greek healthcare, more than 12 years ago. I think that healthcare has a number of benefits: First, its attractiveness because of an aging population in the Western world, meaning a stronger demand for healthcare services going forward. Second, it provides a natural defense as an investment versus globalization, as it is a local business and will always provide local services. Especially, after the pandemic, this became even more evident. Current trends are favorable for the sector. At the same time, as I mentioned earlier, governments around the world have realized the importance of healthcare spending. Greece, when the crisis arrived went a bit too far in austerity especially vis-à-vis healthcare spending. Greece is now lagging in terms of spending by the public towards healthcare, as we are actually almost half of the EU average. If you also factor in the demographic and aging profile of Greece versus the rest of Europe, we should be above the average to say the least. I believe that all these factors create a favorable environment for investment in the sector. More than that, there is a social impact to consider, as people will be investing and working in a sector that, at the end of the day, will improve the lives of everyone, providing an additional moral satisfaction of catering towards public welfare.
Incorporating advanced technologies such as robotics, AI and big data into healthcare delivery is drastically improving the efficacy of the patient-care process. What is Euroclinic's appetite for advanced-tech implementation into your services and what are some examples of successfully adapting the latest technologies?
The AI platform that I mentioned earlier allows a physician to tap into the wisdom of thousands of other scans from other patients. We have been investing in efficiency for quite some time. We were one of the very first hospitals to have fully digital medical records for our patients. Right now, we are in the process of helping a lot of hotels throughout the country, providing COVID-19 testing and support for their clients and tourists that visit Greece. We have a very well-developed IT system that can process test results very quickly. This is something that we are focusing a lot on at the moment.
As Vice Chairman of the Euroclinic Group, what is your vision for the rest of the year for each one moving forward? What are your mid-term goals?
One of the things that we have seen taking place over the past year is that there is a lot more awareness among Greek businesses towards the environment. We see that the Greek corporate world is evolving by adapting to higher standards in that regard, through the various seminars and conferences that we participate in. We are happy for that. At Euroclinic, we have been aware of our role and responsibility, not just as a hospital towards our patients, but towards all other stakeholders, from doctors to the environment and the society in its entirety. This year, we will be finalizing our first Environmental Social Governance report. This year is also our second year that 100 percent of our electricity comes from renewable sources and we have plans to further decarbonize our operations. All of our new cars in the group are hybrid vehicles and we also have a plan of going full electric over the next few years. Our large and diverse shareholding base now also includes management. We have institutional investors from outside of Greece as well as high-net worth individuals and institutions from Greece. Apart from having a profitable business, we want to take initiatives like the ones I described to make our shareholders to be proud being part of our company. Our approach of curating world-class clinicians, bringing them in the hospital and our operations, will also continue. Our vision is simple: we want to provide the environment and support to our clinicians and staff that will allow them to thrive in the care and support they deliver to our patients.
Many of our readers are high-end executives and businesspeople, looking either for second homes or to retire – possibly in warm climates like Greece. What would you say to the golden visa / residency by investment program that Greece offers and why these readers can have peace of mind over the Greek healthcare offering? And what may Euroclinic offer such readers?
As I mentioned earlier, we provide world-class services, being a private hospital right at the center of Athens. We have an emergency room operating 24/7. Our focus apart from general hospital operations is our stroke and emergency unit. We are one of the very few hospitals with such expertise. We also specialize on cardiology and cardio-surgery. For all the people showing interest in moving to Athens, we guarantee that they can have a peace of mind that there is a very good hospital for them nearby. We have agreements with most international insurance companies.
What would be your final message for our readers of Newsweek?
Apart from being one of the very first hospitals in the EU to receive a specific certification for being a patient-friendly hospital, based on the respective EU directives, we also have focused a lot on service excellence and done a lot of training to this regard. Last year, we trained all of our directors and supervisors with one of the best U.S. hotel chains, advising us on excellence of service. All of our staff now acknowledges what makes service great and this is something we will expand on in the near future. We realize that the patient experience should be of paramount importance, an aspect that is often overlooked. This is our competitive advantage and path to differentiate our offering.