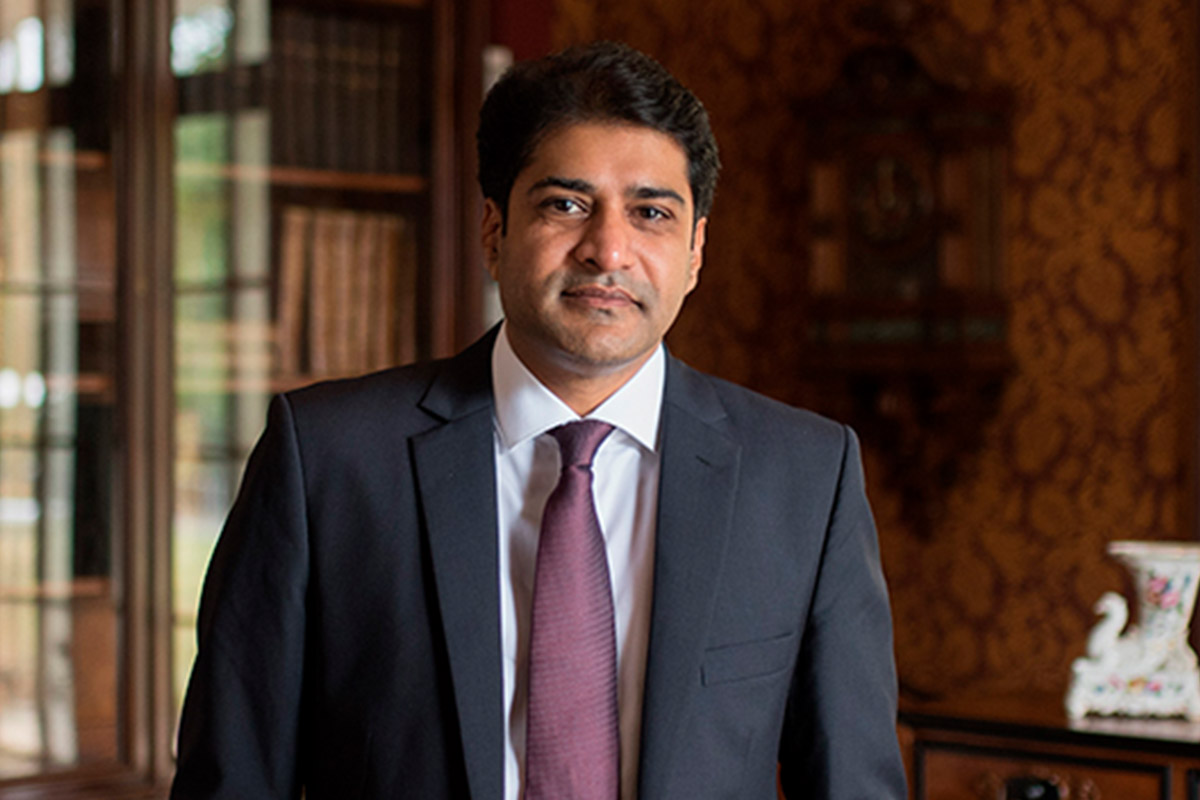 13 Jun

Mauritius: The platform of choice for investors in Africa
Ken Poonoosamy, CEO, Economic Development Board (EDB) Mauritius, reveals why the island nation is ahead of the competition in diverse future-focused industries.
Could you share your views on the evolution of Mauritius' economy over the last decade, its resilience and the Economic Development Board's (EDB's) strategic role in fostering a competitive and innovative business landscape?
The transition of Mauritius from a mono-crop economy—almost entirely reliant on the sugar sector in its early post-independence years—to a well-diversified economy is the result of our leaders' clear vision for transforming challenges into opportunities. The preferential market access conferred to Mauritius under 2000's Cotonou Agreement between the European Union and the African, Caribbean and Pacific Group of States was a game changer for our country, as it provided guaranteed markets to investors and led Mauritius on a transformative journey with the development of key economic pillars.
Good governance, a highly qualified multilingual workforce, socioeconomic stability and astute policymaking are also underlying factors that have further contributed to higher levels of economic growth, welfare and social cohesion. Over the years, this landscape has continuously evolved to ensure that Mauritius remains at par with and even ahead of the competition. Its diversified economic base has also enabled Mauritius to remain resilient in the face of exogenous global shocks and to bounce back stronger.
For this reason, the EDB thinks in strategic terms of being 'in time for the future'. We actively plan for success and monitor what new economic perspectives would make the most of the country's unique strengths and, at the same time, mitigate the effects of its shortcomings. We set the conditions by continuously improving the business climate to make sure investments and export earnings keep flowing this year and the years after.
A rebalancing of the global economy is already taking place. Emerging economies, especially those in Asia and some in Africa, are expected to grow in terms of their share of global production and consumption. Asia and Africa will be both a significant production base as well as a growing market for goods and services. Advanced economies will still remain important, however, due to their technological edge and large share of global gross domestic product today.
Mauritius is well positioned to appreciate the implications of these challenges and to seize the new growth opportunities that may arise. Our effort has been to maintain and enhance our business-friendly environment, open economy, trusted brand and strong rule of law. In addition, we want to remain swift and nimble in building new capabilities, both in existing sectors and in new areas. The continual upgrading of the country's economy over the past four decades has given us a strong foundation to make the next transformation and to build strategic flexibility as future opportunities become clearer.
Our sectoral strategies for fostering a competitive landscape are mainly premised on the following:
In the manufacturing sector, to have a new industrial orientation by moving up the value chain, capturing part of the manufacturing share of African imports and harnessing innovation and technology. It also involves identifying niches where Mauritius can have a comparative advantage, such as jewelry, medical devices, pharmaceuticals and other areas.
In the agro-industry, to move from a sugar sector to a cane industry and to bring transfer of technology in food-crop productions in order to reduce dependency on imports.
For the ICT-digital economy, to attract investment and talents in new technologies like blockchain, the Internet of Things and artificial intelligence (AI). We also aim to help grow these markets with a set of export-readiness actions that will support multiple companies to embark on technology projects and implement the latest technologies into their operations across data analytics, machine learning, AI, cybersecurity and robotic process automation.
In the tourism sector, we have a target to increase tourist arrivals year on year, to develop international branded hotels and to focus on high-value products such as meetings, incentives, conferences and exhibitions; medical tourism; and marina development.
Additionally, we are looking to help transform Mauritius from a small island developing state to an ocean state with the implementation of innovative projects related to the ocean economy.
In the financial services sector, we are positioning Mauritius as a location of choice and a hub for regional-headquarter activities in Africa that provides a full range of services for the funds industry, including fund administration, stock exchange listing, legal, tax, audit, compliance and consultancy services. Mauritius has a new comprehensive legislative framework—the Virtual Asset and Initial Token Offering Services Act of 2021—which will regulate the new and developing business activities of virtual assets and initial token offerings by operators as fintech develops in the country.
In the creative sector, we aim to move into post film production and enter into strategic alliances to create export-orientated local content that will develop our film industry. We also intend to explore the potential of developing Mauritius as a media city.
In real estate development, our pursuit is to attract, facilitate and accelerate the implementation of projects to make Mauritius a livable and sustainable city, and to adopt an integrated long-term approach to infrastructure and land use planning that will be key to ensuring Mauritius becomes a business and financial hub with the right lifestyle to be a global hub for trade, visitors, retirees, talent, innovation and investment.
For education services, we are giving significant focus to attracting international primary and secondary schools as a means to improve the position of Mauritius for expatriates choosing a regional location, while at the same time attracting world-class international universities targeting African students.
Another goal is to accelerate the development of Mauritius' biotech industry, with the objective of creating an enlarged cluster that could service the agricultural, industrial, marine, environmental and medical sectors.
We also intend to create a new ecosystem to set the wheels in motion for new sectors, in particular the silver and sports economies, which have the potential to generate substantial export revenues.
Newly negotiated trade agreements under the Comprehensive Economic Cooperation and Partnership Agreement (CECPA) with India, a free trade agreement (FTA) with China and the adherence of Mauritius to the African Continental Free Trade Agreement (AfCFTA) are key instruments that will serve to bolster market access, exports and investment and drive our growth strategy.
Our pro-business attitude enables companies to set up swiftly, with minimum red tape, in a connected environment. From green-field sites, smart cities and business parks to new architectural offices and data-technology parks, Mauritius has the right property solutions to get our investors up and running. All these are supported by a nationwide multi-sectoral business reform package, which includes the inception of a national e-licensing platform, that led to Mauritius being ranked 13th globally in the World Bank's Doing Business rankings.
Will Mauritius' Port Louis Harbour area need to be rehabilitated to be able to cope with larger vessels?
Approximately $250 million has been invested in the modernization of the port. The port's channel has been dredged to 16.5 meters, making it one of the deepest in the region, the quay has been extended by 260 meters to a total length of 800 meters and it can currently accommodate post-Panamax vessels. Meanwhile, the capacity of its container terminal has been increased to 750,000 TEUs, with the possibility of a further upgrade to accommodate 1 million TEUs. The inception of a modern cruise terminal is also underway at the cost of $20 million and this will be operational by end of 2022.
Mauritius is strategically located on the south-south trade route and we are determined to position Port Louis as an important regional port. To this end, a feasibility study for an island terminal has been completed and the government is working toward implementing this landmark project, worth $835 million, under a public-private partnership basis. This project is becoming increasingly important, not only because it will exponentially increase our cargo-handling capacity, but its design will provide a safe harbor with a view to further improve efficiency and productivity.
What measures are you taking to attract the Mauritian diaspora back to the country?
The war for talent is truly global. To move to the next level in key sectors, in addition to attracting high-net-worth individuals, we need the support of our diaspora. We have the landscape to attract the large talented pool of the Mauritian diaspora in creative businesses and tech firms that can become innovative entrepreneurs and to grow the talents that can spur growth through investments in emerging technologies. They can play an important role in the country's economic development.
To encourage members of our diaspora to come back, the Mauritian Diaspora Scheme (MDS) was introduced in 2015. The MDS is applicable to citizens of Mauritius, or the children or grandchildren of citizens who have the necessary skills, talent and experience to return and serve their country. Members who qualify under the scheme benefit from a package of fiscal incentives, including exemption from income taxes, excise duties on motor vehicles and registration duties payable during the purchase of residential properties.
The improvement of the quality of infrastructure in Mauritius —including housing, retail and lifestyle—will surely root and attract talent here to support a capability-driven economy with more knowledge-intensive jobs.
Mauritius' Premium Visa program has been a great addition to measures that are enhancing the country's economy. How difficult is it to get this visa?
We have always tried to keep reconceiving our value propositions to be continually attractive to companies and individuals that want to invest in, stay in and operate from Mauritius and to meet the aspirations of a knowledge workforce in terms of housing and the education needs of their children.
The Premium Visa, which is valid for a period of six months up to one-year renewable, was introduced as part of the measures intended to rekindle our tourism sector in the midst of the COVID-19 pandemic. This new concept was implemented in a bid to rebuild the trust of travelers seeking a safe long-holiday destination and to attract those who want to work remotely or retire in a serene environment.
The Premium Visa stands as the perfectly adapted option for digital nomads looking to maximize their business productivity and leisure time in a country that prominently delivers the work, live and play balance. Like other countries, Mauritius has embarked onto this shift to attract globetrotting digital nomads.
The application process is quick, free of charge and easily completed on a dedicated online platform. Once the application process is completed, the applicant needs to submit required documents in line with applicable conditions and the Premium Visa is delivered via email upon approval by a committee. The renewal of the visa follows the same swift process.
Temporary visitors in the country on a tourist visa are eligible to switch to the long-stay Premium Visa as well. There are also no restrictions on how often one can travel in a year during the validity of this visa. I must say that this scheme has been successful in its deployment and the interest garnered suggests that Mauritius remains a very attractive destination for digital nomads.
This year, Mauritius is ranked among the world's top destinations for remote working, gaining recognition from global travel giant Kayak in its Work From Wherever index. From your perspective at EDB, what are the benefits of hosting remote workers and digital nomads in Mauritius and what kind of synergies could emerge by plugging them into the country's vibrant, local business community?  
The impact of the pandemic led to a step change in the prevalence of teleworking across businesses and the open policy for the Premium Visa reveals the forward-thinking and inclusive approach adopted by the government of Mauritius to adapt to this work-from-anywhere era. The Premium Visa attracts year-round long-stay visitors, digital nomads and tech-savvy newcomers, who are considered as a boon for the local economy and as consumers of local goods and services.
Interest in remote working has swelled broadly across a host of different occupations and the growing influx of remote workers to Mauritius uncovers an expanding talent pool we can tap into to remain competitive in the talent market. The physical migration of highly skilled individuals—including entrepreneurs and innovators—to Mauritius also contributes immensely to the local entrepreneurial ecosystem, which will undoubtedly spur knowledge transfer as well as potential joint ventures.
The one-year duration of the visa is also, in fact, an important determinant for people to get the feel of the country before making an ultimate decision to relocate here permanently—either under an occupation permit or residence permit. It allows the holders to better experience our culture and provides astute investors with added comfort and confidence to consider Mauritius as their ultimate investment destination that offers a myriad of opportunities across sectors.
What do you consider to be Mauritius' competitive advantages today, particularly considering its position as a digital hub? What key sectors do you think will drive growth and open doors to new investments, and where will the most exciting new opportunities emerge in the next two to three years?
Our unique selling points are very clear: political, social and economic stability coupled with key enablers such a conducive business environment, a hybrid legal system—based on the French "Code Civil" and the British common law—and a modern infrastructure set up. All of these provide certainty and predictability to investors.
In 1994, we suspended foreign exchange control, allowing any person who uses Mauritius to bring capital in and move capital out without any restrictions or any authorization from the country's central bank. This has enhanced our attractiveness to multinationals and foreign investors that are prospecting markets in the region.
With regard to the positioning of Mauritius as a digital hub, there are certain specificities that help us stand out of the crowd: our highly literate and multilingual workforce, strategic location and time zone give us a distinctive edge for businesses, in particular in the digital economy.
We are building on these foundations to further improve our offers, engaging in higher value-added services while diversifying our markets. Software as a service, cloud computing services, fintech, blockchain and AI-based solutions form part of the next iteration of services being offered from Mauritius and several major international players are already in the country.
Government and the private sector are fully supporting the crystallization of these industries, investing massively in the upgrading of our existing infrastructure. For instance, fiber connectivity already covers 100 percent of the island, while 5G is in the pipeline. In addition, Mauritius will soon connect to another undersea cable that will further improve latency and continuity of supply, which is particularly important for data and disaster risk management centers.
Another vital thing to consider is our one-year Premium Visa that I discussed earlier, which particularly positions Mauritius for hosting digital nomads. With robust digital infrastructure and sophisticated high-capacity network facilities in place, we remain one of the best destinations to support the digital-nomad community and provide a relatively seamless switch to 'working from anywhere'. This will further assist in our transformation to a digital hub.
According to the World Bank's Ease of Doing Business Report 2020, Mauritius was placed first in Africa and 13th in the world. What are the latest improvements that have been made to the island's business climate and what are you doing to cut bureaucracy even further?
As I mentioned before, the EDB played a key role in spearheading the recent business environment reforms. There have been a lot of reforms to look at, right across the whole spectrum of businesses, whether it relates to the incorporation of companies, payment of taxes, registration of property or closing businesses, or whether it is in terms of getting construction permits, cross-border facilities, terms of enforcement of contracts and/or getting credit. As well as addressing issues of costs, we knew we had to redefine our entire procedures and processes.
The Business Facilitation Act has been one of the most critical instruments in helping us to move to position we have been in since 2020. The political commitment, at the highest level, to bring about those reforms has been the most essential point. Between 2017 and 2019, over 50 pieces of legislation were amended to reduce the cost of doing business and to align with best practices.
The Corporate and Business Registration Department has been transformed as a one-stop shop for starting a business. Trade fees for starting businesses have been exempted until 2027, costs and procedures to obtain construction permits have been reduced and streamlined. A cost-sharing mechanism has been introduced by the electricity authority and a fast-track treatment for commercial customers has been implemented. The incorporation of a company within less than three hours is also now a reality.
Again, as I mentioned before, in order to further facilitate the ease of doing business, we have also put in place, in collaboration with the European Union, the National Electronic Licensing System (NELS). We wanted a single point of entry for application, payments and the determination of business-related licenses and permits. Today—whether it is land-conversion permits, securing environment-impact assessment or applying for building and land-use permits—everything can be done through the NELS.
The efforts deployed by the EDB to improve the business climate go over and above the Doing Business Report. The EDB is working on a number of projects, which include the implementation of a Regulatory Impact Assessment (RIA) framework and a RIA office in Mauritius to promote data-driven rulemaking; a legislative framework for movable asset-based lending to facilitate access to finance, especially for micro, small and medium-sized enterprises; a major regulatory review of four key sectors: land and construction, tourism, health and life sciences, and trade and logistics; and the implementation of a Maritime Single Window to facilitate vessel clearance, among other things.
Sustainability is increasingly important in every sector. In the age of net zero, how is Mauritius using its head start in sustainable tourism to further strengthen momentum in the broader green economy? 
Indeed, sustainable and eco-friendly tourism has given us a head start to bolster our green economy, be it in terms of green buildings, resorts that cater for their own waste management or energy generation, or sustainable fishing. The government has also clearly enunciated its objective of increasing the share of energy produced from renewable sources to 60 percent by 2030, with the phasing out of coal within this same period. This will be done by embracing renewable sources of energy such as solar and wind, as well as biomass and waste.
Several initiatives have been put in place in this respect, such as investments in batteries to address intermittency in energy supply and the setting up of a biomass framework with a fixed price for bagasse, which is a by-product of sugar cane. Some incentives have also been put forward to accelerate the electrification of the vehicle fleet, as well as to encourage the domestic and commercial production and supply of renewable energy for sustainability and environmental benefits.
This strategy also provides for critical economic benefits, notably in the light of increasing global volatility in energy prices and supply. Fuel imports represent a major component of our total imports and, by engaging in increased production of energy through renewable sources, we can improve our trade balance whilst ensuring security in terms of supply.
In recent years, EDB has opened offices in France and India, as well as several others in Asia and Africa. In March, EDB opened yet another office in Dubai. What is your plan for building "brand Mauritius" on the global stage, and elevating its reputation as a safe, sound and attractive multicultural haven?
The global offices of EDB are there to nurture investor relations, secure markets for our products and services, and position Mauritius as a trusted jurisdiction of choice. Our presence in those markets is two-fold: to promote trade and investment, and to showcase the opportunities for business development in Africa and other emerging markets through the Mauritius International Financial Centre and the Mauritius Freeport.
As we consolidate our established markets, it has also become essential to position Mauritius in newly emerging countries where we have secured preferential market access. The trade agreements that Mauritius recently signed—namely CECPA with India, the China FTA and AfCFTA—provide economic operators of all parties with numerous opportunities and EDB's offices are there to fully tap into those.
These trade agreements represent different opportunities in themselves and EDB has further initiated background work to understand the capacity building and investment requirements of our current exporters to fully exploit these opportunities.
India and China are already the two major trading partners of Mauritius and recently South Africa has emerged as a leading market for Mauritian exporters. We strongly believe that we can position ourselves as a manufacturing hub as well as a jurisdiction of choice for Indian and Chinese businesses to service the African continent from.
What are your own personal ambitions as CEO of EDB, and what key priorities and projects are you working on to take the organization or the Mauritian economy to the next level?
The government has demonstrated its determination to build the future of Mauritius on the triptych of sustainability, innovation and inclusiveness. Our actions at EDB will therefore go in this direction. My key priorities are the continuous improvement of the business environment, developing new pillars in line with the government's vision, and advocating for the right regulatory framework to attract more local and foreign investments in traditional and new sectors.
We will continue with our mission to promote Mauritius as the platform of choice for investors to service the African continent and, finally, we will multiply our efforts to make the most of the opportunities under the new trade agreements.