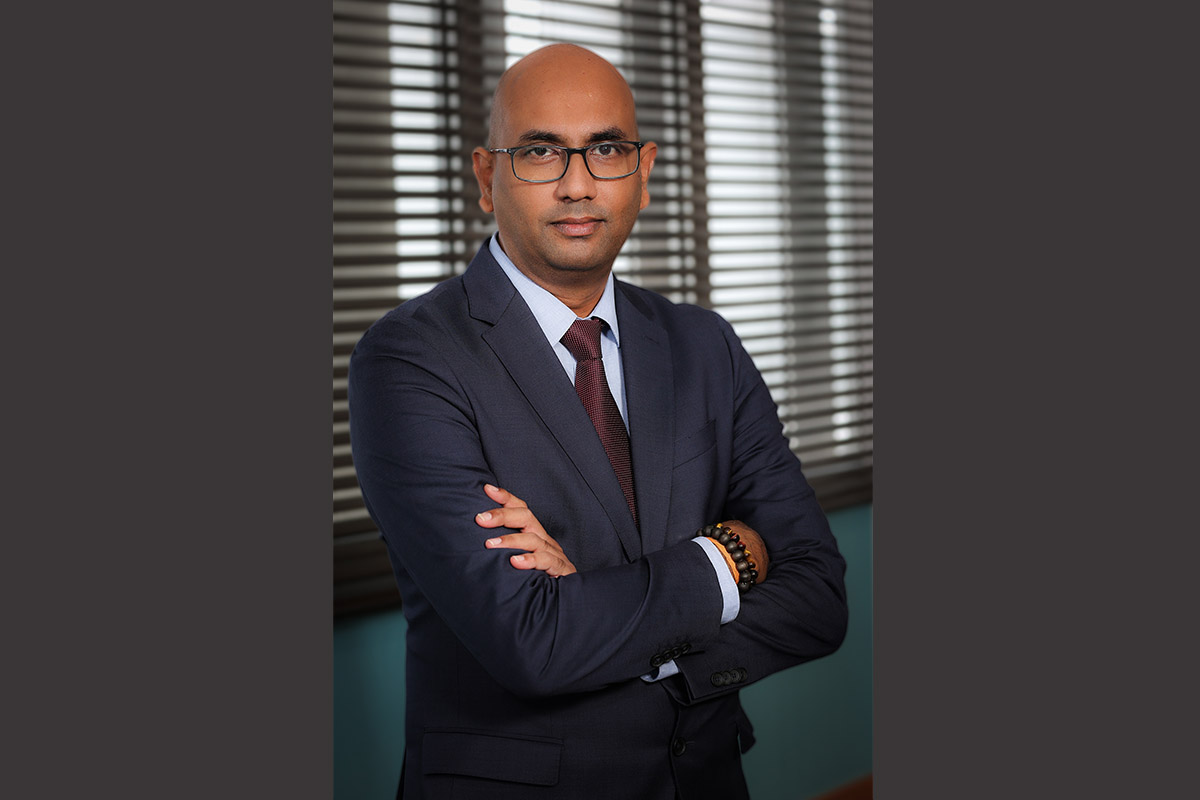 10 Apr

Onwards and upwards
Ken Arian, CEO, Airport Holdings Ltd, explains what Mauritius is doing to ready itself for the rise of international travel that will be inevitable in the coming years as the pandemic recedes.
Mauritius's aviation sector is a key pillar of the country's gross domestic product and is viewed as a strategic enabler of the country's economic and social development. The reboot of Mauritius's tourism industry under the One Mauritius program is a critical component of the overall economic recovery strategy. Would you tell us a bit about the role that Airport Holdings will play in the One Mauritius program, including that of Air Mauritius, and what categories you have established to catapult tourism back to 2019 levels?
In 2020, with the onslaught of the COVID-19 pandemic and subsequent lockdown, Air Mauritius, the national carrier, was forced into voluntary administration. Commercial flights were halted, and the airline operated mainly repatriation flights and transported essential medical supplies and cargo. Revenues for the airport companies and Air Mauritius were considerably reduced. During that time, I was the senior advisor to the prime minister and also chairperson of airports of Mauritius Ltd and its subsidiaries. The government and other major stakeholders started to work on the relaunch strategy and the reopening of the borders since it was crucial to reboot the severely effected economy.
In August 2021, Airport Holdings Ltd was incorporated with a view to bringing under one roof all the activities pertaining to travel, namely Airport of Mauritius, Airport of Rodrigues, Mauritius Duty Free Paradise, Rodrigues Duty Free Paradise, Airport Terminal Operations Ltd and airline operations.
The soft opening of the Mauritian border started in July 2021 and progressed to full opening in October 2021. That month, Air Mauritius exited voluntary administration with the support of the government, and an agreement was reached between the creditors and the administrators during the watershed meeting. It was then agreed by the authorities that Air Mauritius would remain an essential pillar to the Mauritian economy and will be instrumental in the 'One Mauritius' program spearheaded by the Mauritius Tourism Promotion Authority to bring back air traffic to Mauritius. Additionally, 18 foreign airline companies currently fly to Mauritius. With the volatile prices of fuel impacted by both Covid and the war in Ukraine, compounded with an adverse exchange rate of the EURO v/s USD, airlines worldwide, including Air Mauritius, are operating in a challenging environment where profitability is extremely low.
On the other hand, airport activities yield good profit margins. Airport Holdings Ltd was created in August 2021, and I was appointed CEO of the group. My mandate is to group together under one entity the airports and airline ecosystem of Mauritius and Rodrigues in order to optimize the resources of all the companies falling under its patronage.
The companies regrouped under Airport Holdings Ltd are Air Mauritius Ltd, Airports of Mauritius Ltd, Airport of Rodrigues Ltd, Airport Terminal Operations Ltd, Mauritius Duty Free Paradise Ltd, Rodrigues Duty Free Paradise Ltd, and Cotton Bay Resort and Spa.
New companies currently being set up and which will form part of Airport Holdings Ltd include Ground Handling Ltd, Jet A1 Ltd, Luxury Travel and Tours Ltd, Cargo and Freeport Ltd, New Property Development, AHL Hospitality Ltd and Maintenance, Repair & Overhaul Ltd.
As Air Mauritius was a listed company, Airport Holdings Ltd made a mandatory offer to shareholders to buy back their shares and at date the group has 99.9 % shares in the airline. In April 2022, the acquisition of YU Lounge, which is a dedicated terminal for private jets and VIP services at SSR International Airport, was finalized. This segment will be further enhanced and promoted.
As part of the high-profile restructuring of Air Mauritius, the national carrier is now part of Airport Holding's portfolio. What opportunities will the share takeover have to revamp the business and spearhead new growth, and what kind of future is planned for the airline company?
Airline consultant CAPA India was appointed in October 2021 to review Air Mauritius's business model. We have 24 concurrent projects assessing all facets of the organization with the aim to increase revenue and optimize costs. Henceforth, non-core activities such as ground handling will be outsourced to a subsidiary of Airport Holdings Ltd.
Aircraft maintenance activities will be funneled into Maintenance, Repair & Overhaul Ltd. Air Mauritius will therefore focus on its main activity, that is flying passengers from one destination to the other, by focusing on cabin and flight operations with emphasis on enhanced customer service. Subsidiaries companies within Airport Holdings Ltd will offer their services to Air Mauritius and to other carriers serving Mauritius, are expected to expand both regionally and internationally by 2023.
Flights to Paris, London, Mumbai and Johannesburg have restarted. We have also launched our regional flights to Madagascar, Reunion and Rodrigues, and noticed that these destinations are showing encouraging signs of recovery. Additional destinations will be added to the network in the forthcoming months, namely Kuala Lumpur, Hong Kong, Perth and Cape Town. However, with the war in Ukraine, Air Mauritius is facing two major issues, the high price of fuel and an unfavorable exchange rate Euro/US Dollar which are negatively impacting our bottom line. We are hoping that things will improve in the coming weeks and months so that we may return to profitability in a year's time.
One of the key elements emphasized by the Deputy Prime Minister Obeegadoo as part of the "One Mauritius" program was boosting connectivity to and from Mauritius. What strides are being made to create new bridges with key markets, not only by reestablishing old routes of Air Mauritius but also by tapping new ones, forging new alliances?
Air Mauritius has a long-established joint venture with Air France operating daily flights from our hub at Paris – Charles de Gaulle Airport as well as a number of agreements with other airlines. Air Mauritius also has plans to open a new hub in Amsterdam which is a gateway to the northern UK market and the Nordic countries representing potential prospects for Air Mauritius. The Amsterdam launch is expected in a year.
As previously mentioned, 18 other airlines fly to Mauritius, and, in terms of airport services, new carriers are invited to fly to the island. The latest airline which will operate to Mauritius is from Spain. Before the war in Ukraine, discussions for operations to Mauritius were held with Russian carrier Aeroflot.
Tourism has always been a huge part of Mauritius' economy, accounting for about a quarter of GDP and employing almost half the workforce. Clearly, the need to rebound from the pandemic-driven fallout to get back to those levels is imperative. Can you tell us a bit more about what other big projects and investments Airport Holdings currently has underway or in the pipeline for the next two to three years as part of the reboot of the industry?
Air Mauritius has one of the youngest and modern wide-bodied fleet in the world, comprising four Airbus A350-900 and two Airbus A330-900neo. A decision has been taken to increase the Air Mauritius's fleet by next year to support its reviewed network which would increase its seats capacity. Currently Air Mauritius can only operate to Rodrigues with its 03 ATR72-500 due to the short existing runway. The plan is to build a new runway to allow jets to fly in and out of the island.
A new product, which includes multiple destinations such as Reunion and Rodrigues, is in preparation to capture new markets. The stopover project is a major one for Airport Holdings Ltd. It consists of building an airport city and an ecosystem in the vicinity of the airport with the objective of attracting traffic from Asia and Africa to stopover in Mauritius. Mauritius offers business opportunities to foreigners and this ecosystem will be conducive to attract more businessmen to use Mauritius as a hub.
Are there any projects available for foreign participation?
The airport city master plan is a huge project involving massive investments and consequently, Airport Holdings Ltd is considering inviting partnerships. Tenders will be launched as soon as the roadmap is created.
In your opinion, why is Mauritius a great place to live and work? Are there any opportunities among Airport Holdings Ltd that aviation talent, entrepreneurs or investors should stay tuned for?
Mauritius boasts a temperate climate all year long and is well known for its beautiful natural attractions, as well as political and social stability. Authorities have already initiated many interesting schemes, such as occupational and residential permits as well as the newly proposed premium visa to attract foreign residents and investment. Moreover, the country offers optimum internet connection and favorable legislation, thereby providing an easy framework that facilitates an inward flux of foreigners to reside and work in Mauritius.
In the age of net-zero, what is Airport Holdings doing to contribute to a greener and more sustainable future for Mauritius?
Airport Holdings is committed to protecting the environment and we aim to make SSR International Airport one of the most sustainable airports in terms of green energy, water treatment, rainwater harvesting and total decarbonization. The future airport city will integrate all the aspects of green and sustainability. With regard to Air Mauritius, Sustainable Aviation Fuel is currently under consideration, and it should become a reality by 2024. The national airline is already engaged in various sustainability projects, among which is the 'One take-off One Tree' initiative done in collaboration with Mauritian Wildlife Foundation. Consequently, more than 70,000 endemic trees have been planted both in Mauritius and Rodrigues during the past 10 years. Coral farming, lagoon regeneration, as well as protection and conservation of the fauna and the flora of Mauritius, will form part of the main pillars of the foundation, which will be under the aegis of Airport Holdings Ltd.
What are your ambitions as CEO of Airport Holdings and what priorities will you focus on to take the organization to the next level?
The challenge is to really turn around the ecosystem to make it profitable, sustainable and to deliver the level of service that we expect as a destination. My target is by 2024 to reach our objectives in terms of revenue, profitability and growth. Airport Holdings Ltd is aiming for a turnover of $700 million. Our ambition is to transform Mauritius into an international aircraft maintenance hub through our MRO, targeting Madagascar, Reunion, Mozambique, among others. It should be noted that the Air Mauritius Technical Services, which is European Union Aviation Safety Agency certified, will be integrated in the MRO, something expected to become a reference in the Indian Ocean region through its efficiency and excellence in aircraft maintenance services.
What is your final message for the readers of Newsweek?
These past two years have been challenging and there is still a long way to go to reach a normal state of affairs. We are still in the process of recovery. The airline industry and airport services are gradually picking up. We have reasons to be optimistic. Mauritius is a great place to visit, and I encourage your readers to come and personally experience the beauty and warm hospitality of Mauritius.