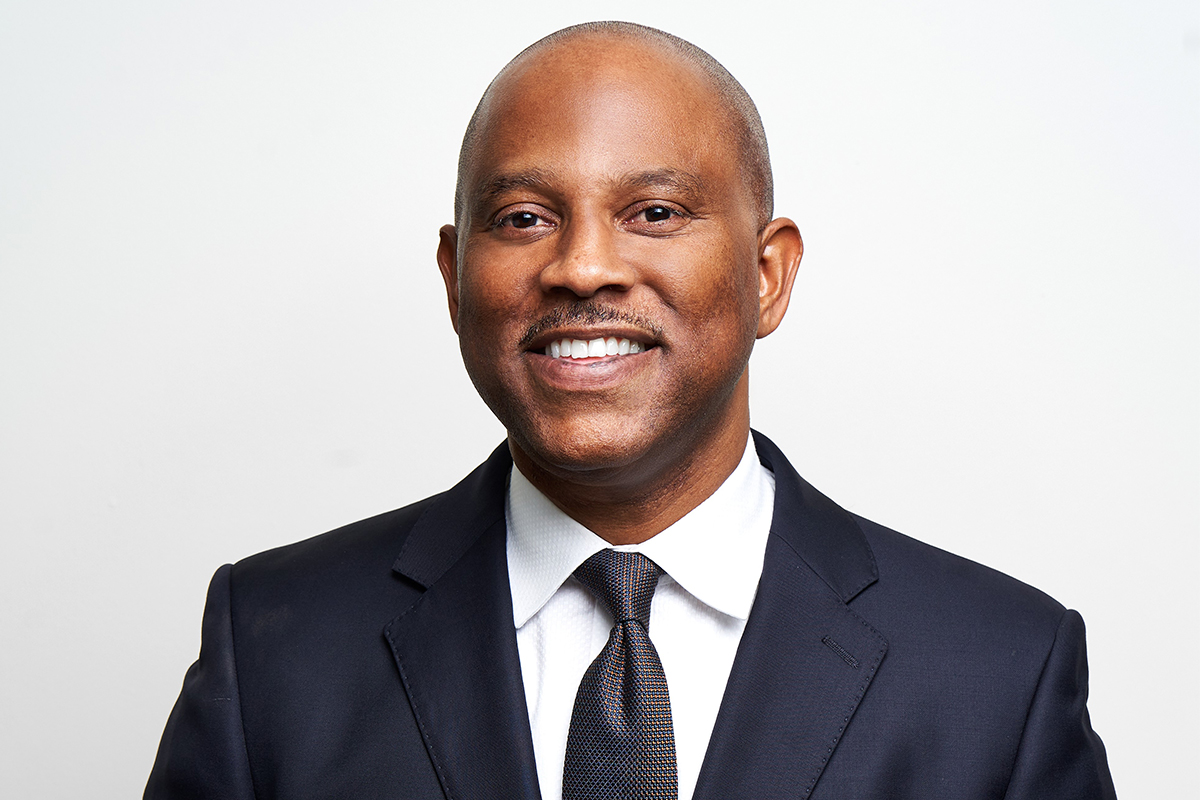 17 Dec

Success based on Bermuda's knack for reinvention
Aaron Adderley, President, Bermuda Skyport Corporation, is confident that the success story of their hybrid business model is transferable to other industries as well
Especially for those readers who are not so familiar with your country, how would you sum up the essence of Bermuda? What makes the island, its culture and people so unique?
I often joke with folks that as Bermudians we are a confused bunch! Geographically, we are located 700 miles from the United States, so we have this big brother neighbour who is right there with a tremendous amount of influence. We are a British territory, so we also have a British influence. Then we have our Caribbean peers to the south of us. Even though they are a thousand miles away, there is a tremendous amount of linkages that exist. We have these three dominant geographical jurisdictions that influence the way we think, live, and interact. It is unique in that we have created this small melting pot that has with it a sense of vibrancy that is hard to find elsewhere.
The United States is our number one market, and for them Bermuda is different enough to be intriguing but familiar enough to be welcoming. It is different in the sense that we drive on the left-hand side of the road, and many of us have this funny accent. We do things slightly differently but, being 700 miles from the US, it is impossible to not take on some of their pop culture and customs. we have been able to benefit from this dynamic for many years, and our tourism industry has profited by it as well.
Visitors are looking for that sort of consumption-based tourism experience where they are interacting with locals, and Bermuda affords them that opportunity. There are a number of countries to the south of us where visitors are sort of ring fenced in on a resort property that they never leave and do not get to fully experience the destination. Here in Bermuda the entire island is open for you to go out and enjoy an adventure. That freedom is a key value proposition we have that many other countries do not. A visitor can go out and explore because it is readily accessible, you feel safe, and people are incredibly welcoming.
Can you talk us through the redevelopment upgrade process of the new airport that has happened across the last few years?
The old terminal was constructed in the early 1940s and over the years bits and pieces were added on. By 2008, it had grossly exceeded its life expectancy, with portions of the structure dating back 70 years. They had also built it right on the shoreline, so it was susceptible to storm surges. In fact, a major hurricane in 2003 caused significant coastal erosion and parts of the ground floor of the terminal building were literally under water. After that, the government and the airport management at the time got together and developed a master plan to consider future needs and requirements. The centrepiece of that vision was a new terminal.
There were several obstacles to overcome as an island jurisdiction. Foremost, 80 percent of small airports like ours, hosting about a million passengers annually, lose money. Therefore, the ability to bring about meaningful private investment is close to non-existent. Private investors are not looking at smaller airports to invest millions of dollars in. We were also in the midst of a global economic downturn, and the government simply did not have the funds available to invest in a procurement process.
The government ended up pursuing a hybrid business model which had built into it, a government-to-government component, and a three-P aspect. The government-to-government component was an arrangement between the government of Bermuda and the government of Canada, specifically with the Canadian Commercial Corporation (CCC). CCC is an agency within the Canadian Government that was established to go out globally and find economic opportunities for Canadian companies. Aecon was the Canadian company that Canada brought to the table as the private sector component of this hybrid model. It was a business model whereby the private partner was taking on all the risk, so for Bermuda there was no need to put any money upfront. Aecon and CCC proposed a design and committed to building, operating and maintaining the airport for Bermuda at their sole expense. Going through the negotiations, Bermuda was under no pressure to commit as there were multiple offramps available to both parties, nor was there any risk to Bermuda. When we reached the end of our due diligence, everybody was satisfied with what they saw and gave the go ahead. Aecon arranged the USD 400 million worth of investment through its own treasury funds and a privately placed bond within the US. We can apply this plan to many other airports around the world in countries who are in a similar position as Bermuda was, with this type of ageing infrastructure, who lack the financial resources, especially now, during COVID-19.
Airport Council International, which is the global body representing airports around the world, has looked at the project structure used in Bermuda and considers it a model for its small airport members. As a country, we are proud that whether we are talking about reinsurance or about the financial services sector, Bermuda always comes up with innovative business solutions. This is yet another feather in our cap, where we can say to the rest of the world. We have been able to do something here in Bermuda that we think may just work for you. We have applied this model partnering again with the Canadian Commercial Company and the Canadian Government to build the airport in Quito, Ecuador, which has won a number of awards and accolades. We feel that we can look at other jurisdictions, and help them out with their infrastructure needs.
What are the company's plans to navigate the post-COVID-19 world? How have you coped with the pandemic, and how do you hope to mitigate the impact of reduced flight activity over the last year?
Bermuda like many other destinations has been hit very hard by the pandemic. We have seen a drop in traffic of about 80 percent which is an enormous blow, coming at a very unfortunate time. Credit to the Bermuda Tourism Authority, because we were just in the middle of an upward trajectory in our visitor arrival numbers, and to have this global shock event take all the momentum out of that growth period is really unfortunate. However, I remain very optimistic that Bermuda stands to be in a position where relatively speaking, we can fairly quickly start to see a resumption of sustained growth, and there are a couple of things that contribute to that.
First of all, we are a short flight away from the United States, and they represent 80percent of our visitor traffic. We feel that people within the US are going to want to travel again, but they are going to be a bit hesitant in terms of where they go. They will want to stay close, minimizing the amount of time they spend on a plane. All industry pundits agree that short-haul travel stands to benefit when travel resumes, more so than long-haul travel. We are in a position to benefit from that particular dynamic. Bermuda is also a safe jurisdiction from a COVID-19 perspective, because the government has done a fantastic job in managing our numbers. From that standpoint alone, we should be in a strong position once things turn around.
In terms of what the country has put in place to help mitigate the economic blow the government has, as many governments have throughout the world, provided financial support to that hardest hit by the pandemic and that has helped. It may not be enough at the end of the day, but it certainly has helped us to build a bridge to get through this pandemic.
Managing the dynamic to mitigate a second wave has kept us from shutting down restaurants. We have not been in a lockdown situation since mid-2020, so you can go out to dine without a problem. The government has done its part in that respect. From a private sector standpoint, we at Skyport benefited in that five-year uptake I mentioned, so we were able to put some reserves aside which are helping us get through this downturn.
From a services development standpoint, as a country we are benefiting from opportunities that have presented themselves amid this pandemic that otherwise would have perhaps never materialized. A case in point is a partnership with BA for connectivity to London Heathrow. It has long been a desire of Bermuda businesses and residents to look for better connectivity to Europe, and Heathrow opens up that window of opportunity for us. In classic opportunist style, taking advantage of this pandemic, we reached out to BA to discuss their surplus of unused aircraft. I am happy to say that we were able to start with a scheduled charter in December, which kicked off tremendously well, again taking advantage of the opportunity that the pandemic presented. we are expecting that we will get to that critical mass where that flight will continue and we will have them on the schedule for the upcoming summer. Hopefully, as their service development initiatives grow, we can go from a scheduled charter flight that operates once or twice a week seasonally to a scheduled year-round commercial flight.
What else can you elaborate on in terms of investments being made in technology to facilitate the travel experience?
It is not only about the technology that you are putting in place, but it is the degree of adaptability that you have incorporated within your building design to account for future technologies that you are not aware of today. We have introduced contactless technology such as E-gates and kiosks that are designed not only for passenger convenience but also passenger health and wellbeing, in an effort to establish rather robust COVID-19 protocols. We are using Computerized Tomography at our security screening checkpoints, whereby passengers no longer have to take liquids and electronic devices out of their carry-on luggage. As you know, one of the most stressful parts of travelling is going through security. That will not only change the overall passenger experience, but it is also going to improve our throughput percentages.
Additionally, we have incorporated building automation systems that help us to realize energy efficiencies and conservation and a modernized baggage handling system with system software that maintains passenger information for each bag and monitors its position along the conveyor belts. This helps to ensure that each checked bag goes directly to the flight it was meant to go to and thus minimizes the risk of lost baggage.
There are also built-in technological solutions such as swing gate capabilities, where we have afforded ourselves the ability to be flexible and expand our available real estate in the departures hold rooms for any flight, in order to adhere to social distancing. One of our biggest concerns as an airport operator was addressing how we were going to maintain physical distancing when traffic starts to rebound. The swing gate functionality allows us to do that. You absolutely have to build and account for technological solutions that exist today, but you also have to be flexible in your building design to account for them tomorrow. That is what we have tried to do at the new L.F. Wade terminal.
We also have a new HVAC system which allows us to clean the air and mitigate the risk of COVID-19 transmission within the terminal. As the airport operators, we share a common aim with the government to make people feel comfortable in travelling again. We have put certain measures and procedures in place to ensure that transition through the airport, either on arrivals or departures, is safe, and these processes helped Bermuda to become one of the first airports to earn health accreditation from ACI. we have put together a comprehensive, holistic strategy governing ground transportation, airport activities, and onboard protocols, which reduces the fear level that passengers have and will hopefully encourage them to travel a lot sooner. There is a definite role for technology to play in this COVID-19 pandemic, and Bermuda is well positioned to do just that.
In what ways is the tourism industry catering to the profile of digital nomads, and what has been your experience so far?
From an airport perspective, the numbers are growing, so I applaud the government for pursuing this initiative. Across the world, especially here and in the Caribbean for example, we are all fighting for human capital. Again, I return to the notion of Bermuda's geographic proximity. Manhattan is just an hour and a half away, and unfortunately, COVID-19 remains a threat there as it does in many other places. Hence, there is this attraction that Bermuda has or could have for New Yorkers who just want to go somewhere to work remotely and do so safely. 
We are in a fantastic position to take on this new nomad lifestyle approach and take it to a whole new level. The numbers will hopefully increase exponentially. I know the BTA is certainly looking at initiatives that are especially geared toward this particular market.
What does the future hold for L.F. Wade International Airport and the tourism offering in Bermuda as a whole?
When we designed the new terminal, we wanted to focus on the senses, so everything we have done has been looked at as a holistic sensorial experience. we have looked at our sense of taste, sense of smell, hearing and sense of place. From a sense of place perspective, we have worked with Bermudian artisans to ensure that we have elements of Bermudians in the new terminal, and hopefully we have been able to accomplish that. From the perspective of a sense of taste we have partnered with SSP, the largest airport restaurant operator in the United States, and with one of the up-and-coming, young Bermudian restaurateurs here on the island. Together they have come up with some wonderful food and beverage design concepts that really speak to that sense of taste. we have also worked with the Bermuda perfumery to come up with a sense of smell, so when you walk through the terminal you feel like you are on vacation. For the sense of hearing in the terminal, we have launched a curated music experience called Skyport Radio. Many airports have done this around the world, and we are no different, but what we have tried to do is to ensure that the mix of music speaks to who we are as a country in terms of our influences. we are not just talking reggae and soca, but also classic rock and other styles. We have a vast mix of genres that have come together and represent us as a cultural melting pot.
From a company perspective, over and above the airport, we evidently want to ensure that we are financially sustainable. Eight out of 10 airports our size are money-losing ventures. Skyport wants to be in that 20 percent. We have opted for a very commercialized approach to how we run the airport, and we want to ensure that the benefits are felt throughout our country from a socio-economic perspective. In short, we are investing in the community.
Finally, Aecon and Skyport pride ourselves on having a strong safety culture, so working with several contractors on the construction side, we have introduced innovative safety measures that were not previously existent here in Bermuda. We take great pride in this effort, and we want to ensure that there is a legacy that we leave behind in this area.
What would be your final message for our readers of Newsweek?
We have a lot to offer as a country in the move toward a consumption-based tourism experience that we are seeing globally. We, as Bermudians, love visitors. We want to engage and interact with them, and I hope that, from a tourism perspective, we can see the growth that we need to experience in order to stimulate our economy.
Also from a business perspective, there are several initiatives that the government, the BDA and our partners within the reinsurance space are pursuing to promote our international business sector here on the island.
Bermuda has so much to offer, and our doors are open to leisure and business visitors alike. We cannot wait for people to get back on planes and start travelling again. We are looking forward to having them back.