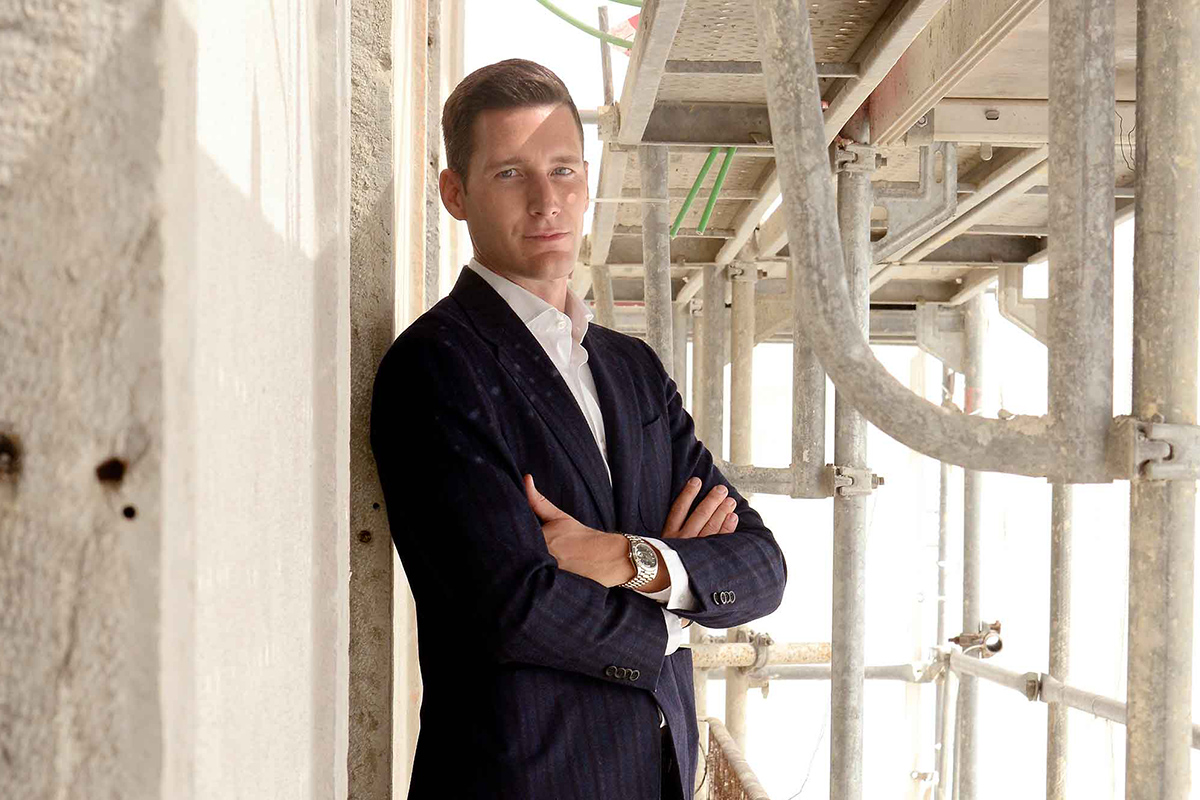 16 Oct

Portugal is still a hidden gem for residential real estate investors
Tomas Suter, Partner and Senior Advisor, Mexto Portugal, introduces a company creating unique, luxury living spaces in stunning locations for its clients
As a renowned property investment company, Mexto Portugal is known for investing in the best locations. Its rehabilitation projects respect the history and charisma of properties, while bringing residents top-quality modern comfort and luxury. Could you sum up the key ingredients that Portugal boasts, which make it such a competitive destination for real estate investors?
 It is well know that, since 2014, the real estate market in Portugal has been very interesting, dynamic and unique in some ways. I think there are many notable factors that make it unique not just as a place to invest but also to live—at Mexto we focus on the real estate residential market here in Portugal, so my comments come from that perspective. It is the second-safest country in the world, which in my opinion is a huge benefit, especially in the times we are all living in today. People feel at ease and welcomed here, they can move around without any constraints, and it has a vast mix of cultures and communities that add to the metropolitan feeling of the country.
Portugal, especially Lisbon, has become more international in recent years with the opening of more hotels, restaurants and services that are on a level that suits their international clientele's needs in terms of quality. In addition, we have fantastic weather throughout the year and are located centrally in Europe, so the country is very accessible from almost all European Union member states. Furthermore, Portugal has several interesting programs, such as its Golden Visa permanent residency scheme and non-habitual resident tax regime, which attract international investors and capital. I also think that, within the last few years, people have started to realize that Portugal is still a hidden gem that has not garnered the attention it deserves yet in comparison to other European countries. Since 2012 we have seen a boom in the real estate market that continues today.
Founded in Switzerland and with deep experience in other European countries, Mexto has been present in the Portuguese market since 2017—a time when international interest in Portugal was accelerating significantly. How would you summarize the last three years in the market?
The last three years have been very dynamic for us and we've had a quick start in Portugal. We started analyzing the market in 2015 and strategically positioned ourselves with the correct amount of capital to amass an interesting portfolio in a short time, which we are developing now. We are happy to be a well-established real estate investor in Portugal today and also believe we have been able to strongly position our brand in the market. Since we began our experience here in Portugal, we are satisfied and have achieved our goals.
With its new project in Olivais, a district in the east of Lisbon, Mexto is effectively serving the underserved middle class. What are the long-term business prospects of this national segment?
 O'Living is our most recent project that we are just launching at this very moment. It is a development we have made in collaboration with the architect firm Saraiva and Associates and, from the start, we aimed to promote this project to the Portuguese national market. This is because we think that, over recent years, the trend that most investors have been following was to create luxury projects, mainly marketed to international investors, which left behind the local market segment. We believe it is important that local buyers are not completely pushed out of the picture.
It has not been easy because of rising prices and construction costs going up at the same time, making it quite challenging to serve this market. Having said that, this is a market with prosperous potential that needs special attention from developers. We also feel that we have an obligation toward the Portuguese people. From the feedback we have received since the announcement of the launch two weeks ago, we feel exactly as you said, namely that this market is still underserved and there is a lot of demand to satisfy. We are happy to see that O'Living is fitting the market's need and we are convinced it offers a very interesting opportunity for both Portuguese and international clients.
Two Mexto projects currently under construction in Portugal are Prior do Crato City Living and Ajuda Garden Residences. Mexto also has an ongoing project in Mallorca, Comte 16.  How does Portugal compare to other luxury real estate markets across the Mediterranean?
 Actually, the two Portuguese projects that you have mentioned are still in the paperwork process as we are waiting for the licenses to begin construction, hopefully as soon as possible. The projects that we have in construction right now are Avencas Ocean View Residences and Rodrigo da Fonseca 43 Prime Residences. In terms of comparison, I would say that other markets such as Mallorca, where our Comte 16 project is located, are already quite established and more mature. These markets are in a different phase compared to Portugal. We know exactly the type of clients we are facing there and which investors we should address with this kind of product. In Portugal on the other hand, there are a lot of surprises in that regard. We see so many different nationalities being attracted to Portugal that you connect with people from all over the world. Also, the dynamics of the markets are different. If we move further to other markets across the Mediterranean, for example Greece, I would say that there are still locations that have big potential for the upcoming years, which might experience similar growth to that we have seen in Portugal recently.
Mexto has partnered with Germany's Jung Technologies for its smart home solutions and with Italy's SCIC for the best finishes in kitchen design. How much importance does Mexto put on finding the right suppliers during the refurbishment process?
This has been one of the most important points for us since the very beginning. Our goal was always to design luxury projects for people not to just to invest in but to actually live in—to create homes and not just investment opportunities. If you look at our projects in the luxury segment, the apartments mostly have large spaces for families to live in. What we have seen from our experience in Portugal is that a lot of things are sold and promoted as luxury, but they don't have the finishes and quality that international clients would expect. This is central to our offering and that is why we value the right partnerships. This is where we at Mexto can make a difference. In the end, people will always compare the quality of the finishes at the luxury level. Jung Technologies and SCIC are just two examples, where Mexto is working with international top-level brands to provide a unique level of quality to the future owners of the apartments. It is important to say that, whenever possible, we also work with Portuguese suppliers, especially with our newest project O'Living, as we market it as a project for the Portuguese by the Portuguese.
Construction sustainability is no longer just a flag, but a necessity and a condition for doing more and better business. Energy efficient designs and better quality builds are becoming requirements and a condition for business. The pandemic has accelerated these challenges. How has the sector responded to this and how important do you think sustainability is in real estate projects?
All of us at Mexto are aware of these trends and I think, well before COVID, people were already taking sustainability into consideration. We have to attain an energy certificate for development of each of our projects and Mexto always tries to reach the best possible level of efficiency, rather than just satisfying the legally requested levels. Better quality construction is another key aspect of our core business and we have positioned ourselves in a niche market within the luxury residential sector, where this level of quality is of utmost importance for all stakeholders of our company. The vast experience that we have in other markets, such as Switzerland, Germany and Austria, helps us to reflect this in the quality of our developments that are being developed here in Portugal.
Currently, 55 percent of the world's population lives in cities and it is predicted that by 2050 this will reach 68 percent. There is now a greater emphasis on the role that technology and smart building design will play in living spaces in the not too distant future. How does Mexto's strategy for the future reflect this?
 It is important for urban planners to take these things into consideration. What I think is also very important is to have project development plans that address other, wider plans for a city's ecosystem, in order to create an optimized living space for all city residents. It is an obligation for us as investors and developers to take this into consideration when we are designing and planning our projects. In terms of technology and smart building design, Mexto makes all efforts to implement the latest trends in our developments, making them ready for the near future and possible changes that we might experience in our everyday life.
Real estate investors have been a driving force for the Portuguese economy recently. Making a 15-percent contribution to gross domestic product (GDP), the sector holds sway in defining what the country's immediate economic future could look like. Earlier this year, the Portuguese Association of Real Estate Developers and Investors (APPII) proposed a package of exceptional measures to reactivate the sector after COVID-19 for the government and relevant authorities to review. How has this manifesto been received by the wider real estate community?
I think that the proposal it has made is very interesting and also important for the sector. In my opinion, it takes into consideration the crucial issues and is adapted to the needs of the sector. As you said, the real estate sector now contributes 15 percent GDP, so after tourism it is one of the country's most important economic sectors. There are still things that can be improved to encourage more people to invest here, especially when it comes to the bureaucratic procedures that we can still find along the way and which can sometimes create an obstacle for international investors. We are a member of APPII, constantly follow its proposals, and are happy about the service it provides for our sector and the interesting exchange that is going on about its proposals. We also think that the government is aware of the sector's importance, is listening to the proposals that are being made and trying to find possible solutions.
Do you have a final message for the readers of Newsweek?
 We at Mexto are very happy to be part of the players in the Portuguese residential real estate market. We believe that we can offer something different in terms of quality and design to our clients, working with the best international brands and suppliers. We bring a vast experience in different markets and use it in our investments here in Portugal. On the other hand, we do not just want to serve the international markets, but also to provide answers to the increasing demand in the national market, while using local products. The dynamic of the market, especially when it comes to new investments, has been affected slightly by the pandemic, however we are keeping our eyes open and are analyzing several projects right now. We know that next year there will be very interesting opportunities and also more interesting projects to come. Mexto started its investments and activities in Portugal almost four years ago—it's important to say that we are here to stay and that to design, create and build unique and different projects, apartments and living spaces for our clients is our main goal.
For more information visit the Mexto Portugal Website