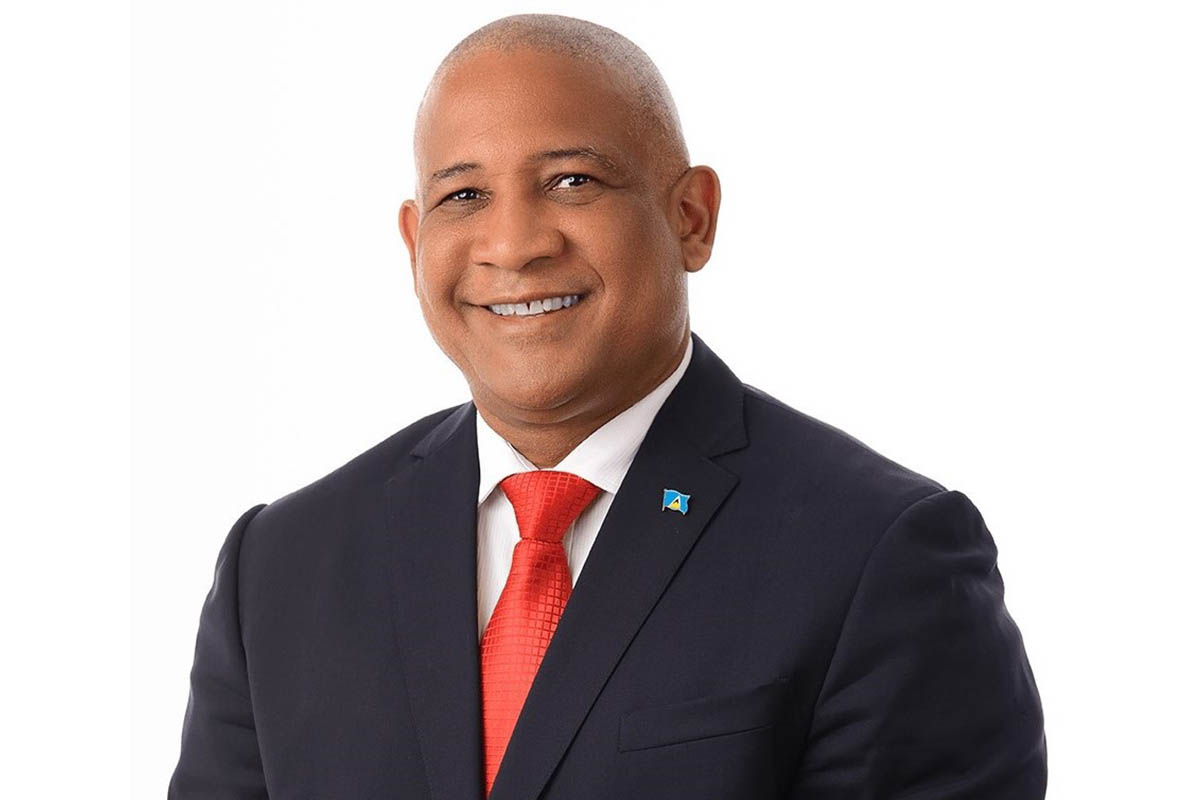 29 Nov

Prioritizing Saint Lucians is first on the agenda and economic growth is registering even higher than before the pandemic
Hon. Dr. Ernest Hilaire, Deputy Prime Minister, St. Lucia and Minister of Tourism, Investment, Creative Industries, Culture and Investment is proud of how the nation is creating a unique and authentic offering in niche tourism, homegrown creativity and attractive products which express the heart of its people, stimulating both local and foreign investment.
As Deputy Prime Minister of St. Lucia and Minister of Tourism, Investment, Creative Industries, Culture and Investment, would you give us a little background on St Lucia and share some of its distinct qualities with our readers?
The St. Lucia of today and tomorrow builds on our past and we certainly have an extremely powerful story to tell. St. Lucia has the distinguishing historical characteristic of having been fought for over 14 times and has been seven times British and seven times French. There was a particular reason for this. St. Lucia was more of a military colony than a plantation colony, meaning the superpowers wanted St. Lucia because of its strategic location. Every time there was a peace negotiation, the prize possession was St. Lucia. When we were finally ceded to the English in 1802, it was on the following three conditions: French would remain the local language; the civil code would remain French; and Catholicism would stay the dominant religion. The criminal code is English and our civil code is French just as in Quebec which is the only other part of the world in which this occurs. Although we were an English colony, all the places in St. Lucia have French names, such as Monchy, Gros Islet, Castries, Vieux Fort, Anse La Raye, Dennery, and we are Catholic, not Protestant.
This explains our Creole French and English influences. Whereas some of the other islands may be predominantly English because of their heritage, in ours you will find both. Our culinary practices are largely French, for example and this mix makes for an absolutely alluring image. Another fantastic balance that St. Lucia has is its mix of mountainous and flat lands. Barbados and Antigua are extremely flat while Dominique is mountainous. We offer the best of both worlds. You will find some of the most beautiful beaches here, comparable to Barbados and Antigua and other Caribbean countries, but you can also enjoy forests, greenery, hiking activities, not to mention our drive-in volcano, which is unique in the world, the Pitons, probably the most dominant landmark in the Caribbean which is also a UNESCO site.
St Lucia is enchanting and exciting because of all of these fabulous combinations. Up until the early 1990s, our economy was dominated by agriculture, and in particular the export of bananas to the United Kingdom. The WTO ruling really changed everything for us. Starting in 1997 we very deliberately shifted to a more services-based economy rather than an agricultural-based economy. We had lost substantial parts of our national income because of the ruling and it devastated our rural economy. In fact, a lot of the social problems we have now came about because of the devastation of the rural economy that was mostly driven by the cultivation of bananas. We developed a serious internal migration issue. A lot of people left the farms and rural communities to move downtown to the urban centers looking for employment. Most of our tourism offerings are in the north which is not the agricultural part of the island. That created certain sociological issues for us. However, we have been able to cope extremely well. It is fair to say that our climate, beauty, warmth and hospitality as a people gives us a competitive advantage over many countries in the world. Although a lot of us in the Caribbean are similar, we offer an exciting, seductive product in that once you come here, you will want to return again and again. We have won the Caribbean's Leading Destination for honeymoons and weddings every year for over 12 years now, as well as the world's top honeymoon destination. This is our primary niche market. The awards should be announced over the next few days and we expect to be named winner again across the board. This market really suits St. Lucia and its personality. In fact, I do not know that there is any other country in the world that is named after a woman.
What are you doing in St Lucia to promote the tourism sector and to relaunch a more sustainable industry, and what impact does tourism have on the people of St Lucia and the country?
The positive statistics say a lot about what we have been doing over the years. We had record growth in 2019, but this has really been the case for the last 10 years. If you look at the statistics in 2010, you will see the rise of tourism arrivals in St Lucia year after year, except for one year, which says a lot about how we have positioned the tourism product in St Lucia, and we are poised to be even stronger post-COVID.
Tourism is quite important to us in St. Lucia. As I mentioned, we made the shift in 1997 towards a more services-based economy, so many people depend on tourism directly as well as indirectly. For us it was important to start opening up, but it had to be done in a very responsible way. It did not make sense to open up without attention to the consequences of COVID. We were constantly seeking the right balance, and we continue to discuss and analyze the data daily. Just like everyone else, we focus a lot of time and energy on data, where the hotspots are, what is happening out in the field, testing results, how protocols can remain in place, and where a shift might be able to happen. I must say that there has been a tremendous effort made on behalf of the St. Lucians, the Ministry of Tourism, Ministry of Health, the hospitals, and the different stakeholders in the tourism industry doing so much for us to strike that perfect balance. It is exciting to get feedback and criticism from individuals or get beat up from certain sectors because they feel we are not opening up fast enough. It is a daily battle of dialogue and exchange, but some of us enjoy that kind of thing, and I for one thrive on it.
August 2021 was actually better than August 2019. Upon reopening, we saw an explosion of visitors from the US in particular. The United Kingdom and Canada was still closed. Just two weeks ago, the first Canadian flight touched down in St. Lucia and resumed their routes. Even in the midst of COVID we continue to see the possibilities for record-breaking arrivals.
St. Lucia offers many niche areas in tourism. Can you expand on them and the reasons for these particular focuses?
As I mentioned, the romance niche has been the driving sector and we continue to grow in that area. In the next few years you will see an increased emphasis on diving and the marine-based sector. In fact, we have already begun working in that space, and even during COVID we accelerated our preparation. St. Lucia is already well known as one of the leading dive destinations in the Caribbean, but there is so much more we can do to significantly increase our offering in that area. The Divers' Association is just finishing a major project, and it is not just about the dive site. It is also integrated with creating youth employment. They took a group of young unemployed people, trained them to be divers, introduced them to repairing the coral reefs, how to create new reefs, how to create dive sites and actually are having them do so, as well as creating employment opportunities for them in water sports, diving, and tours. It has been an immensely successful pilot project and we are going to replicate it all over the island. In the next two years you will see a bunch of new dive sites and the renewal of the already existing ones.
Wellness is another area in which we have some tremendous offerings, such as the Jade Mountain Resort, Body Holiday and many others. There will also be a few new additions in the next couple of years.
Over the next two to three months we will be announcing the launch our village tourism program which is a decisive shift to community-based experiences. We believe the best tourism is sustainable, based on community partnership and ownership of the experiences. This program stems from our heritage tourism program to offer authentic St. Lucian experiences to visitors. In contrast to the resort experience, you live in the community, interact with ordinary St. Lucians living their daily lives and you share your experiences with them, experiencing authentic food, drink, music, and cultures immersed in the community.
This is transformational for our people as well. They now become participants and owners within the tourism industry. They now have the responsibility to offer our guests the best St. Lucian experience there is – in their own environment. For example, we want the women who make baskets and hats to open studios at home so visitors can do tours and see them in their own local setting actually making these products and purchase from them. This is more sustainable and creates a greater acceptance by the people of the importance of tourism. It empowers them and creates new employment opportunities. It shows we are more than just sun, sea, and beaches. To actually see the farm to table process firsthand will be exciting.
What is the government doing to rebuild and promote the cruise industry, and what strategies has the state put in place in a post-COVID world that guarantees safety?
There continues to be a constructive engagement with the cruise ship industry to allow for greater participation in the recovery. We are in constant dialogue about the protocols for cruise ships to enter our ports. Of course, we welcome them but we need to ensure the right balance, making sure the visitors attend our sites and attractions and safeguarding livelihoods. The numbers began low but are starting to increase. Actually this week we have received a considerable number of guests. The cruise ships are incredibly important to us and we are creating the best regiments for reentry into St. Lucia. Over the next few years you can expect announcements on the scale of the investments to renovate our two primary areas and the cruise ship infrastructure there. We are also finalizing the arrangements for an additional possibility for cruise ship arrivals in the south.
This COVID period is a chance for us to upgrade so that post-COVID we are hoping to see an even larger number of cruise ship passengers coming to St. Lucia. We need to transform this experience into a strategic opportunity to bounce back and become even better than before. Although we anticipate this winter season to still be a bit low, if we make the investments now as quickly as possible, come 2022 and 2023, we will be offering the world a refurbished and reenergized cruise ship infrastructure in St. Lucia.
What sectors outside of tourism are seeing the largest rise and why? Also, what would you say is Saint Lucia's value proposition in terms of attracting FDI?
Outside of tourism and real estate, the strongest sector has to be the call centers. There has been a significant increase in this area and we will continue to push it. Again we have some natural advantages in that area because of our strategic location, the time zones of the United States make us quite favorable to serve that market. It is also an important source of job creation. A proper center can employ anywhere between three to five hundred people. Youth unemployment is a massive issue for us, so the priority lies there.
There is also an effort to create more opportunities for professionals who come to St. Lucia to work. The legislation for residency offerings is now being finalized. During COVID, we became a safe harbor for many digital nomads and also those who can work offline. We offer a lovely island, ideal weather and conditions which make not only for relaxation but also high productivity. While working offline you can also be restoring yourself on our shores. Serious conversations are underway with our investment authority regarding investment conferences to showcase the installations we have here. Light manufacturing is also quite important here, not to mention our agro-processing, our world-famous chocolates, and seasonings. St. Lucia is at Expo 2020 in Dubai where we have had a tremendous response at our pavilion and our products have been an absolute hit, especially with respect to our chocolate, seasonings and condiments. We expect that area to get a boost over the coming months through increased investment due to the interest expressed. Quite soon you can expect an announcement regarding that, as well as new capital that is being injected into soaps, banana and plantain chips, linking agriculture and manufacturing.
There are so many avenues of opportunity, and of course, we will be driving hard towards the post-COVID recovery. We want to be ready for the moment when the whole world opens back up in a more sustainable way. Right now it is a bit too early as there is still an atmosphere of ebbs and flows, but within the next year, the world will be at a point where we can move on with our lives. St Lucia will be well-positioned. Having taken the last two years to prepare itself for that new era. Despite the fact that we are on track, we will work even harder in the next few months. It has been non-stop since we entered office in July, reviewing the situation and targeting areas where we can enhance what already exists, where we can change direction to make ourselves more attractive and stronger in an extremely competitive market. We want to make sure we are ready for business to accommodate our guests and make it happen for them.
What sectors in Saint Lucia are undergoing the largest digital transformation, and what new innovative opportunities in the creative industries are being born thanks to the post-pandemic digital boom?
Coincidentally I am beginning discussions with the creative sector just now. As you know I am also the minister of creative industries, and these have suffered the most. The tourism industry suffered but has been able to recover. But, our performers, musicians, fashion, artisans, to name just a few. They have been asking for support and I am looking forward to creating a centralized agency that can bring all of these elements together. At the moment, the creative organizations are scattered and disconnected. I need to bring everyone together under one roof and have a coordinated approach to the creative industries.
Our greatest strength there is still the music that we produce, for example, the Dennery Segment or Kuduro, Zouk and Soca music. However, let us not forget about our fashion and design sector that is brilliant and we have yet to shine a spotlight on and introduced to the world as of yet. Many of our young people want a career in modeling and get out onto the global stage. Since becoming minister I have had the chance to interact with our local architects and they are fantastic. Their creations are nothing like anything I have seen in my travels throughout the world. One of the things that we are going to start to do is to encourage developers when they come to St. Lucia that they must engage with these bright professionals. They have amazing ideas and they know what St. Lucia is all about. They can speak to the soul and the personality of St. Lucia instead of having international architects imposing structures and designs on us that are disconnected from our essence and personality. Our videographers are also stellar and we are able to expose them internationally fortunately.
In your view, what have been some of the key elements underpinning the success of Saint Lucia's CBI scheme?
I happen to have been the person leading the effort to establish the program in 2015 and I was the first chair of the Citizens by Investment program in 2015 and 2016 when our government lost the elections. The new administration obviously appointed new personnel, but it remains dear to me. In the last five years we have done well and it is a true testament to what we had put into place namely the heavy influence on due diligence, the offerings and reputation of St. Lucia were also quite critical. Having said that, I also think we can do even better and be a leader in CIP.
There is currently a strategic review of the weak areas that need improvement. There can be more time spent evaluating the connection to industry and getting the word out to them what we offer and how we operate. St. Lucia is a favorable home and we need to build on that and get out there and push our story and why they should choose us. We have an excellent infrastructure in the offshore financial services area, and a spectacular offering for those who want to reside and work here, and as a tourism destination we stand tall in the Caribbean and certainly in our niche romance market on an international level. There will certainly be some tweaks to make the St. Lucian brand even more attractive. As I was present in the program's inception, I am determined to make a fierce effort to position St. Lucia to be number one in the Caribbean.
Do you have any final comments for the readers of Newsweek magazine?
In everything we do we have a central approach which is putting St. Lucians at the center of our national development process. For us it is both philosophical and ideological in terms of the resolution of the resort debt. We are not necessarily saying that other approaches cannot be used, but for us you will see that constant thread throughout tourism, investment, CIP, and creative industries which is if we can make St. Lucians the central force in the national development process, they will gain an ownership mentality. We welcome foreign investors and we create the right enabling environment for them, but we want our people to be at the center of it and to participate. There should not be a great divide between the tourism industry and our people. Visitors should not be seen as a set of people who come to our country to exploit, abuse or treat us poorly. Our people should feel that they have a place in the industry. The government to this end has created incentives and programs where any St. Lucian can also be an owner and beneficiary. We do not want our people to see tourism as big resort-based and feel that their place is as cleaners and servers and nothing more. The pie needs to be enlarged and more pieces distributed among our people.
The same thing goes for the perception of CIP because people cannot relate to it and the results it is bringing in. That is what I mean when I say that we have been fine the last five years, but we can do a lot better by expanding the program and showing people in the communities how CIP is benefitting them and changing the landscape in which they live in for the better. Our approach to investment has been largely dominated by attracting foreign direct investment. For us it is about attracting investment, whether it be local or foreign. Our local people do not get the same incentives as the hotels. For example, there are really no incentives for the boat owners, the divers and the different stakeholders involved. We need to change that by creating a platform where any St. Lucian can benefit and call him or herself an investor too. Up until now, we only see investors as foreigners. Locals can be investors in their own economy. The narrative and the legislative framework need to be changed to allow greater participation by our local people. Likewise in the creative industries, again it is about our skills and talents and projecting them to the global stage. That is when you really become world-class. It is our duty to launch them.
Whatever we do and whatever sector we are working on, the priority is putting our people at the forefront so they can become active participants and owners of the national development process.