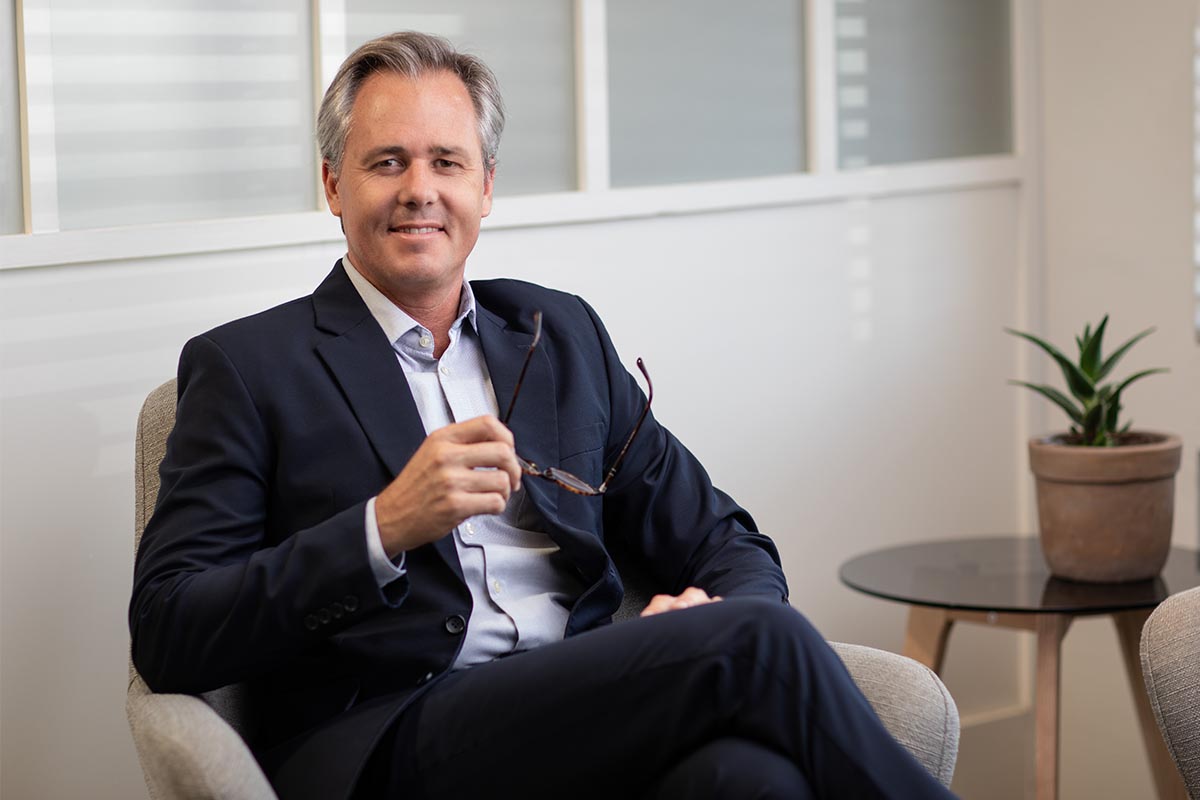 12 Apr

Selling and buying paradise
Philippe de Beer, Founder and CEO, Park Lane Properties, has, in just a few short years, worked to create one of the finer property brokers in the country, one that wants to spread the destination's appeal abroad.
Would you give us a glance at Park Lane Properties and the vision behind the establishment of the company that you started in 2004?
My wife and I realized there was a gap in the market back then in servicing and providing high-level customer service in the real estate industry in Mauritius. We saw the opportunity and founded our own brand, Park Lane Properties. We became members of the Estate Agents Association and started with a single branch in the sought-after area of Tamarin-Black River on the west coast. We never expected that Park Lane would grow so rapidly as a service brand and become one of the leading real estate agencies in Mauritius. The decision was made from the start to position ourselves as a boutique-type of real estate agency. Our focus has been to put our clients first, which may sound obvious, but it all comes down to how you do things. We were determined, and we remain so today, to offer a more personal approach to property. This became the heart of the culture of Park Lane Properties and our tagline: "Property with a Personal Touch."
In 2006 we opened the second branch in the north of the island and a third branch in 2009 in the center, when our brother-in-law, Brian Blatch, originally from Zimbabwe and already a shareholder, joined us full time to help us grow the brand. Mauritius being so small, we covered the whole of Mauritius with our three agencies, and our name has become synonymous with expertise, integrity, and trusted advice in residential and commercial real estate.
In 2013 we were handpicked to join the prestigious international networks: Leading Real Estate Companies of the World, the home of the world's market-leading independent residential brokerages in over 75 countries, and Luxury Portfolio International, the luxury face of Leading Real Estate Companies of the World. These affiliations brought us on the international scene, confirming our position as local experts with a true global exposure and influence.
We have since been able to assist buyers and sellers globally. It is an extremely well-organized and efficient international network. In over 75 countries, the member-agents share the same culture of service as we do, and this is priceless and in line with how we want to look after our clients' property needs. In today's world, everything comes down to relationships and reliable referrals. In real estate especially, although the sector has adapted worldwide to a more digital approach, nothing can replace the value of true relationships.
I always refer to our team as the "Park Lane family." We work as a family-spirit boutique type of real estate agency. Our employees and agents have been with us for many years for most of them, and they have all embraced our culture and how we love to take care of our clients.
Our main focus has always been to maintain long-term and privileged relationships with our clients. We are not just there for the one deal, but rather to build relationships with our clients for the future. They may not buy or sell today, but we build rapport and trust and work with integrity, looking at the interests of our clients. They always come back to us when they are ready to buy or sell.
Where are the majority of your international clients coming from?
Approximately 50 percent come from France. Then you have between 25 and 30 percent from South Africa and the balance from various countries of Europe such as Germany, Belgium, Switzerland, Italy, and even Poland more recently. People, in general, are increasingly thinking of a place where they feel secure, where they can work and raise their children in a peaceful and stable environment. Mauritius is ranked sixth in the list of the ten best countries to retire, as well as first in Africa for ease of doing business, among other rankings. It is therefore not a surprise to witness a growing demand with various incentive schemes for expatriates to buy property or simply reside and work in Mauritius.
Following the COVID-19 pandemic, what are your expectations for the sector over the next five-year period? To what extent are foreign homebuyers driving the demand for property acquisition and development? How much more demand do you see in the future from international players?
The country is putting a great deal of emphasis on the development of the real estate sector. It drives a lot of foreign direct investment in the country. In the past years, a large percentage (over 65%) of the foreign direct investment has been real estate, so it is a very important element of the economy. This also shows how it is seen as a secure and attractive investment in the long term. Evidently the foreign demand is what has fueled the housing sector in Mauritius in the past years.
It is very important to continue to see more quality developments being designed and realized to answer the growing demand from foreign buyers moving to Mauritius for a more secure and peaceful environment for their families, while protecting the beauty of our island and its shores. Property developers have a greater challenge today to consider the impact of their developments on the environment. Buyers choosing Mauritius as their new home-country have been captivated by its beauty, its magnificent beaches and lagoons and its attractive nature. It's our responsibility to protect and respect our natural heritage while developing new projects integrated to our environment.
The opportunities in the real estate sector in Mauritius are growing. Large scale developments such as Smart Cities incorporate commercial, educational, medical, recreational and residential elements. They bring new opportunities for new line of businesses, a more diversified real estate offering, new investments from foreign investors bringing their expertise and capital in the educational and medical fields. We will have to continue to facilitate and welcome foreign expertise to help develop our country to where it strives to be.
The pandemic has put on pause the physical influx of foreign buyers, but the local market has remained very strong during that time. We broke sales records. It is in the Mauritians' DNA to own their own homes or invest in property. Besides, we kept close contact with our foreign buyers, and they were all in the starting blocks waiting for the borders to reopen. Since 1st October last year, many foreign buyers keep visiting us with capital in hand to invest and relocate. Many are considering moving out of Europe. What is sadly happening in Eastern Europe is encouraging buyers to consider moving out. People are truly wary. We have the perfect example of a German buyer planning to move to Mauritius with his wife, children and grandchildren so that if anything more serious happens there, they will be ready to move out. The pandemic and these unexpected events are huge catalysts for people looking for safer places to live and work. It has created a whole new dynamic in the market.
The property developers in the country have been gearing up for many years and are developing properties that answer the different types of needs of different types of buyers. Some buyers enter the market with lower budgets, looking at obtaining permanent residence, which is possible when buying a property above $375,000 in approved estates and property schemes. More high-end buyers have higher expectations, and we source more luxurious properties for them within a marina, on a golf estate, in a sea front development, with prices ranging from $500,000 up to $12 million or more.
Park Lane Properties is a leading player in Mauritius' real estate industry. Simply speaking, how have you led the company to this positioning? What are the company's competitive advantages, what is your unique value offering, and how do you differentiate yourselves from the competition?
As I mentioned, we really strive to position ourselves as a more boutique type of real estate agency. We look after our clients and accompany them from the first call to the handing over and beyond, building that trust and relationship with them and their families from the outset. We become partners in their family plans. Buying a property overseas can be quite a challenging task and experience. Understandably, you want to do it with someone you can trust, understands your needs, listens to you, knows the market, and looks after your interests. This is where we excel. From the first minute we meet, our priority is to understand the needs of our clients. It is all about searching for what the client is looking for and not trying to just sell what we have. We put the clients first and accompany them even if it leads to a no-deal. We are not there just for the one deal. We are there to become our clients most trusted and reliable property partners on the island, and most of them have become our friends over time. Our past clients are our best source of referrals.
Real estate agents can easily be forceful. They want to sell or rent a property at any cost. This is not our approach. We always take a step back when our clients need to take a decision. We offer our independent and objective advice, but we give our clients the time and space to make their decision. That is how we have built our strong reputation during the last 18 years.
Moving forward, what is your strategic vision and what do you most hope to achieve over the next several years? What is your road map to continue scaling up the company while further attracting both foreign and domestic clients?
We are going to continue to position ourselves to become the real estate partner of choice of both buyers and renters, as well as the preferred partners of well-established and reputable property developers in Mauritius. Over the years we have managed to develop close relationships with all the solid and reliable developers in the country, small and large. This is hugely important to us, so our clients can rely on our expertise when choosing to buy into a particular development. All they can see when buying off plan is a large plot of land, undeveloped, and a brochure. We bring that element of trust and confidence that our foreign clients need before committing to a particular property. When buying a property overseas, you need to be comforted that the developer will deliver in time and quality. We have developed relationships with the best developers on the island, bringing that reassurance our clients need.
Our roadmap is to continue to work in partnership with the best developers on the island and be the reference in the real estate sector in Mauritius, accompanying our clients in their buying process to make it a seamless experience, help them find their dream home which will appreciate over time. It is very important to be reassured that when you invest, especially overseas, when you want to resell, your property has gained in value and you can realize capital gain, which by the way is not taxable in Mauritius.
What is your final message to the readers of Newsweek
I myself have lived the experience of moving out of Europe and coming to Mauritius. I am not disappointed. In fact, I am astounded at what Mauritius has become during the last 31 years since I've moved here from Europe. The island truly has so much to offer in terms of quality of life, peace, security, lifestyle, education, social stability and connectivity to the world. After two years of Covid restrictions, we see things coming back to normal, particularly air connections with direct flights to various destinations in Europe, Asia, Dubai, from where you can then fly to anywhere in the world. Mauritius is an amazing place to call home. I can only encourage anyone looking for the right place to work and live to consider Mauritius in their first choices… and we will be delighted to accompany them in their real estate project.