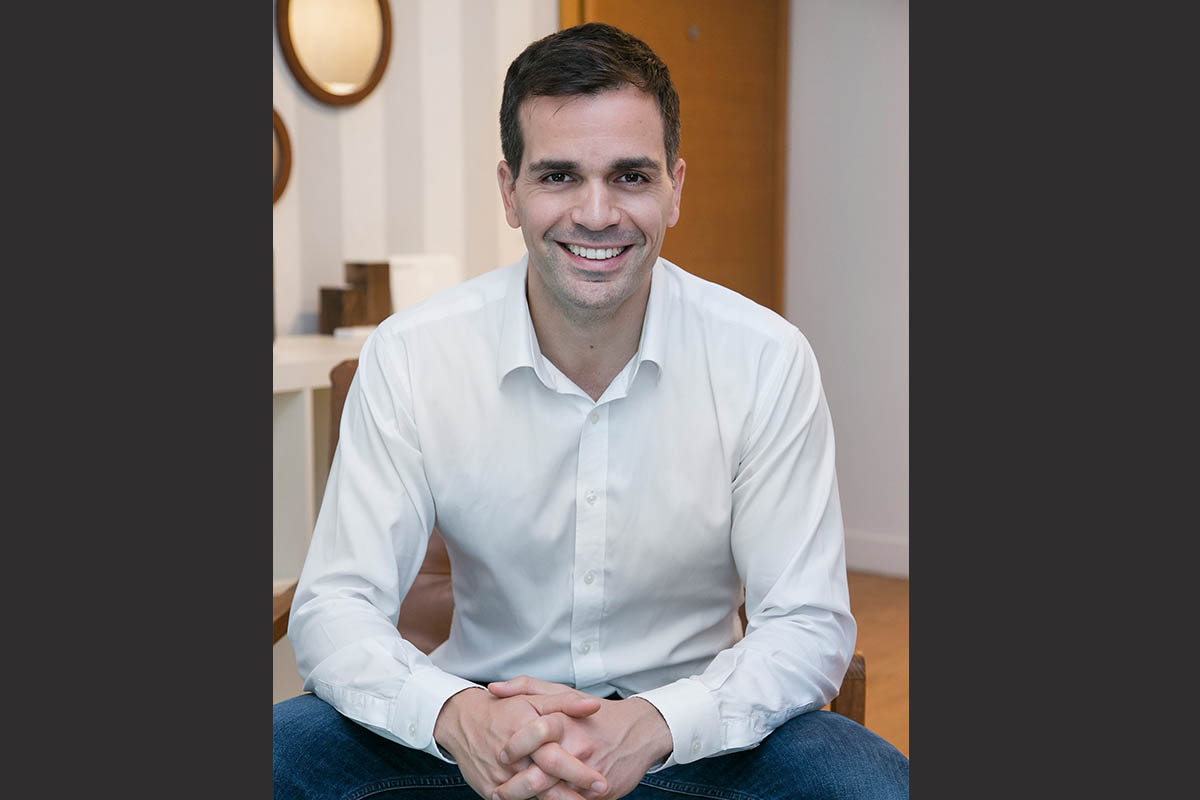 30 May

Sophisticated housing for digital nomads
Alexandros Chatzieleftheriou, CEO & Co-Founder of Blueground, has developed the perfect product for the age of the digital nomad: the globally-recognized, long-term furnished rental.
Remote working is nothing new, but the pandemic has accelerated its adoption, and drastic social and technological change means workers can perform tasks from anywhere that has an internet connection. Similarly, countries are vying for these workers through innovative digital nomad visas, in the hopes to attract their spending power to their cities. Much has been written on Airbnb's experience in the pandemic and how they have changed course to accommodate longer term stayers partnering with cities to lure digital nomads. What does your own data tell you about these trends amidst the pandemic, particularly in Athens?
Our vision when we first launched Blueground was to enable people to live and work easily in different places around the world. After living in 15 cities around the world, I saw firsthand how difficult it is to rent an apartment, especially for people that want to live in a city for a few months. Blueground addresses that huge gap in the market, giving our clients the flexibility they want to have in their lives. Our renters can book where they want, when they want, and on the terms they want. Fast forward to the COVID-19 era, flexible living and remote working are now more prevalent than ever. Even the most traditional companies have recognized the benefits of remote working, but also the underlying need to adapt their employee practices accordingly. Providing greater flexibility and allowing people to choose their location and schedule can boost productivity. Not having to commute is a major benefit; it not only saves them money but also it gives team members time that they could spend furthering themselves or spending with their families. From an organizational performance perspective, we believe that more flexibility and options lead to increased motivation and happiness. An increase in employee well-being is one of the best indicators of long-term success for an organization.
The pandemic brought significant changes in real estate and travel, and Blueground operates in the intersection of these two sectors. At Blueground, we saw significant movement across the markets in which we are active, including Europe, the U.S. and the Middle East.
First, we saw people moving away from the urban centers or toward cities that allowed them to take advantage of the better weather conditions, like Los Angeles for instance.
Second, we saw lots of expats going back to work from their home countries. For example, a lot of Greek expats came back to work from Athens while their companies in the U.K., Germany, the U.S. or elsewhere allowed them to. During 2020, our Athens occupancy levels consistently reached pre-pandemic levels.
In Dubai we saw our demand drop initially, but after the quarantine restrictions were relaxed, we saw a significant influx of people coming from countries with stricter quarantines, moving in, and looking for flexible accommodation with us.
Another interesting thing we saw is that our guests started to move much more frequently from one apartment in one city to another apartment in another city. So, at the request of one of our clients, we came up with a new product that we call the Blueground Pass. The Pass allows people to move to different cities, one after the other, all under one master lease agreement. Our research shows that about 25 percent of the people that are staying at Blueground are doing so because they want a change of scenery from their usual place of living. Some people saw the new remote work opportunity as a new way of living, a lifestyle that includes exploring different places.
All of these trends are showing that an increasing number of people do not want to be tied down and want to live a flexible lifestyle. The trend for flexible living and working was already under way, and the pandemic only expedited it. It is extremely exciting for us to be at the forefront of this shift in people's living patterns.
We have seen the Greek tourism industry rebound remarkably well in 2021, welcoming over 6 million visitors and outshining even France and Spain. The shocks of the drastic fall in short term tourists, often cruise goers or holiday package users, is notable. In this report we are exploring the value of longer-term stayers—such as health and wellbeing tourists, resident investors or retirees, and digital nomads—to the Greek economy. What lessons do you believe the real estate, hospitality and tourism industry may have learnt from COVID-19, and what are your own expectations for growth in the aforementioned segments?
Post COVID, real estate has a new mantra and that is flexibility. This is true in residential, commercial and retail real estate. We are leading the shift on the residential side and actually introducing even more flexible models, like allowing people to freeze their leases and resume later. These are new, surfacing needs coming from our clients. On the commercial side, there is little certainty as to when people will be back in the office for good, but many companies have opted to go fully remote and most are talking about a hybrid return to the office. With that focus in mind, we plan on going forward. The digital nomad trend, which was once only relevant to a few freelance professionals, now includes a very high percentage of working individuals. Another interesting trend that we are seeing is the digital nomad concept now extending to families. With the option of remote learning for children, some parents feel that living in different places would be a great experience for the family as a whole. We are looking into this segment with curiosity and excitement to see how it will develop in the next few months.
Before founding Blueground, you worked in consulting and moved around a lot, living in different cities and different hotel rooms and apartments. An increasingly mobile and integrated workforce brings with it demand for more livable and homely residential spaces, particularly for those who stay in locations longer. What about your own experience do you keep in mind when delivering products to clients at Blueground?
Starting a business after experiencing a problem firsthand is a great way to go about it. You understand the pain points and know the client's needs intimately. While traveling as a consultant to different places, I often struggled to rent furnished apartments. The options were typically limited, and they were typically in a poor condition. In addition, I often did not have the option to rent for just a couple of months. All of these options involved a broken process with multiple parties and little to no technology embedded. In today's digital, on demand world, people expect things to happen on a tech interface, with a few taps or clicks. That is what we are building at Blueground, a super seamless tech led process that combines great physical design and excellent service to deliver an unparalleled living experience.
Our objective is that when you arrive at a Blueground in any of our cities, you know that you will be receiving a consistent and reliable experience. This entails units in sought after locations, great apartments, beautiful design, and reliable customer service. By delivering on that promise, we are offering our guests the option of practically having a home in every major city in the world. This is unprecedented access.
Blueground is an innovative concept, with carefully selected high quality properties and specialized design teams to create best-in-class rentals. Could you share with us more about the consumer bracket you are targeting—or a few of the targets you have in mind—and what your retention rates and what some regular feedback sound like?
Blueground works both with individuals and businesses. When it comes to individual renters, we target people that live asset light and have the flexibility to move from place to place freely without being constrained by long term contracts or furniture. Furthermore, we cater to people who just relocated and are exploring a new city or are travelling for business for a month or more.
Age wise, we have a very diverse demographic audience, but the biggest chunk of that is between 25 and 44, constituting about 65 percent of our guests. When it comes to businesses, we work with both small and big companies, from the likes of Amazon, Google and Tesla, to boutique consultancies and startups.
About 55 percent of our bookings are repeat use either in the form of extensions or people moving into a new building, neighborhood, city or country.
Blueground has its roots in Athens but has a foothold across the globe, notably in North America, across Europe and Dubai. What are your ambitions within these distinct markets and what are some of the varying or unique challenges that you find among different consumers? Asked differently, are you seeing a lot of similarities among cosmopolitan urbanites in their consumption demands?
We started the company in Greece, but the ambition was to be global from the very beginning. Within each market, we plan to grow our supply as the demand increases. First, we will be adding three new cities in Europe—Berlin, Madrid, and Zurich—by the end of 2021, and then we will expand further into the U.S. with the addition of Miami. By 2025, we aspire to have a presence in 50 markets and 30,000 units around the world.
The reasons for staying with Blueground tend to be the same across our markets, however, the average length of stay often changes. For example, in Europe our guests tend to stay longer—maybe for a year—as the supply for quality apartments is lower. In Europe apartments are run by individual landlords, rather than large management companies, and it can be challenging for consumers to find vacant apartments that are top quality. In the U.S., this is not the case. There are more options for apartments if you want to rent for a year or more through management companies. Blueground in the U.S. is the go to option for a premium rental for a month or more.
In general, there are a lot of similarities in our clients' needs across the world: high quality apartments, great design, fast and reliable customer service, tech enabled and seamless process. Having said that, there are some differences. For example, our Middle East clients expect more hand holding and time from our customer service team while in the US, people are more accustomed with self service, such as, for example, when moving in to the property.
Blueground has surpassed 5,000 apartments, and 450 team members, while raising Series C funding of at least $180 million. You count top VC firms WestCap, Geolo Capital, VentureFriends and Prime Ventures among your backers and have the support of Endeavor and others too. What would you say to the potential of Athens as a tech hub, the abundance off homegrown tech talent, and why you would advise global investors to look to Greece to identify future potential investments?
Athens as a tech hub has proven that it can be the starting point for many successful tech companies. When we were starting back in 2013, the examples were significantly fewer. We see more and more capital coming in. In the past 3 years, we have seen close to $1 billion in investments, either in big startups in Greece or Greek founders abroad. Greece and Athens have many smart and hardworking people and great software engineers. Some would argue that investing in a small country of 10 million people can be disadvantageous, but at the same time companies that have been successful have turned this into an advantage. We, for instance, had an outward orientation from the very beginning, so starting in a relatively small market allowed us to be set up as an international business early on. Starting from a small market typically allows you to get market leadership faster, which in turn allows you to mature your product faster. There are positives in starting from a small market. Actually, it is a typical strategy for U.S. based start-ups to start in smaller U.S. cities, mature their product and organization, and then expand to the bigger markets of New York, Los Angeles or San Francisco. Furthermore, venture capital has become more and more flexible when it comes to investing outside of the major hubs of San Francisco and New York. We think that this trend will further intensify as the world embraces a remote way of working.
In sticking with the topic of Athens as an emerging tech destination, what would you say to the quality of Greece's digital infrastructure, ease of doing business, incentives from government, and overall experience as a tech entrepreneur to grow an enterprise there? What challenges, if any, do you still face, and what progress have you noticed since the inception of Blueground in 2013?
I do not think that Greece should be seen as an obstacle in starting a successful tech business. There are benefits of starting in a small market, as I mentioned before, like achieving market leadership faster and having an eye towards international expansion from the early days. We have seen a number of success stories in Greece, and I am confident that the virtuous cycle associated with a successful entrepreneurial ecosystem is well underway. Successful companies will lead to exits and then funds will be re-invested in the ecosystem, something we are already seeing this today. More participation of private investors in the businesses that show promise and the right mentorship from experienced entrepreneurs are both critical ingredients to the ecosystem's development. When it comes to government related initiatives, we have seen improvements, from simplifying the business incorporation process to incentives that attract digital nomads. Government can help but the private sector will be the key driver. I do not think Greece is meaningfully disadvantaged from a government/regulatory standpoint. Sure, government related processes could be more efficient, but that should not stop Greek entrepreneurs.
For our international readership, which includes global executives, entrepreneurs, and persons who may be looking to relocate to a new destination, could you provide us not only with a brief overview of the services of Blueground, but also what you see as your competitive advantages to your customers?
The basic product of Blueground is a beautifully designed and equipped apartment that you can easily book on our website coupled with support and services throughout a stay. The quality of those apartments is always high, and they are located in the nicest and most popular residential neighborhoods of each city in which we are present. The design of the apartments themselves is taken over by our award-winning design team. The apartments are fully equipped in terms of furniture, electric appliances, kitchenware and bedsheets. We provide support throughout the process as well as access to services and partnerships throughout a guest's stay. In the cities that we operate we have established partnerships with leading brands, from grocery delivery to gyms. On that basis, you can live in the apartments as long as you want, and you can also move anywhere else in the world within our network. The magic lies in the fact that we operate as a one-stop-shop making our guests' lives easier.