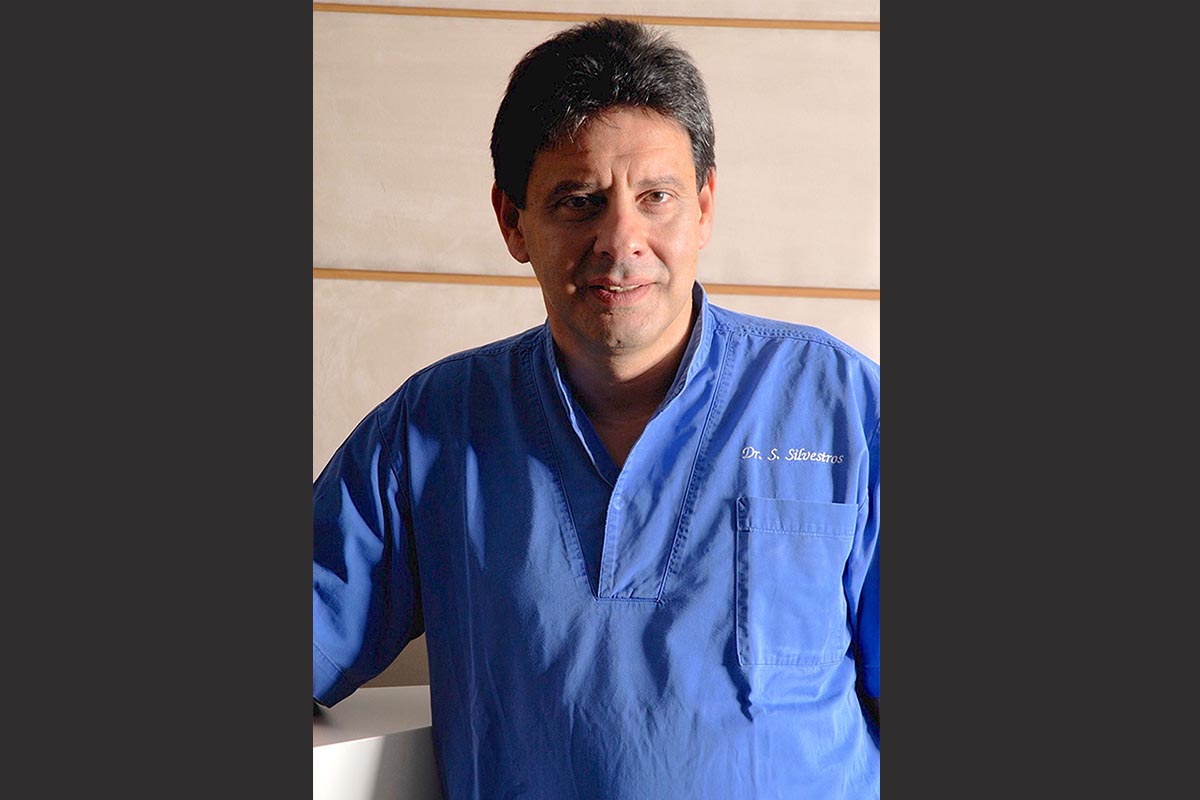 02 Jun

State-of-the-art dentistry: Greece's overlooked attraction
Dr. Spyridon Silvestros, Founder, Silvestros Dental Perio & Implants, is part of a wave of clinical clusters that is upending the medical industry in Greece, offering more options at a higher quality than ever before.
The world is still battling the COVID-19 pandemic and Greece has not been left unscathed. Amidst the pandemic, we have seen a number of innovative medical and healthcare solutions come forward, and great strides being taken throughout the industry. What would you say the pandemic has taught us about prioritizing innovation, R&D and upscaling medical infrastructure?
COVID-19 was and still is a pandemic that has struck the whole planet, and great sums of money have been spent on it. Among all the negatives it brought to our lives, COVID-19 changed many things, both in the health and the wellbeing sectors. From now on, people are going to be feeling safer, demanding greater things from the aforementioned fields. All the hospital facilities of our country, as well as the dental clinics, have taken the necessary precautionary measures to deal with the virus. In addition, organizations providing health services—such as dental clinics—are certified by global accreditation leaders, such as Swiss Approval, and follow all the necessary protocols to ensure the quality of their services. Greece wants to be a pole of attraction for tourists, providing them with security. Tourism in Greece is one of the great pillars of the country's economy, covering approximately one-quarter of its GDP. Proof of the high-regard in which tourists hold Greek health systems is the overwhelming rise in arrivals over the summer of 2021, which, in certain areas and time periods, managed to surpass the respective data of 2019, before the COVID-19 outbreak.
Greece has done well to position itself as a regional player in the health and wellness tourism industry. How internationally competitive is Greece's medical infrastructure and the quality of its specialist clinicians?
In recent years, many investments have been made in Greece in the fields of health and tourism. Many doctors, as well as dentists, with academic careers and vast medical experience have created private clinics or clusters. A typical example can be found in the various large fund-driven investments in large private hospitals of our country, such as Hygeia, Metropolitan and Iatriko, as well as in the cases of large clusters, such as Asklipieia Health Cluster, that deal with the health and wellness tourism. The expectation of this cluster is that the combination of high-quality services—provided by specialized doctors and staff—alongside the use of digital infrastructure, and the low cost of services, in comparison with other countries, will attract a large number of tourists. A big innovation of Asklipieia Health Cluster is its cooperation with large hotel groups, since Greece is one of the most important tourist destinations, thanks to its climate and landscape. This cooperation gives us the opportunity to create different dental care packages, depending on the time available of each tourist.
You have built a career in dentistry and periodontology. With over three decades of experience in academia and multiple national and European awards for your research studies, what would you say are some of the most remarkable and transformative scientific advances in your own field in the last few years? Specific to implantology and plastic periodontal surgery, how do you think livelihoods have been improved thanks to these advances?
The goal of every doctor is to serve toward the satisfaction of their patients as well as other doctors. Nowadays, operating dental clinics have evolved. From small units with one general dentist, they have turned into polyclinics with specialized dentists. In this way, the patients' demands are covered to the maximum since the entire treatment plan is presented in detail and applied with the latest technology. In this transformation, social media has played a great role. Patients are now very well informed about the treatment offers and they are more selective and demanding. A groundbreaking technological advancement that we have been using is Digital Smile Design. We use this when we want to create a beautiful smile incorporating digital elements. This is a step necessary for any dental clinic that wishes to excel and be up to date.
Incorporating advanced technologies such as robotics, AI and big data into healthcare delivery is drastically improving the efficacy of the patient-care process. You are tied to the NKUA as a tenured professor with the Department of Prosthodontics. How do you see these technologies change the educational outcomes of graduates in your field, and do you foresee periodontology being a much different practice in coming years than the trade you mastered?
All of these innovative techniques introduce a higher level of accuracy and better results overall. In particular, programs utilizing 3D modeling give the possibility to be exactly to the point at which we want to be. That, in cooperation with high-standard laboratories that we have at our disposal, means we can reach excellent results that are personalized to each patient.
COVID-19 had a dramatic impact on Greece's short term visitor tourism segment, leaving the government to look to sustainable alternatives which would attract high-spenders and people who may stay for longer. A recent report by the Global Wellness Institute indicates that an ambitious $25.2 billion per year can be generated for the country's GDP in health and wellbeing tourism along with 171,000 jobs. While these are optimistic figures, what are your thoughts on the strides being made in health tourism in Greece? Is Greece regionally competitive as a health and wellbeing tourism destination? What are its advantages? And, specific to your field, why should foreigners opt to receive treatment and rehabilitation in Greece?
In any industry, thus in dentistry as well, the concept of supply and demand applies. Each company operates competitively with the other, aiming to provide the best service and the best results for the patients. This way, the quality of dental services in Greece is particularly high, for it is always guided by the expectations of each patient. In Sylvestros Dental Perio, we strongly believe in technology and the quality it provides in combination with our excellent theoretical and clinical background. In this way, we invest on those aspects, and it represents a big part of our clinic. We are managing to reduce the treatment time while increasing the quality of the results. Another equally important feature is the immaculate training of doctors, dentists and medical staff through either Greek or international universities, incorporating practices originating from the best health systems abroad. Our clinic, SDP, employs exclusively specialized dentists, multiplying the quality of their work.
Our vision in SPD revolves around a combination of safety and quality of service. Dentistry has now passed into the era of digital technology and minimally invasive treatments with impressive results. This means that treatment plans are totally personalized. The dogma of our practice is: "information, organization and simplicity." This means that we strive to operate promptly and with the least possible pain and without additional costs. In addition, our multilingual staff is able to meet the needs of each of our patients. The cooperation of clinics, such SPD, with other clusters, like Asklipieia Health Cluster, directly and indirectly with High Standard Hotels, gives us the opportunity not only to meet the requirements of dental patients, but also to provide equal services towards tourists. This way it can be assured that any of their respective needs will be met. Our next goal is the further expansion of our partnerships with more travel agencies, in order to create more comprehensive medical tourism packages at even more attractive prices.
Your position on the board of directors of the Asklipieia Health Cluster is part of the broader vision to position Greece an innovative and trustworthy destination for health and wellness tourism, as well as increasing the international footprint of Greek players in this space. Which foreign markets are you targeting for health and wellness tourism, and, from Greek service providers, what has been some of the feedback that you've received in terms of international clientele? Have local Greek players embraced the wellness tourism industry, and what are their thoughts on its potential?
We try to cooperate with many dental care clinics that exist in Greece. The base of dentistry in Greece lies with general dentists, so there are very few specialists if we compare it with the entirety of the dentist population in Greece. As an academic myself, I rely heavily on training all those general dentists, so that they can follow this idea of reaching the best results through the best treatment plan.
From our perspective, we are paying attention to all the markets that we can throughout the world. However, areas of immediate priority are certainly Europe, the U.S. and Australia. With nearly 20 million tourists in Greece on an annual basis, we cannot focus on a single market.
Many of our readers are high-end executives and businesspeople, looking either for second homes or to retire, possibly in warm climates like Greece. What would you say to the golden visa/residency by investment program that Greece offers and why will these readers can have peace of mind over the Greek healthcare offering? And what may Sylvestros Dental Perio offer such readers in terms of quality and efficient service?
Greece has a wonderful climate for at least 8 months per year. This, in combination with our beautiful islands and the idea of Greek hospitality, provides a great attraction for tourists. We believe that utilizing these advantages alongside safe and high-quality large medical units, will produce results leaving all tourists truly satisfied. Another important factor is the relative low cost. In the post-COVID-19 era this will play and even more important role. This is why we recommend Greece for your next trip, in order to combine rest with benefit in the medical and wellbeing sector.
What would be your final message for our readers of Newsweek?
Greece can combine the advantages of a good climate with specialized doctors. If we utilize those advantages adequately, I think that we can excel as a country in this sector.