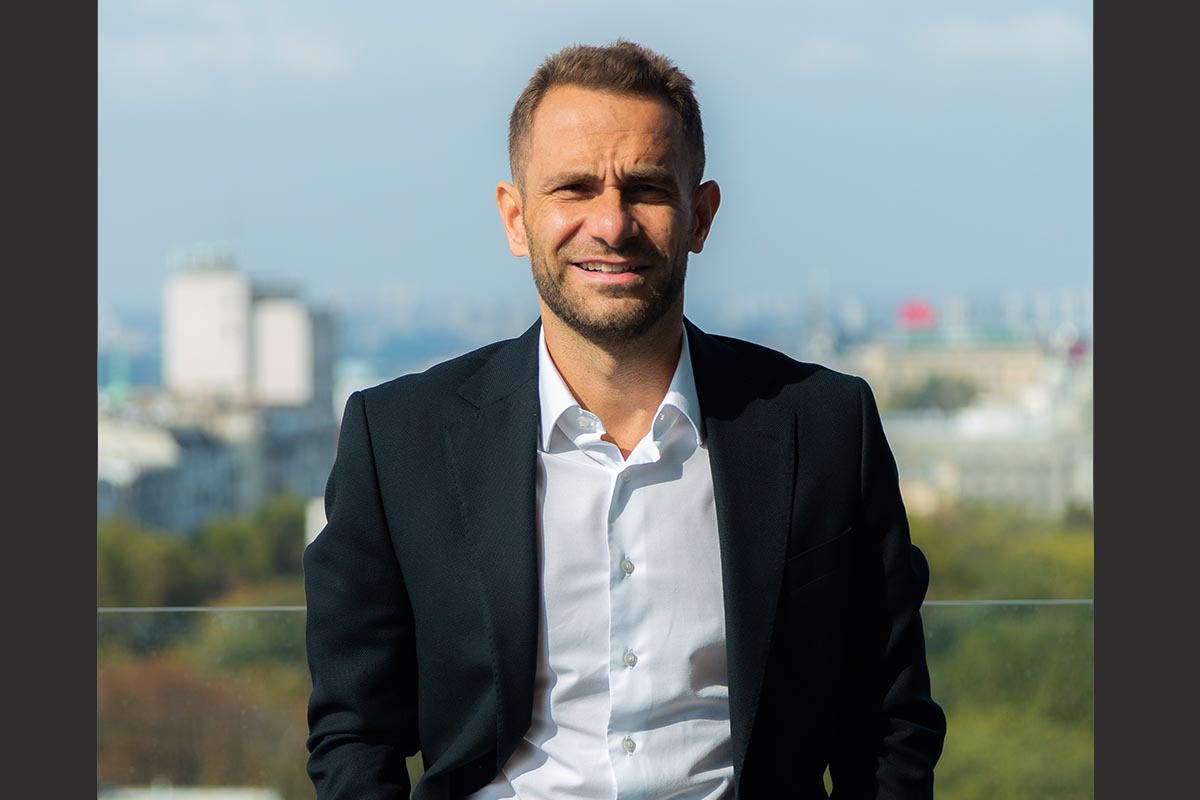 30 May

The Greek way of doing hotels
Konstantinos Zdralis, Director of Sales and Marketing, Kokari Ltd., has a vision for the future of Greek hotel tourism: smaller, minimalistic, and subject to a tech canny clientele.
Kokari, with its diversified portfolio as an owner and asset manager of luxury hotels and resorts in Southern Europe, is one of the notable firms to target growth through purchases during the current distress in the tourism market. To start the interview, what are some of the most notable lessons the global hospitality investment community has learned from this pandemic? Which opportunities have truly been realized by hospitality investors and what major threats and uncertainties remain?
It is true that over the last two years things have changed a lot, but there have been several opportunities in our sector. Especially for the big MICE hotels, we have been 'obliged' to look for new clientele, given that big group organizers were avoiding organizing anything due to the pandemic. We had to navigate towards what we now call leisure markets. Even the big hotels, like ours, had to work more with individual travelers, last-minute bookings and through channels that allowed for quick and easy cancelation of reservations. Whether we like it or not, the big protagonist in terms of reservations over the last 18 months has been websites like Booking.com, given that big corporate clients have officially paused their international travel. The big groups, even in Europe, have also either cancelled or postponed for 2022 or even longer. We have noticed a big change from the corporate and the conference organizer level to the online channels. Apart from the websites I mentioned, there are also bookings through Google, Facebook, and Instagram. People are just spending their free time on social media; thus, digitalization has allowed for planning of their next break or holiday. This worked really well, particularly for Greece. We can say the same worked for Belgrade as well, where we operate another big hotel. We have noticed that there is a great increase in last-minute leisure travelers for 'city-breaks' and not that many well-organized long-stay reservations. Usually, these travelers were planning on continuing their vacation on some other Greek islands, but the majority went for two or three days in Athens as well. This phenomenon really boomed in the market from July until September. In fact, we have better results in terms of number and immediate income, compared to what we had back in 2019. This has been extremely impressive and impossible to predict a couple of months ago. Athens managed to create the profile of a safe destination that did not suffer a lot from COVID-19 compared to other European countries. With this elevated profile we are now seeing the results. This proved to us that there is another aspect of the market with significant potential with clients that we did not consider in the past.
A recent market analysis by Xenium Advisors, foresees a jump in investments in luxury properties in the coming quarters. It mentions Blackstone's takeover of Elounda Blu hotels, as well as Everty's intent to invest $117 million in luxury property assets in Greece. What are the main factors driving this jump in investment at this time, and why have Greek assets proven so popular? For those investors unfamiliar with the market, what are the key factors to keep in consideration?
Athens and Greece managed to reposition themselves during the last two years. Not only have we reinvented our political and financial stability, but we also proved globally that we are in a position, though modern and professional solutions, to deal with a pandemic that was not handled well even by countries much more well-equipped and modernized that Greece. Despite all the problems of the past, we managed to turn the situation upside down. Now we are in a position to say that we are modern, experienced and professional enough to take the next step. All the above, along with the unsuccessful dealing of the pandemic by other countries led to the increase of tourist inflows for the country but also highlighted Greece's name on the lists of many big funds looking for international investments. The potential has been always here. Athens offered all the options that a modern European citizen would have liked. The only thing that we were missing was a modern, professional, and trustworthy profile that guarantees political and financial stability. Now, we can claim that we have it.
Kokari has done well to partner with international players, notably with the Grand Hyatt Athens, and this is a testament to the quality of its services as a total management operator. Notably, your management approach involves world-class standards while ensuring highest profit margins for your clients. Could you share more about what it takes to manage and rigorously operate a modern hotel? How does one maximize client experience alongside frugal expenditure, all while not jeopardizing profit?
Apart from the Grand Hyatt Hotel, which was our first project, we have now proceeded with the purchase of six big resorts, also in Crete. We are continuing investment through Hines and Henderson Park, two large private equity funds in Europe. They make these investments and our company, Kokari, as their partner, is doing the management of these hotels. Kokari is representing the values of the Daskalantonakis family, with a vast history of hotel management. We are trying to modernize the way that 5-star hotel management is perceived for traditional resorts in Greece. Greece has been quite conservative and traditional when it came to managing hotels. We were used to work with the big tour operators for many decades, particularly focusing on the summer season. Our company, along many others in the market, is quite modern. We are ready to deal with the online channels and place them in front of these platforms. This is the main transition in our commercial strategy that differentiates our company from the rest. Regarding the big investments that you mentioned, we have to compete not only with the local antagonists but with other international destinations as well. We have to offer the 'hardware' alongside the 'software'. It is inevitable to renovate and reinvent ourselves.
Kokari's strategy is focused on sustainable investment and attractive long-term yields. Across the globe, we've seen property ETFs rebound remarkably well in Q3 of 2021, and many analysts predict seeing property prices rise to record highs in the near future. What are your projections for the Greek hospitality property market as a whole? What assets are investors keeping a close eye on in Greece and where do you expect optimal value in coming months?
The trend is definitely positive. The occupancies are already here, and the demand is back. It is true that prices are increasing rapidly. We hope that for next summer we will be able to reach the price levels of 2019. The recovery in terms of demand has been really quick. What we are expecting to see is developments when it comes to demand coming from the Asian markets. Similar conditions are in effect for Russian travelers as well, given that there are still significant travel limitations in place. If Asian markets start to also pick up, then I believe that the demand will force prices to skyrocket. Regarding potential new investments, in direct relation with the digital nomads' trend, I expect big demand from travelers from 25 to 40 years old in the years to come. This type of traveler is not looking for the ultra-luxury properties. They are looking for exceptional technological solutions in the hotels, modern design, and minimal amenities. I believe that 4-star hotels have great potential in the upcoming decade to accommodate this type of demand. Then, I also believe that there is a trend toward the local brand names. It appears that you do not need big brand names to adequately market your hotel anymore. If you have a really good local-style hotels, digital channels are more than enough for you to promote your business. I predict a trend in that regard, with local hotels of a maximum capacity of 100 to 200 rooms.
Kokari has positioned itself as an attractive partner to foreign investors who are entering the Greek market. What should foreign investors interested in the Greek property market expect? How does this market compare to some of its regional competitors in terms of ease of market entry, finding and working with partners, and, ultimately, reaping satisfactory returns?
We have improved a lot over the last few years as a country. This pandemic helped us a lot, allowing us to modernize and move past the old way of thinking. There are plenty of modern and skillful management companies in the country nowadays. I have also seen many Greek tourism executives who have been living and working abroad, returning to Greece due to the pandemic. In this way, we have many professional executives with vast international experience present in the market. Greek companies have been enriched by these individuals, and I would say that this fact will be one of the key aspects of our future growth. This can be a steppingstone for the Greek market to move onto the next level, one that would allow Greece to compete with countries like Italy or Spain. International investors should feel much more secure investing in Greece, working with people that understand this business from an international standpoint.
What would be your final message for our readers of Newsweek?
It is my strong belief that 2022 is going to be a great year, even if COVID-19 has not died off completely. The potential for the next 5 to 10 years seems to be great. Especially after a decade of financial instability and recession, this change will be significant for the Greek ecosystem.