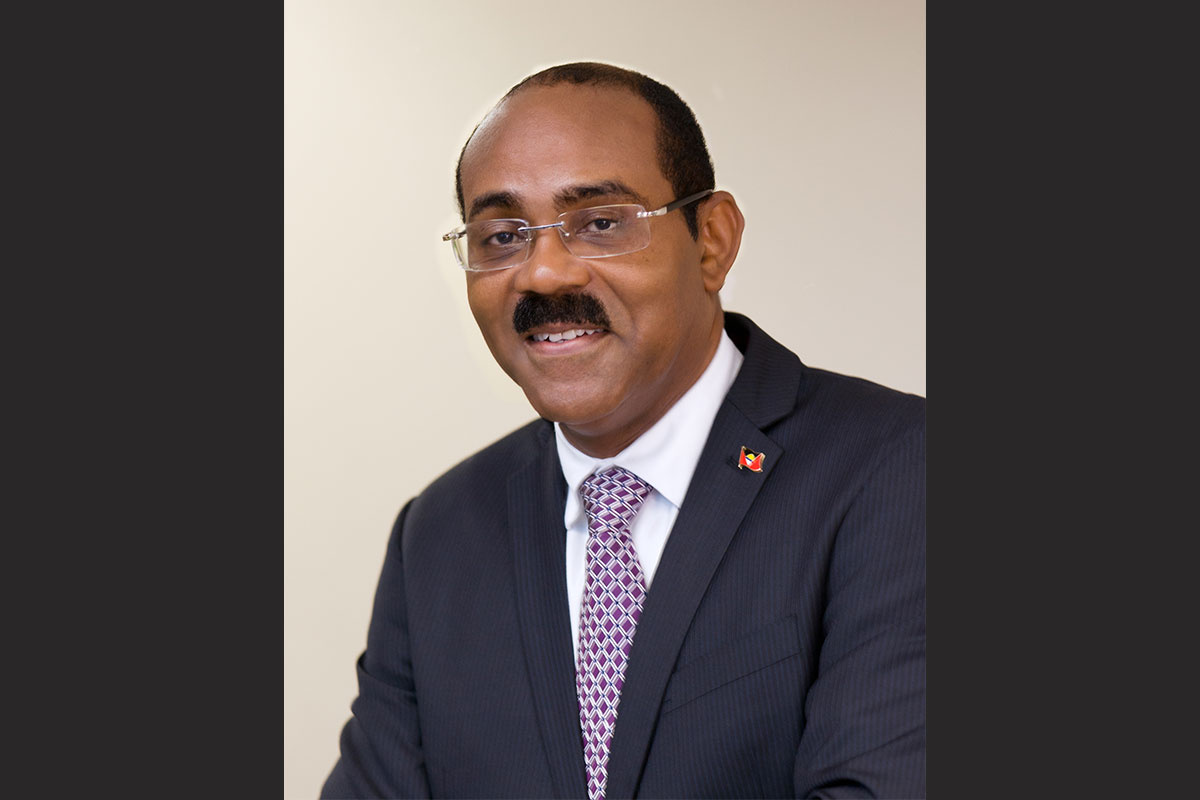 23 Jan

Unwavering optimism in the face of global turmoil
Gaston Browne, Prime Minister, Antigua and Barbuda, guides us through Caribbean's multi-cultural paradise, that has skilfully managed to weather the global health hazard of COVID-19
Could you provide us with an introduction to Antigua and Barbuda for those readers who are not so familiar with your beautiful country?
Antigua and Barbuda is a beautiful island state in the middle of the Caribbean Sea. Our island state is the gateway to many other Caribbean countries. We have two islands with many exotic attributes. Antigua has 365 marvellous sandy beaches with unpolluted, pristine turquoise waters. Barbuda has dozens of beaches, including some with pink sand. In other words, without any exaggeration, we have a beach for every single day of the year. The climate is very pleasant, with a constant sea breeze, so we do not have the same level of humidity as other countries. Antigua and Barbuda has enjoyed one of the lowest levels of crime incidents in the entire hemisphere.
One of the strengths of Antigua and Barbuda is its multicultural society. Our population comprises immigrants. There is no other country in the Caribbean that is more representative of the Caribbean than Antigua and Barbuda. Our new Nomad Visa Residency programme will be extremely attractive to visitors, as they will have the chance to engage with very friendly and welcoming people.
We have one of the most appealing tax incentive programmes in the world. We offer tax-free concessions for up to 25 years, which is based on the size of the investment. In addition to that, there is no personal income tax. Not having personal income tax on any of your earnings, local or worldwide, can act as a very strong selling incentive.
Going back to history, we are a former colony of Great Britain with a parliamentary democracy, and we have always upheld the democratic values, constitutional safeguards and the rule of law. We have a well-developed constitution that protects investments and individual rights, as well as several investor protection agreements with a number of countries. Antigua and Barbuda has consistently ranked within the top quartile of all countries globally in terms of its development. Poverty levels are extremely low, while rates of growth have been consistently at about 5 percent for the last 6 years of my administration. My government has been in office for 6 years and we have grown the country's economy by 5 percent per year on average pre-COVID. In fact, in 2018, according to the IMF growth rates, Antigua and Barbuda grew its economy by 7.4 percent. What is more interesting about that fact is that in 2017 our country was decimated by hurricane Irma. At the time, we were faced with about USD 600 million in losses.
I remain fairly optimistic regarding Antigua and Barbuda's quick recovery in the post-COVID-19 era. We have prepared a set of investments to take place. Presently, we have some of the largest private sector investments in the Caribbean taking place in Antigua and Barbuda, like the Discovery Bay project. Discovery is a US multi-billion-dollar franchise, with properties in several states in the US, Bakers Bay Bahamas and Cabo Mexico. We have one of the largest investments taking place in the Caribbean, which is a high-end tourism accommodation, as it is estimated to have a total annual spending of USD 250 million, expanding over 700 acres of land.
Even though COVID-19 created some challenges for us, as a very highly-tourism-dependent country, we are confident about our recovery and we continue undaunted by the challenges. Presently, we have only 3 cases of COVID-19. Those 3 cases are expected to be reduced to 0 by the end of this week, due to the recoveries that are expected. During this pandemic, we have been building up our socio-economic infrastructure. We have established an Infectious Disease Centre, with facilities that can accommodate up to 17 individuals. According to our population, we have reached a ratio of 3 beds per thousand of population, which is certainly among the highest within the region. With the majority of the beds being empty, we are ready to face any logical increase in terms of COVID-19 cases. Health infrastructure and economy, especially pre-COVID-19, is strong and we have many investments taking place. One of the most exciting projects taking place next year will be a Beach Club with a total investment value of USD 100 million, which will be built by Royal Caribbean, to provide bespoke entertainment for the guests to Antigua and Barbuda.
We are really innovative and open-minded, providing the regulatory space for innovation and entrepreneurship to flourish. We have been diversifying the country's economy in the blockchain, cannabis and stem cells therapy spaces, creating the legal and regulatory framework for businesses in those sectors. We have attracted several large investors in the digital space, creating a scalable blockchain technology that could practically run in all applications in the public and private sectors.
You have favourable legislation in place for people that would want to come and invest in setting up say a blockchain company. What are some key elements of this country's legislative framework? 
In that regard, I would say that Antigua and Barbuda is emerging as the innovation centre of the Caribbean. We have laws and regulations covering the operations of blockchain technology and cryptocurrency businesses. At the same time, we have clauses that protect investors, and others that ensure that money-laundering and terrorism-financing frameworks are robust. There are compliance officers appointed for each of these businesses. In other words, we have the legal framework to meet our international AML/CTF financial obligations. In addition to that we are providing a creative space for the technology to flourish, as clearly stated through our Digital Business Assets Act. I think that within the upcoming years we will see the country flourishing in those aspects of the economy.
The Nomad Digital Residence is a new amendment to your Citizenship by Investment programme, which was launched in 2013. What this new Nomad VISA will mean in terms of bringing in the digital nomad workforce?
This programme represents a major source of income for the government, helping us incentivize several foreign investments. We have expanded it now, in order to include the digital nomad residency. Our objective is to facilitate knowledge workers within a safe and secure environment. Individuals who can provide services for their employers or clients will be attracted by this programme, as they will be given the opportunity to work within a low-risk environment, even in terms of COVID-19. Investors can work remotely, thanks to our digitally-based regulatory environment. We have the infrastructure and broadband services in place to enable remote training. We see this as a way in which we create a new product that complements our citizenship product. This is a residency product that is affordable to knowledge students, workers and investors. We believe that it could help enhancing our product offering moving onwards. We are pleased to accept individuals from all over the world, as long as they satisfy the due diligence that is required and meet the provided threshold, as we do not wish to attract criminals. We are addressing legitimate knowledge workers, investors and students, who can be assured that Antigua and Barbuda will be willing to accommodate them.
In your opinion, what are the keys to successfully reactivating the economy in Antigua and Barbuda, to bring it back to high growth levels that your country previously enjoyed?
On our end, we are open for business. We were closed only for a month and a half, due to the discontinuance of the flights into the island. We expect that in the upcoming months the fear associated with COVID-19 will be reduced, as the vaccine comes into the market. We hope that by winter of 2021 we will see a strong demand in terms of passenger and visitor arrivals in the country. COVID-19 has been disruptive, reversing some of the gains we have seen over the last six years. We want to see the world return to normalcy, where people can travel again, as we are here, willing, ready and able to accommodate them. Our position from the very beginning was that we must learn to live and work with COVID-19 and we have been one of the most effective yet less affected countries in the Caribbean because of that. A special "thank you" is due to everyone here involved, especially the ones on the frontlines, managing such risks. We respected this menace but also felt the need to be proactive in managing the risks it entails. The reason we took on such high levels of risk was due to the fact that we have a relatively vulnerable economy, highly dependent on tourism.
What would your final message towards the readers of Newsweek?
Antigua and Barbuda is one of the safest destinations in the world today. I would like to encourage individuals to become residents or citizens of Antigua and Barbuda. We have great accessibility and business infrastructure, as a country that is gradually becoming the digital capital of the Caribbean.